David Austin Roses
This is widely recognised as one of the finest rose gardens not only in this country but also in the world. The effect in the second half of June from sheer quantity of flower and strength of fragrance is quite overwhelming. Last year it received the World Federation of Rose Societies' Award for Garden Excellence. It covers two acres, is divided into six area and has roughly 6000 roses in about 700 different varieties. The different areas include the Long Garden with a very wide range of English Roses, Old Roses, as well as many climbers and ramblers; the Renaissance Garden that is planted purely with English Roses and the Lion Garden that has perennials mixed in with the roses. It is maintained to very high level and is at its best usually from mid-June through to September and into October.
The garden is situated in Albrighton near Wolverhampton and is free to visit. Open Monday to Sunday 9am to 5pm. See the David Austin website for more information.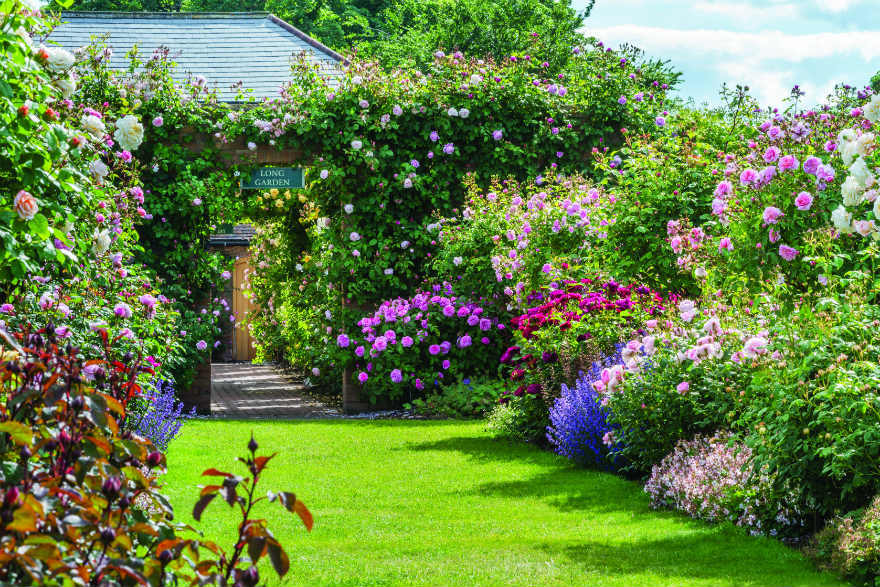 Royal Botanic Gardens Kew
When I was asked to redesign the rose garden here I was very keen to change the layout of beds from the uninspiring series of circular beds to something more interesting. I went back to the original, rather ornamental design by Nesfield from 1845 when it was planted with evergreen shrubs. There is a superb show of flowers from early May through to October and hips over winter. There is a great variety of roses with a large number of English Roses along with other repeat flowering shrub roses like the Rugosas and Hybrid Musks as well as many Old Roses and Species Roses. It is now a very popular part of the gardens. Right next to the rose garden is Kew's very interesting collection of species roses.
Kew gardens are situated next to the river Thames, 10 miles west of central London. Opening times vary season to season so please check the Kew website for the latest information. Free entry for Friends of Kew or from £14 for adults.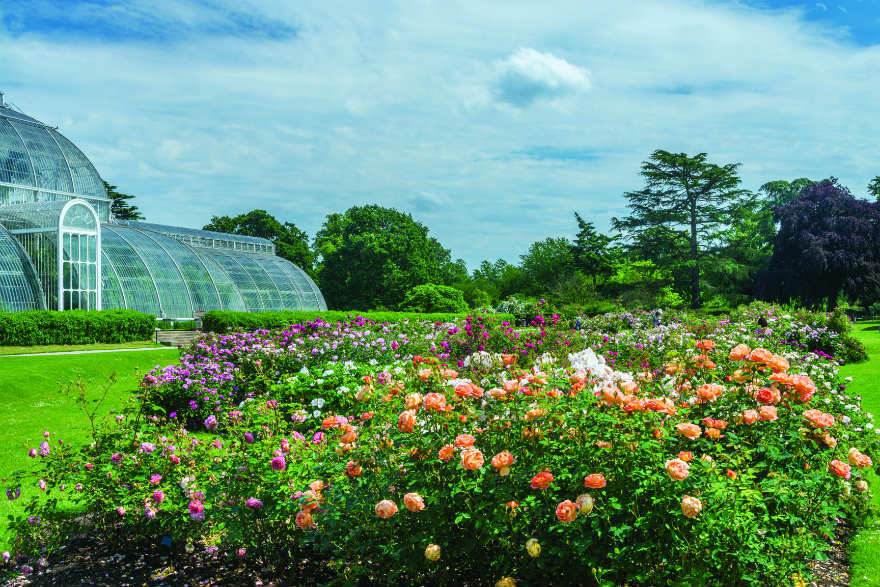 RHS Wisley
There are two rose gardens at Wisley, the Jubilee garden and the Bowes-Lyon garden. The former is quite formal and is planted with a mix of modern Hybrid Teas, Floribundas and English Roses along with some repeat flowering climbers and standard roses. The Bowes-Lyon garden was replanted in 2011 replacing the previous, very old fashioned rose garden. The new garden is truly wonderful with its mix of roses and perennials although, unlike other such gardens, here the perennials are kept separate from the roses. The roses cover the complete range of varieties but were carefully chosen for maximum health. There are some impressive climbers and ramblers trained up large metal structures from the previous garden.
RHS Wisley is situated just off the M25 near Woking in Surrey. It's open all year except Christmas day. For more information visit the website. Free entry for RHS members, or £14.50 for adults.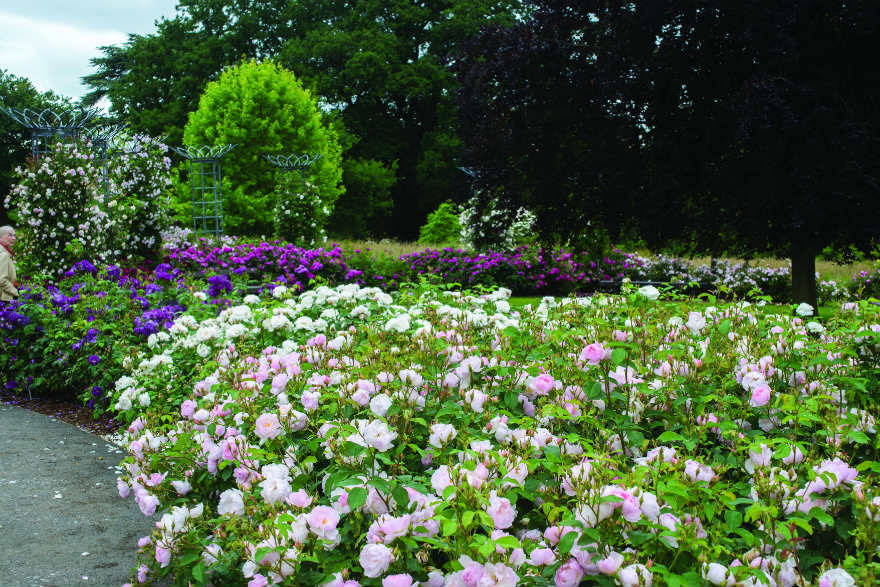 Wynyard Hall
Not a rose garden in the traditional sense but still one that contains over 3000 roses along with large numbers of perennials and some trees. The owner, Sir John Hall, has loved roses from a very early age and in the last 10 years was determined to plant a rose garden in the 4 acre walled garden. The garden, designed by Alistair Baldwin with help from myself in choosing the roses, was built and planted in the winter of 2014/15. This year, as the plants mature, it will look superb. The garden is divided into different areas each having its own style and colour range and there are several water features. The majority of roses are English Roses but there are other repeat flower shrub roses as well as some Old Roses and Species roses with many climbers and ramblers trained to cover the obelisks and walls.
Wynyard Hall is situated on the outskirts of Durham in the Tees Valley, just off the A1(M) near Middlesbrough in Cleveland. It is a four star hotel surrounded by 150 acres of historical landscape. The gardens are open to the public.
Entrance to the garden in summer is from 10am to 5pm and costs £5.50 for adults. Please visit the Wynyard Hall website for more information on opening times, facilities, directions, maps, ticket types and access.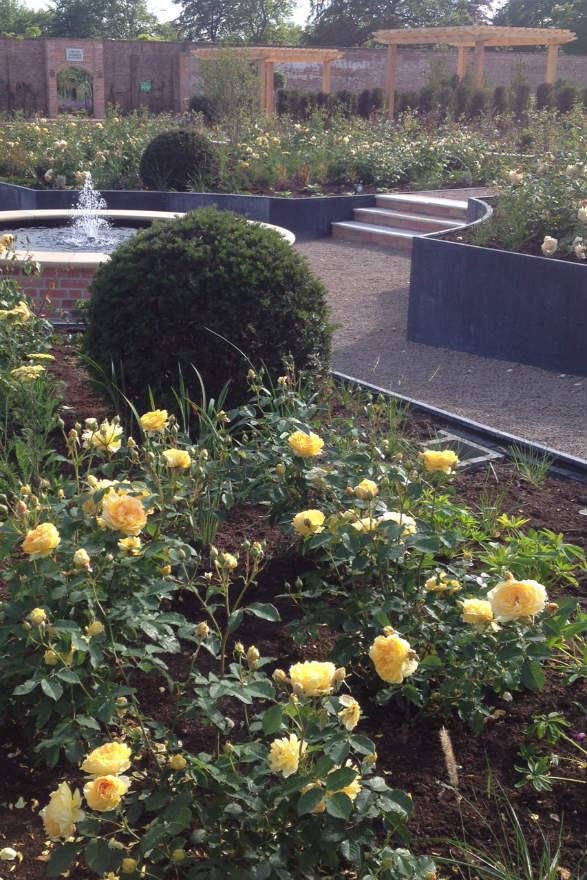 Bodnant Garden
Bodnant has two excellent although very different rose gardens. The upper terrace one is very formal with a series of rectangular beds each about 4 x 1.5m and each showcasing a single rose variety. The roses were replanted about 7 years ago and during the summer the beds are a mass of colour. The lower terrace garden was replanted more recently and is more informal with a wonderful mix of roses and perennials. It has been a great success especially with the backdrop of the immediately recognisable criss-cross construction of the wooden pergola and the dramatic white Pin Mill building. The majority of roses in both gardens are English Roses along with some Hybrid Teas, Floribundas and Old Roses.
Bodnant Garden is owned and run by the National Trust. It is situated above the river Conwy across the valley from Snowdonia in North Wales. For information and opening times visit the website. Entry is free for National Trust members or from £11.25 for an adult.