The winning tip came from Gerry Bishop (via Twitter). He shared this image of his innovative squirrel defenders attached to his bird feeders with the message; "how to stop squirrels getting at your bird feeders many have tried. But none have breached this …" Gerry won a £50 gardening voucher to spend on his garden.
But there were so many other great tips that you shared with us, so we created a runner up prize for Deborah O'Brien (via Twitter) who said; "Be a generous gardener, give seeds, plants, produce and cuttings, it will come back 10x and your garden will thank you too." Deborah won a £25 gardening voucher.
Flower Power
Many of the tips raved about Richard Jackson's Flower Power encouraging everyone to use this professional style plant food.
Zoe Jean McManus offered several tips in her entry (via Facebook); "Use Flower Power twice a week and dead head fading flowers to produce more. Also feed grass every two weeks for tip top condition and water in hot weather when the sun goes down"
Diana Eastwood (via Facebook) told us to; "Feed tree lilies, water well and watch out for Lily Beetles. I'm using Flower Power this year for the first time – perfect results."
Karen Davis is another Flower Power fan, "Just keep feeding with Flower Power and watch them blooms open up," she says (via Facebook).
Gail Yvonne Bolstridge has another suggestion; "Talk to your plants, tell them how beautiful they are and feed them well with Flower Power and they will be blooming lovely," she says. (Via Facebook).
Anne Keating gave us two tips in one (via Facebook); "Dead head plants every other day – it's the best way to get a bumper crop of flowers. After using Flower Power of course."
Supporting wildlife
We had several great ideas for helping wildlife and pollinators.
Lynn Evans (via Facebook) suggested the following; "Create wildlife habitats by having a log pile, an area of uncut lawn, shrubs, flower borders and a pond! Everyone is welcome in my garden."
Molly Basset suggests a great planting combination, (via Facebook); "Plant lavender next to roses to stop aphids. It also encourages bees and butterflies."
Zoe (via Twitter) told us; "If you want to attract wildlife in your garden, Bees love daisies & finches love lavender. Wildlife gardens look amazing too."
Sage advice
Pest control was another hot topic for the tips.
Jennifer Wiseman (via Facebook) shared a Toby Buckland tip she had heard some years ago; " Steep bulbs in tonic water overnight before planting – the little creatures don't like the taste of quinine. After years of planting, with little success, I gave it a go and it works like magic.
June Saddington (via Facebook) shared these wise words; "Don't go slug hunting in bare feet".
Amanda Jane Davies (via Facebook) offered this useful advice; "Plant French Marigolds in the greenhouse to deter pests but attract pollinators. I've done that for the first time this year and saved a fortune in sticky traps and there are no ruined plants!"
Celia Goldthorpe suggested this useful tip (via Facebook); "Put a clove of garlic next to your rose bushes – no greenfly!"
Jamie Wearing gave us this top tip for roses (via Facebook); "Mix up some liquid seaweed in a spray bottle and spray on roses. It's fantastic for hardening the plant against rust and blackspot."
Ivy Freeman shared this tip for deterring slugs (via Facebook); Crushed egg shells to deter slugs, I've found that this works." She says.
Georgina Jacobs (via Facebook) told us that "Adding coffee granules to the soil helps to deter slugs."
And from award winning gardener Geoff Stonebanks and his @Driftwoodbysea twitter account, his top tip was "Pack the plants in so tight, no weeds or snails."
Money saving garden tips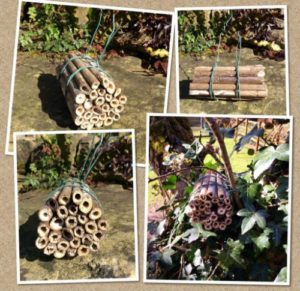 We also had several great money saving tips and some fantastic general tips too.
Carol Crosbie suggests the following (via Facebook); Use spent grow bags to dress borders, it saves buying topsoil.
Chantal Smith recommends starting with the soil, (via Twitter); for best growing results invest in improving your soil rather than planting expensive plants in poor soil. Compost, manure, etc."
Emma Lister, (Via Twitter) came up with a great idea; "Use dried sunflower stems as sunflower canes for next year. I can't find anything else tall enough!"
Sandy Ralph had an interesting way to water hanging baskets in a drought (via Twitter); In this hot weather put ice cubes in hanging baskets and tubs for the plants they melt slowly and moisten the plants well."
Ali Barlow (via Twitter) offered the following great tip for pollinators; "Save all your old perennial stems and turn them into bug and bee hotels to help protect our pollinators."
Karen Goss shared a top tip she was given on her allotment (via Twitter); "Hoe; even when you can't see any weeds."
If you've got a great gardening tip to share, do put it onto our Facebook page or Twitter feed using the hashtag #RJGardening Tip.
Thanks to EVERYONE for taking part.