Forget New Year's resolutions made in January (if you haven't already!) instead do something useful and fun and start growing your own tasty crops in 2017. So just how do you maximise the chance of great results and fun producing those delicious vegetables?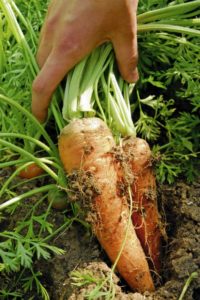 The growing plot
Start by giving the vegetables a decent chance – don't expect good results from plants struggling in a gloomy piece of ground or in really miserable compost. Choose an open, sunny spot and improve the soil by incorporating some compost and/or well-rotted manure.
For any veg you're going to grow in pots always buy good-quality compost – even if it means paying a little more. I always remind my 'Grow Your Own with Pippa Greenwood' veggie growers of the need for good-sized containers too (small pots are a nightmare to keep moist and may not provide enough root room!)
Seed or plants?
If you're new to veg growing don't be too ambitious in the first year and consider growing a mixture of veg from seed and also veg from garden-ready plants. Some vegetables, like carrots, rocket and oriental vegetables really hate being transplanted so growing from seed sown direct into the soil where they are to crop makes particular sense.
But if you want to save a lot of time and perhaps then allow yourself to grow a wider range of crops (and without the need for propagators, seed trays and pricking out!) then there are plenty of garden-ready veg plants available mail order (take a look at those I offer on my website at www.pippagreenwood.com, where the plants are also accompanied by weekly advice emails from me!)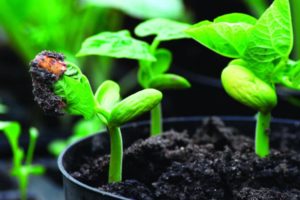 Choosing varieties
When you're deciding what to grow start by considering what you'll actually enjoy eating – there's no point growing something someone else enthuses about if you don't like it!
You'll find that all home grown veg taste better than the aging ones you buy in a supermarket, but choosing a variety to suit your preferences is a good idea too so read descriptions in catalogues and on websites or on the back of seed packets and consider buying a few different varieties of a favourite crop and discover your own favourites.
I always try to extend cropping seasons for as long as possible, so selecting a range of varieties may help with this too, especially for crops like peas which are sold for different cropping periods.
While you're scanning for information, also look for varieties which show resistance to common pests or diseases – classic examples of this to look out for are carrots 'Flyaway' and 'Sytan' both of which offer resistance to carrot root fly.
Tomato 'Crimson Crush' is the only so-called blight resistant tomato I've ever grown which actually seems to show useful resistance.
I like to grow a combination of old-favourites and some new varieties, that way I'm constantly checking what is new without risking too much! I have some varieties I'd never want to be without like Calabrese 'IronMan', runner bean 'Firestorm' and tomato 'Sakura', given a little time you'll soon develop your own regulars too.
Sow slow
If you're growing a crop from seed make successional sowings – all this means is sowing small quantities of seed at regular intervals of about two weeks – this has so many advantages – if a pest or problem hits, it's unlikely to wipe out all ages of plants and of course it'll also mean that you prolong your harvesting period and reduce the risk of too many gluts.
If you add some pull-out mini tunnels and cloches to your next shopping or birthday list these will also allow you to start outdoor sowings a little earlier and to keep many crops producing for longer too.
Growing your own is fun and productive with results which will make you wonder how you ever put up with the relatively tasteless offerings from supermarkets.