As children, my sisters and I would wait eagerly in the field, wrapped in scarves and hats and clutching a very large torch. We were waiting for the firework to shoot up through the trees. Yes, I did mean firework not fireworks! My grandfather would buy one rocket every year and we simply adored this annual ceremony. This rocket would be lit in the orchard at Stockton Bury. I recall walking very sheepishly to our place of safety as the floor was littered with cider apples. Apple bobbing would follow and maybe a game of conkers or a feast of roasted chestnuts. Fond memories indeed.
We may not all enjoy the bangs and whistles of the firework displays, but one thing is for sure – bonfire night should remind us how special trees are. The tree is a focus of our frivolities – be it the branches we burn on the bonfire or the toffee apples we munch on. The tree in your garden can become a very important part of family life and a memory maker.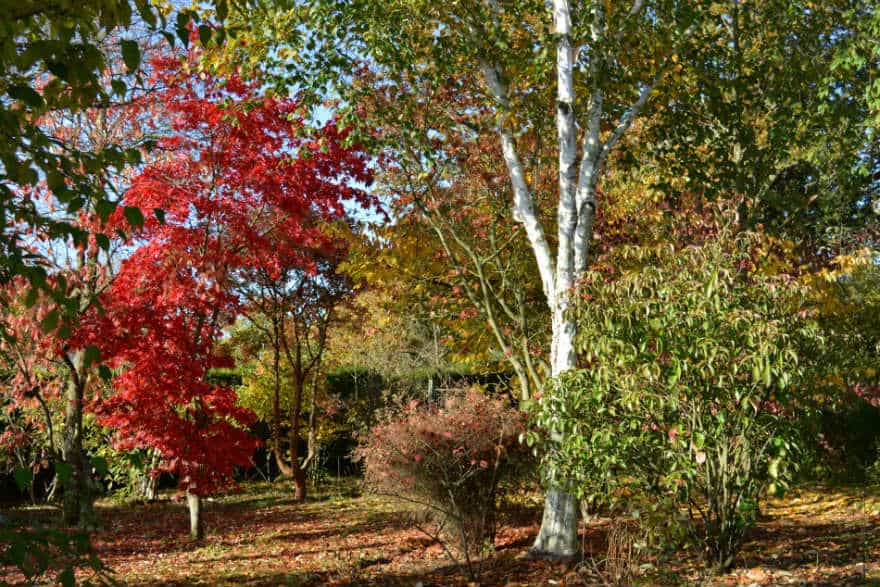 Think before you plant
The orchard, that now stands tall at Stockton Bury, is a similar age to me. As is the tulip tree that graces the main lawn. Next to this is the monkey puzzle planted by my great, great grandfather in about 1886. Scary to think how they and I have aged. Trees are such wonderful markers of time and now is the month to plant them. Bare root and potted trees, shrubs and hedging plants are available now so take the opportunity to add a new family friend to your garden.
A tree is not something you should buy on impulse. Consider where it will be planted, its eventual size and why you want a tree there in the first place. Do you fancy one day putting up a garden swing or are you looking for a delicious apple for the family lunch boxes? If so, we grow 'Egremont Russet' as it has a uniquely nutty flavour and it stores well. If you're looking for something a little more unusual and you have a sunny spot with a well-drained soil, try the Asian pear (Pyrus pyrifolia). The golden pears, that look more like apples, taste of the old-fashioned pear drops.
For spring blossom you can't beat Prunus cerasifera 'Nigra' and for autumn interest from foliage and fruits Malus 'Red Sentinel' is a winner.
If space is an issue, choose a tree with more than one season of interest. How about Prunus serrula with its shiny winter bark, its spring blossom and autumn foliage? It's a small tree reaching about 10m in height. Yes, that is small when it comes to trees! Check eventual heights and if planting close to the house investigate how vigorous the root system is.
Tamsin's top tip
For those that don't have the space for a tree, my top tip this month is to plant tulips. You've still got time. I've just planted my pots with the dark orange 'Brown Sugar' and the parrot tulip 'Professor Rontgen'. When they flower in May I'll be expecting a fiery display to rival any firework. What a treat!