I'm standing at the potting bench tapping away at my laptop and if I'm honest it's a little chilly – autumn has arrived. Tempting as it is to retreat indoors, you need to grab the month of October with your gardening gloves and get cracking. It's what you do now that will make all the difference to your plot in spring 2018.
Stop and look a minute
Here at Stockton Bury gardens, the rakes are out and leaf clearing is a daily task. Before you bag up your leaves to make leaf mould take a few moments to study them. After all, you won't see their fiery colours for another 12 months.
First to drop its leaves in my garden was the katsura tree (Cercidiphyllum japonicum). The fallen leaves have a wonderful scent of candyfloss. Holding onto its leaves for a little longer is the winged spindle (Euonymus alatus). These small leaves offer a very impressive deep-red tone. In contrast, with larger and golden leaves, is the tulip tree (Liriodendron tulipifera). This tree graces the main the lawn and I hold it with great affection as it's about the same age as I am (never ask a lady to reveal her age!).
Border control
After a few hours of raking leaves each day and stopping for my biscuit break, my attention then turns to the borders. With over four acres of garden to put to bed, I need to start cutting back borders in October, but many gardeners prefer to leave cutting back perennials until late winter. By leaving them you can enjoy the cobwebs that dance across the seed heads.
Cutting back now makes planting spring flowering bulbs so much easier. It's almost impossible to creep into a border to plant bulbs without causing damage to delicate stems and seed heads.
Our tulips arrived in the post last week. They will be planted in large terracotta pots now and in spring we can decide where the pots should be placed. It's fun to be able to move around your tulip display to ring the changes in your garden.
Frost watch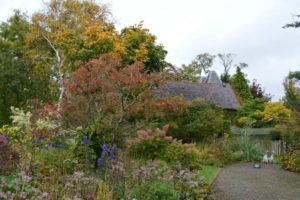 I'm sure I'm not the only one who pays more attention to the weather forecast now than at any other time of year. Frost is my fear. The fuchsias and pelargoniums that have offered so much interest this summer are still in the unheated greenhouse. They will soon be moved to the cellar. Here they are placed by the door and left until March when I repot them. It's important to store them in a frost-free place with light. The cellar remains at a constant 6C all year. Our apples, potatoes and carrots are stored here – it's like entering an Aladdin's cave of treasure. Evergreen agapanthus, agaves and other tender plants will spend the winter in our heated polytunnel. When the weather turns very cold this is where you'll also find me with my border terrier, a flask of tea and the radio