In a normal summer Geoff's garden at Driftwood by sea is a magnet for garden visitors drawn by the beautiful garden and the superb refreshments on offer. Visitors rave about Geoff's cakes. Every summer he makes lots of different cakes, sweet and savoury to raise money for charity. Two of the most popular savoury treats that Geoff makes for his garden visitors over recent years are his ricotta cheesecake and his muffins. Here he shares the recipes.
Easy savoury bakes
The trick here is that recipes have to be quick and easy, as there is only me to prepare the garden and bake all the food! On our open days however, I have a wonderful, tried and tested team of volunteers who come in and serve the food.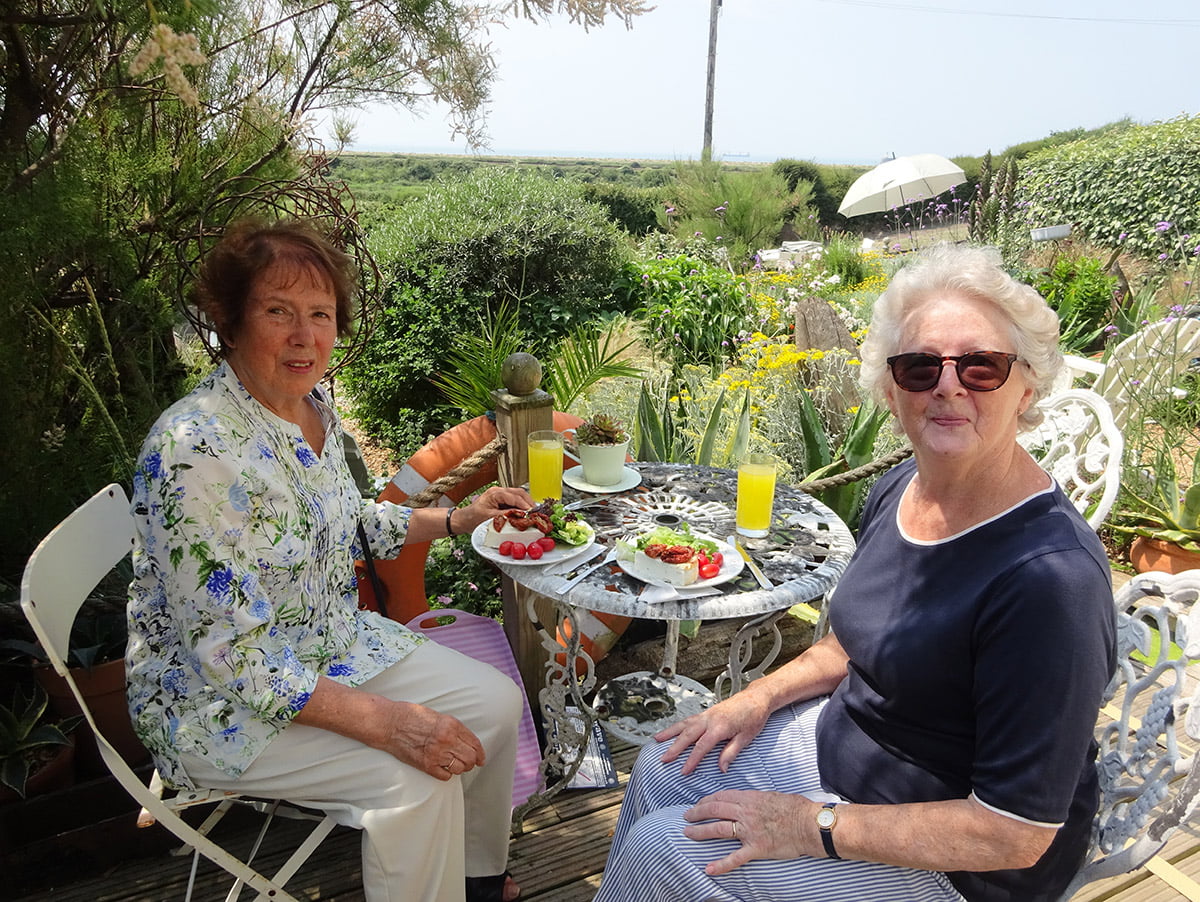 Savoury ricotta cheesecake
I always like to offer a light lunch for visitors and I've found the perfect, simple item in a savoury ricotta cheesecake. It's so easy to make and serve with leaves and tomatoes with dressing!
Ingredients
3 * 250gm ricotta cheese,
Seasoning
Olive oil to drizzle
100gm diced roasted red peppers
Few sun dried tomatoes
Method
Empty cheese into plastic strainer or collander and leave draining into bowl, overnight, in the fridge. Next day, place drained cheese in bowl, season, add the diced red peppers, mix well together. Brush sides and base of 20cm loose leaf baking tin with olive oil and then line base with parchment paper. Spread mix across tin and smooth top with knife. Drizzle with olive oil and bake for 25-30 minutes in oven at 180 degrees. Remove, cool and chill, top with a few sun dried tomatoes and serve with assorted leaves, fresh tomatoes and dressing.
Stilton & Watercress Muffins
Another favourite is a simple savoury muffin, I've tried many different ones over the years, all of which seem to sell well. I display them in a cabinet in the kitchen on a cup cake stand. So here's just one recipe you can try yourselves this month. 
Ingredients
250 gm plain flour
1 tbsp baking powder
125 gm crumbled stilton cheese
1 large egg
240 fl oz milk
90ml sunflower oil
150 gm grated carrots
50 gm chopped watercress
Seasoning
Method
Preheat oven 190C or 170C fan. Line muffin tin with 8 papers. Sift flour, salt and baking powder into mixing bowl. Stir in crumbled cheese. Beat together egg, oil and milk in jug then pour into bowl with dry ingredients. Stir until combined adding grated carrots and watercress at last minute. Spoon mix into muffin cases and bake for 20 to 25 minutes until they rise and are golden. Cool and enjoy.
To be honest, the ratio of sales at Driftwood, sweet to savoury, is always about the same, we sell 4 or 5 sweet items for every savoury item but there is clearly a market for them as many visitors just do not want sweet items.