Look out for some hot new plants and some great old favourites on Richard Jackson's Garden this Easter.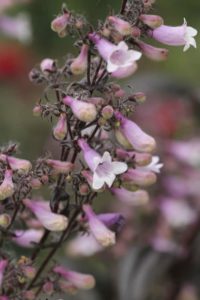 Exclusive new Penstemon
Don't miss the chance to buy a spectacular new Penstemon. This one is such a stunner that it quite literally left the RHS Judges Committee for Penstemon lost for words. In the words of one committee member, "it blew the entire committee away." Heralded as the greatest penstemons ever, this striking plant is called 'Dark Towers'. There's not a bit of green to be seen; this astonishing plant has red leaves that turn to copper, with a burgundy and copper coloured stem. Its flowers are in shades of pink and cream. It is a digitalis type, so it grows tall, blooms a long way down the stem and is simply laden with flowers. It's a cracker! Available in limited quantities on Good Friday.
Dealing with weeds
It's not just our garden plants that are spurting into growth this spring. Garden weeds are also starting to colonise bare patches and encroach on our gardens. Of course to some weeds are just plants growing in the wrong place and indeed some weeds like dandelions or thistles are good food sources for early emerging pollinators. Leave a patch somewhere to support wildlife.
There's been a lot of bad publicity in the press about Glyphosate-based weedkillers, so if you prefer to spray your weeds but want to try something different that really works, then take a look at Richard Jackson's Double Action Weedkiller. It's the TSV (Today's Special Value) for Easter Monday on QVC so a great chance to take advantage of a special offer price. Tune in anytime between midnight Easter Sunday and midnight Easter Monday to take advantage of this great opportunity.
Double Action Weedkiller is based on Pelargonic acid, a naturally occurring ingredient found in pelargonium (geranium) leaves. It's a non-specific weedkiller, which means it will kill all plants and green material on contact, including your lawn, so it needs to be applied directly to the weeds. It will deal with a broad spectrum of annual and perennial weeds including horsetail, nettle, dandelions, thistles and ground elder, as well as grass, moss and algae. It also contains a special ingredient to kill the weed roots too. Once it's dry pets can enter the treated area. The weedkiller pack  comes with a battery-operated power sprayer, for quicker and faster spraying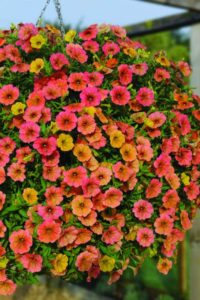 Petunia 'Peach Sundae'
If you love Begonia 'Apricot Shades' you will adore this fabulous petunia, as it mirrors its colour, tone and immense flowering power, but has the added effect of a tonal colour change as the flowers open and mature. The flowers change from yellow and orange through to peach and coral, creating a fabulous tapestry effect. It's been grown, tried and tested to ensure it withstands the British weather, bouncing back after a heavy summer shower and is just perfect for your hanging baskets.
Fuchsia 'Berry'
Be one of the first to grow and taste a new fruiting, garden plant. The incredible, edible Fuchsia 'Berry' is now available in limited supplies and will be on QVC this Easter weekend.
Fuchsia 'Berry' is the new berry on the block; it's a fabulous flowering plant with the extra addition of plump, juicy, tasty fuchsia berries. Covered in spectacular blue and red fuchsia flowers, it's a magnet for pollinators all summer. As the flowers mature, vitamin rich berries form right behind the bloom and the plants keep flowering while they are fruiting, so the display and your crop goes on for weeks. Tune in for a great offer on these incredible, edible berries.
One for the bees
If you love seeing the butterflies and bees in your garden, then don't miss the chance to buy a fantastic collection combining Bidens 'Bee Dance Painted Red' with Bidens 'Bee Dance Painted Yellow' this Easter on QVC. These compact but very floriferous plants are perfect for hanging baskets and will create an intense honey scent as they open their nectar rich flowers this summer. Your butterflies and bees will be dancing all summer with these fabulous plants in your garden.
Tune into Richard Jackson's Garden on QVC over the Easter weekend, 9am – 11am Friday and Saturday, 7am – 9am Sunday and 7am – 12pm on Monday.