I've always been the sort of gardener that does not like to see wooden fences or unattractive boundaries. More importantly, I must confess to prefering tall boundaries; it's not that I don't want to engage with my neighbours but more importantly, that I want to be in control of the entire view across my garden and its extremities are a very important part of that equation.
When we moved here in 2004 all the fencing was already in situ. It was brand new and very stark. I knew I had to conceal it in some way but how?
By the back-garden entrance, there is a long fence, my boundary, running down the length of the property, so I decided I needed to cover it. I finally decided on ivy, not everyone's favourite but it is fast growing and if kept in check it's a useful addition. It is claimed it is the single best climber for wildlife, especially if allowed to mature to its adult form, when it has pollinator-attracting flowers in autumn and black berries through winter. According to the RHS, more than 140 species of insect and 17 species of bird feed on ivy in Britain, and countless more creatures appreciate its evergreen shelter. It will quickly cover any eyesore you wish, even in deep shade, and grows to 12m if left unchecked. I can't believe the number of birds I see in the garden, many of which nest in this long covering of ivy.
Roses grow on you
On the opposite side of my garden it was a total blank canvas! A few roses were left when we moved in but they really did not do well, so I took them out and started again. Halfway down this boundary I created a folly door with an arch over it and again used ivy, interplanted with a clematis montana, so the clematis flowers look good with the ivy backdrop. Adjacent to the folly door is a wonderful English climbing red rose, 'Tess of the D'Urbervilles'.
It is a striking climber bearing large, deeply cupped, bright crimson-red blooms, with a pleasing Old Rose fragrance. It is a relatively compact climber clothed in large, dark green leaves. The blooms look amazing each year and it is repeat flowering too and will grow well, east, south or west facing. Mine faces east! Not that I'm a rose fanatic, I'm certainly not, the former was a gift from two ladies that volunteer in the garden when we open and the next one was a 50th birthday present, a good few years ago. Another favourite is a stunning rambling rose called 'Veilchenblau', which has nearly thornless stems, from which emerge extraordinary violet-blue flowers. This unique, hardy climber is one of the bluest of old rambling roses. It is vigorous, and fairly disease resistant and produces large clusters of fragrant, small, purple blossoms in late spring which darken to a blue-purple as they age.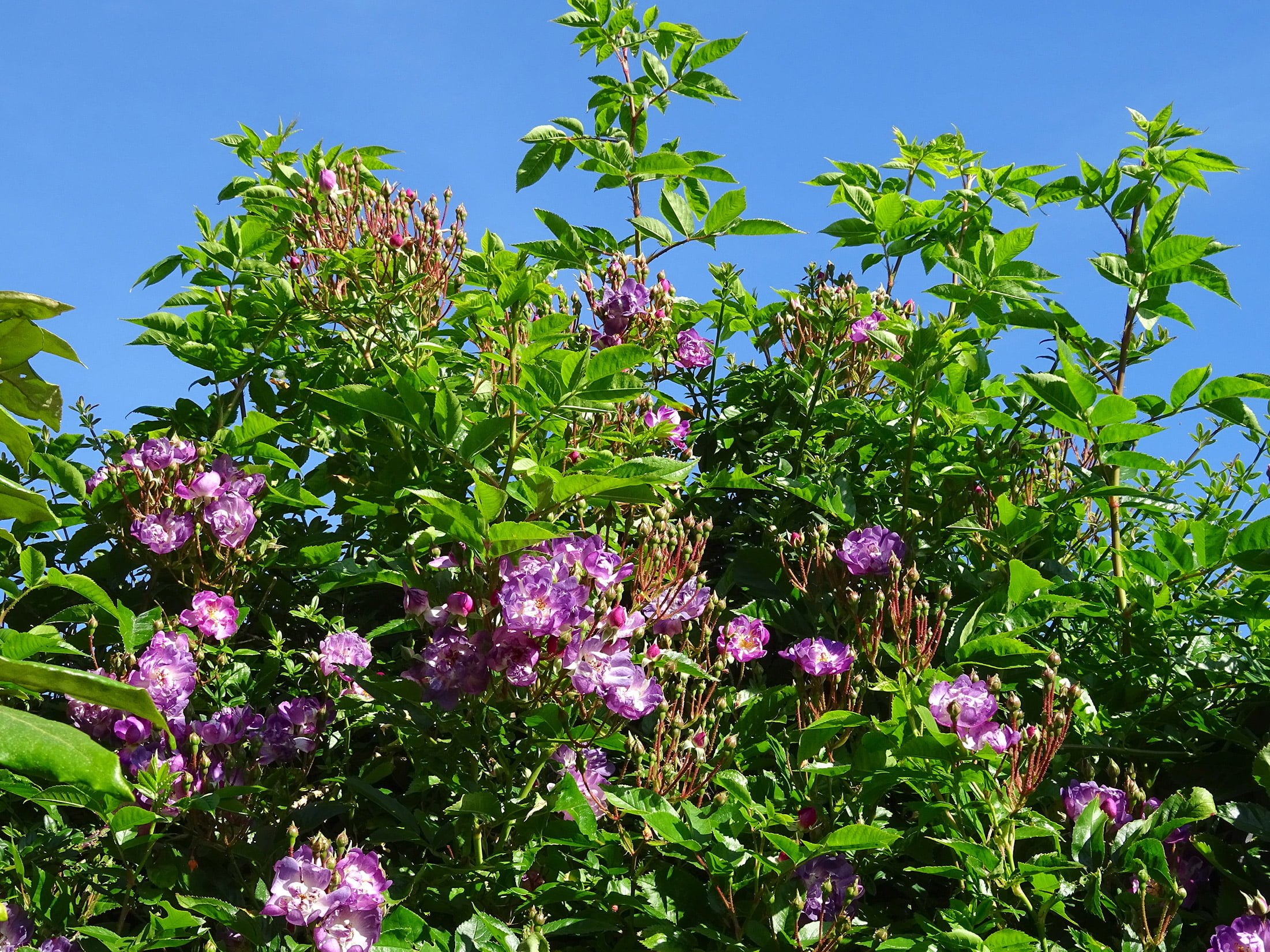 Flowering canvas
Another great climber is star jasmine, Trachelospermum jasminoides. It's a popular choice with garden designers and has scented white flowers in summer and deep green, shiny leaves that sometimes turn red in winter. It grows to about 9m and will tolerate most soils and situations, though it is happiest in a sunny, sheltered spot.
My final mention must be for one of my favourites, but I hasten to add I've never had much success with it and that is wisteria. Wisteria is stunning with gorgeous racemes of cascading, grape-like clusters of flowers in shades of purple-blue and white in spring. But these woody deciduous climbers get big so they need lots of space and support, and a twice yearly pruning to keep them well behaved and flowering profusely. I always admire the amazing specimens you can see when you are out and about.