When you need tips and advice on garden design, garden landscaping and general DIY dilemmas Tommy's You Tube Channel offers all sorts of information and here at Richard Jackson's Garden we are really pleased to announce that Tommy will be adding his expert knowledge our website with a regular blog and video tips – Tommy's Trade Tips.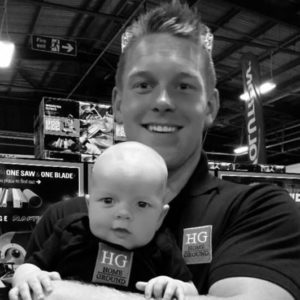 For those who are not familiar with family man Tommy, here's a little insight into his world.
Young Entrepreneur
Tommy Cross started his company Home Ground after finishing his degree at University. It started as a maintenance company taking on modest installations such as patios and paving. Tommy gained work experience working with landscape architects and building companies in Berkshire. "Within the first 18 months, we moved on from doing modest maintenance contracts to a substantial contract garden installation, it was a very sudden and a big turn for my business and it grew exponentially over a matter of months from then."
Pioneering
By embracing the Internet and the World Wide Web, Tommy's business grew, the website 'shop window' enabled potential customers to browse ongoing projects and see the quality of his work. "We were quite pioneering at the time," admits Tommy. " we were the first tradesmen locally to have a website, and that had real resonance with people because they could actually see the products and projects online, and I've always been quite keen on showing off our work online, I am proud of it. Our website has changed over time and gone through the motions as they all do from a small campaign of images that we would load up, to a fairly interactive mobile tech-savvy website with moving media, linked to our FaceBook campaign." Today the website content reflects the vast expertise of the company and features video blogs and project updates from Tommy himself. A lively presence on Social Media is also a strong catalyst behind its exponential growth. The business has gone from strength to strength transforming gardens throughout Cheshire with garden design, construction and maintenance.
Television presenter
Through his landscape business, Tommy set up a You Tube Campaign, called HomeGround TV where his informative, hands-on practical approach became popular for advice seeking DIY'ers and for potential customers to see the extent of his work.
Soon he was approached to demonstrate power tools he was using on site, which led to a stint on QVC and finally to presenting alongside Richard on Richard Jackson's Garden.
This spring Tommy is going to be sharing some of his trade tips here on our website to help you get to grips with some of your garden dilemmas as well as offering hands-on information to make the most of your garden space.
Passionate
Tommy is a real outdoors kind of guy and loves his work. "What I love is that you are building something and developing something which didn't exist until it develops from your concept. We listen to ideas, we interpret them in a design, we spend a lot of time with the client on a one on one basis, listening to them and then building up a range of ideas and a platform for their finished garden."
"But that's not where the enjoyment starts, I love the creative process, I love going to work, rain or shine, and actually building and the day to day and as mundane as it may sound I love laying bricks, I love laying paving, I love getting the garden shape and form coming together with all the hard landscaping. I'm quite passionate about plants too and I love seeing a garden develop over the years, you can get the hard landscaping in and then have that satisfaction of a tangible end product. But it's the knowing that the garden is an organic entity and it's going to grow and develop over time. Whenever you return to a project it's always great to see it, and no matter what time of year you go there you will see a different shape, whether its winter and you've got just the outline silhouettes of the trees, or the middle of summer or spring and things just appearing from the undergrowth, its just a fantastic industry to be a part of."
Tommy's secret
Behind the big burly landscaper persona there's a softer side to this friendly chap. Tommy is actually scared of ghosts, to such an extent that he readily admits to wimping out on a landscape job in deepest, darkest Wales. "We were working for a client who let us stay in their house," he explains. "We had this beautiful cottage dating back to the 1600's where we were building an extension and renovating the garden. We had the place to ourselves, seafront views, absolutely glorious location, but because I am scared of ghosts and they told me the house was haunted, I used to take my mattress into the van and sleep in the van every single night for about six weeks."
So there you have it, he is human after all. Welcome on board Tommy.