Winter can be a time when the garden feels like it is completely empty. 'Everything is dead' is a common misconception and although not true it can really feel like that at times. At worst the garden is just sleeping. All the buds tightly shut, hiding their precious contents out of sight for a few more months until the warmer days of spring eventually coax them out. But look a little closer and you'll soon see that not everything is tucked up for its winter hibernation. For some, winter is the time that they really start to ramp it up; when they begin to do their thing.
Jewel flowers
In the heady days of summer it can be quite easy to get distracted by the bountiful colour that fills the garden and you could almost be forgiven for taking flowers for granted there are so many around.  But in the seeming desolation of winter, the occasion jewel is glistening. Finding a plant in full bloom at this time of year makes it an altogether more special experience. Just occasionally you come across a plant that is worth is weight in gold. For me Daphne bholua is one such plant. Clusters of four petaled flowers in shades of pink and white adorn the branches of these charming shrubs in the depths of winter, all the while exuding the most delicious fragrance.
A real plant of the moment, Daphne bholua 'Jacqueline Postill' AGM or 'Jackie P' to her champions is often regarded as the best cultivar of D. bholua available. Gardeners really have taken her sweet fragrance and fine appearance to heart; with just about everyone wanting a plant for their own back yard. There is a problem however. She's a coy character and notoriously difficult to propagate, so it can be hard for nurserymen to keep up with demand. Indeed while working in the Plant Centre at RHS Garden Wisley, dozens of people came in with the vain hope of purchasing a plant. A waiting list more than a hundred gardeners long confirms her popularity. The phrase 'rarer than hens' teeth' certainly springs to mind.
Lucky chance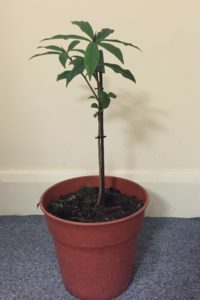 While completing my diploma rotation in the plant centre at Wisley I built a friendship with one of the ladies in the plant area. We got on like a house on fire, taking every opportunity to compare notes on favourite plants, planting combinations or simply gardens that we'd visited. Towards the end of my placement, a question was asked of me. The conversation was short and to the point. "Jackie P – Thoughts?" My reply was equally brief. "Love – I want her". Imagine my excitement when a couple of days later I was presented with a plant; a little sucker lovingly removed from her own garden. It felt a great privilege to be given something that some many others desired. It's true; no less than three members of staff within five minutes of each other came bursting into the canteen enquiring if that was in fact 'Jackie' sitting on the wall outside.
Currently small in stature, the small plant given to me will soon get going. Initially with a slow rate of growth, once established Daphne bholua 'Jacqueline Postill' is a good 'doer' and can reach 1.5-2.0 metres tall. Although sometimes regarded as a little awkward to grow, this doesn't have to be the case. Its true, Daphne resents root disturbance so care when planting is important, but given a sheltered spot and a little bit of love there is no reason that any garden shouldn't be filled with her glorious fragrance, that is – if you can lay your hands on her of course.
And if you can't find her, there are some other great daphnes that are have much better availability and the perfect plants to start out with. Daphne bholua is a good choice, as is Daphne 'Darjeeling' and both are widely available. Other good daphnes are the species Daphne mezereum or Daphne odora.