One of the reasons to visit RHS Chelsea and indeed other flower shows is to get ideas for your own garden. It might be a design idea that would work in your plot, or it could be some plant combinations that you love and would like to replicate. Here are a few small but interesting ideas that caught my eye at this year's show.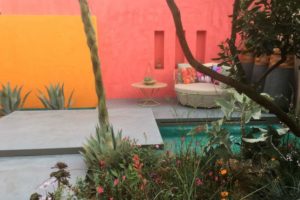 Clever use of colour
Colour was truly in evidence at this year's RHS Chelsea Flower show. Of course the borders in the garden are rich with flowers of all colours and hues, but you don't have to look much further to see how colour can bring alive a garden. On the Fresh Garden (74) Inland Homes: Beneath a Mexican Sky the walls have been painted on contrasting but complementing colours. It adds a vibrant backdrop to the whole garden and picks out colours used in the planting and for some of the accessories. So if you have a boring garage wall, or a concrete surface in your garden, or adjacent to your patio or terrace, consider a colour wash to give it new life.
Self contained water feature
Not everyone has room for a pond in their garden, but most people would love a water feature of some sort. You can use pretty much any container that holds water, but I particularly liked the Kadai Firebowls by Wilstone on stand 284. These vintage cooking vessels from India make fabulous barbecues, firepits and will hold water to make a water feature too. You could even use it as a water feature when you aren't planning a barbecue or night on the terrace and just wash it out when you are! Ingenious.
Cut flowers
I don't know anyone that doesn't like cut flowers and when you grow your own it's a wonderful way to brighten the home using things you've grown in the garden. Sometimes it seems a shame to remove them from the garden, especially if they are bee friendly flowers, so why not enjoy them al fresco? It's a trick used on the Anneka Rice Colour Cutting Garden, buckets of cut flowers adorn the little patio, but there are jugs of flowers decorating the plot. You don't need masses of cut flowers to make a difference; just a small posy in a little vase will light up a garden table.
Rustic Poles
We all need a few posts and poles in the garden, but they don't have to be boring fence posts. While I know that fence posts are treated against rots and pest damage, our trees use bark to protect their delicate tissues. On the Pennard Plants Stand in the Great Pavilion (stand 204), thye had used rustic poles to create a trellis that joined the potting shed and then trained plants up the structure. Still clothed in their protective bark they will last a few years before they start to break down, but are a cost effective and attractive alternative to rough sawn timber.
Colourful accents
Adding permanent colour to the garden is a great way to ensure that there is interest all year round. On the Anneka Rice Colour Cutting Garden, one of Radio 2's Feel Good Gardens ( 291A) there's a little work shed with open sided shelves stacked out with coloured glass vases and vessels. They light up in the sunlight and brighten up what might be a dull corner.