Sometimes when you are swept away by the hype and coverage and fever that accompany this week of chaos that is RHS Chelsea, it's hard to remember that it only a tiny percentage of the population has ever been to this magnificent show. Many watch it on television and many more possibly feel it has little relevance to their lives, their gardens and their homes.
That's a great shame, because plants and gardens and nature have a relevance to us all. Many people have lost their connection with the natural world and until they reclaim it they will remain more and more detached from what is important. Gardening is a great way to redress that balance.
This year the 2020 RHS Chelsea Flower Show is also accessible to EVERYONE online because for the first time in decades, sadly the live show has been cancelled. It's just one of the very many casualties of the CoronaVirus Pandemic.
But that means you can savour every morsel of this year's show and use that to inspire some changes in your own garden.
You really can make a small start in your garden. Gardening is not housework. You can make it into housework if you want to, by inventing tiresome chores that you have to do to make your garden conform to whatever you think it should be. Or you can gently transform it inch by inch into a space that you and your family can love and enjoy. Take some ideas from Chelsea past and make a start. Maybe you've got a little more time now to do that. If you are stuck at home, make the most of your outdoor space and transform a corner at a time into your very own paradise.
It's all about your vision and your angle. Yes you can have a Chelsea show garden if you've got a few thousand pounds spare. Or you can plant a container and add a chair and change your thinking so that you see the beauty in the weeds, the plants and all of nature's creatures. You can learn to harness the power of nature rather than fighting it all the way. And you can do everything in between.
The wow factor
Chelsea Flower Show offers the 'Wow Factor' in so many ways. From the extraordinary feats of engineering and garden design, like the stylised forest landscape in the show stopping Wuhan Water Garden, China garden (designed by Laurie Chetwood & Patrick Collins) in 2018 and the seven storey Magical Tower Garden (designed by Diarmuid Gavin) back in 2012 to the conversation stopping, once-in-a-lifetime Plasticine Garden in 2009 (designed by James May), there's always a surprise or two in store and over the years there have been a few fairly radical displays as well as countless exceptional creations.
But it's not just the gardens that create the drama at RHS Chelsea. Across the showground exhibitors vie for the exposure by the television cameras and really step up to the plate. It's not regarded as the greatest flower show on earth for no reason. While the average visitor comes to absorb and admire, on the Monday PRESS DAY the clientele are the rich and famous who strutt Main Avenue with their entourage of assistants and some will shop with an open cheque book for the extraordinary garden excesses on sale. Pop stars, presenters and actors mingle with the paparazzi, writers and broadcasters, who are all cast off site by mid afternoon before the arrival of Her Majesty the Queen and the other Royal guests.
Shopping opportunities
You could be forgiven for thinking that Chelsea is just about the plants, but normally it's also the chance to not only buy some of the best gardening products that the industry has to offer, but also to talk to some of the manufacturers themselves. There's everything from majestic glasshouses and tree houses, to lawnmowers, garden tools and garden gloves for the practical gardener. There's limited edition garden sculpture and antiques and artifacts for all budgets.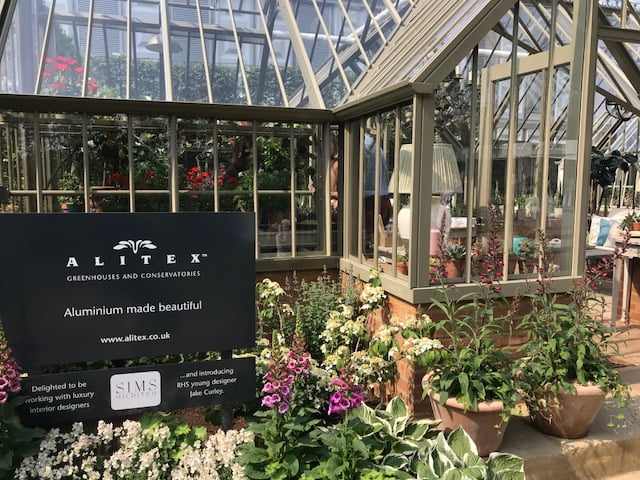 For the price of an extension (around £150K) but with a lot of fun factor, the amazing bespoke tree houses from Blue Forest are a highlight of Main Avenue. Fitted with a balconyesque deck, a glass floor, an upstairs playroom with fibre optic lights, a Narnia wardrobe that opens into an escape shute slide, with window seats and much, much more. There's plenty of space for grown ups and it comes with a special upper floor for the kids (of all ages) too. Create your dreams within your garden, add an extra room to your plot and bring the fun factor back.
Show Gardens
The Chelsea ShowGardens are the star attraction of the show, but they are not all drama and flamboyance, many carry a message or add contrast to the theatrical perfomance of the show. In 2016 The St John's Hospice – A Modern Apothecary Garden designed by Jekka McVicar added a deeper meaning of gardens for the visitor.
It was the scent of this garden that hit you first; as the sun warmed the flowers and foliage release their healing, essential oils. Just the sight and smell of the garden invoked a deep sense of peace and tranquility but it was the healing power of this garden that really set it aside from the rest. Though the garden featured plants known to be beneficial to the health and wellbeing of society it was much more than the sum of its parts. It was an oasis of calm and yet a vibrant powerful and potent mix of plants that heal in ways beyond our comprehension. These plants simply glowed with vibrancy and energy, filling the borders with their inimitable flower power in intoxicating combinations. The central water feature gently overflowed onto a thyme pavement beneath. Thyme the great healer was an integral centrepiece to the design. Lavender lined paths led around the garden design to benches for resting amid the healing energy of this peaceful space. The borders were richly planted with herbal wonders and many red leaved herbs such as Atriplex, Beta and brassica, rich in anthocyanins that aid cardiovascular health. Step-over pear trees, cones of clipped bay laurel and topiary added structure to this beautiful space. It was a lesson in the power of plants and the therapeutic power of gardens.
Garden Sculpture
Gardens and homes, however minimalist need a little ornament, decoration or sculpture as the icing on the cake. Whether it's a piece of art to adorn a wall (indoors or out), a birdbath, or even your own take on a garden gnome, garden art is very personal and extremely varied. But not all garden sculpture is obvious. Sometimes a specimen tree can form a statuesque form within the garden. In 2015 on the Royal Bank of Canada Garden (MA13) a cloud pruned olive tree takes centre stage. Its neatly clipped clusters of foliage cushion the branch ends and adorn the gnarled woody trunk with perfect balance, symmetry and style. This is a living sculpture that could be recreated in your garden with a more modest clipped box topiary.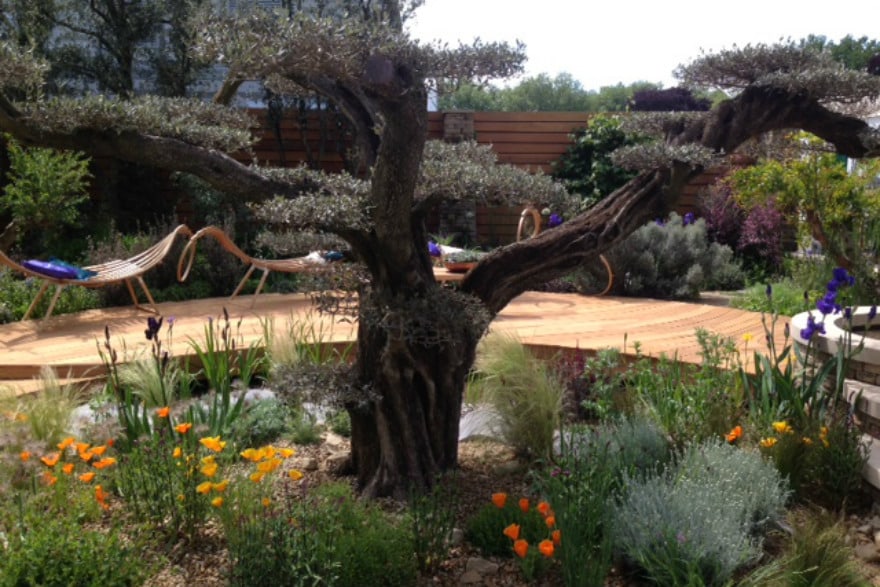 Chelsea wouldn't be Chelsea without some flamboyance and drama and for me the star of this year's show has to be the imposing driftwood dragon created by James Doran Webb. Wyvern's Folly that includes the 4-ton limestone gazebo supporting this 800kg sculpture. She's resting atop just outside the Grand Pavilion and if this leading lady is vegetarian, heaven help the nurserymen exhibiting inside. Lunch is looking extremely pretty, lush and delicious and the menu has been meticulously labeled for her delectation. You have been warned. At the time, if you fancied taking home this magnificent dragon and gazebo it would have set you back in the region of £200,000. Check out the James Doran Webb Driftwood Sculptures here.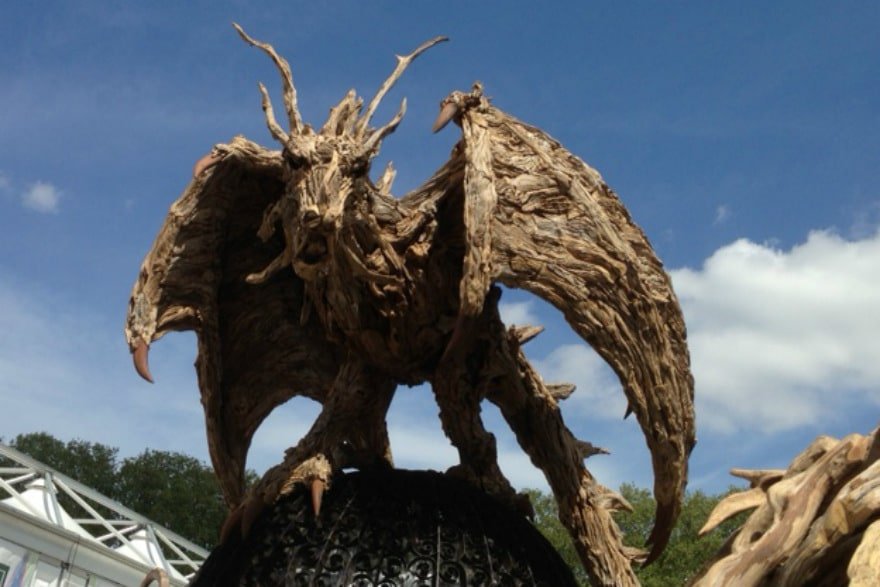 Ideas and inspirations
We all use panels, trellis and screens in our gardens in different ways, but the use of contemporary art within the David Harber and Savills Garden in 2018, showed an alternative way to screen using layers of two dimensional screens set at right angles to the view. The stack of screens is shaped to create a more organic barrier that allows views into the space but at the same time provides an element of privacy and intrigue. You could recreate the effect using scaffolding boards, trellis screens or even driftwood.
We featured some more ideas to take home from RHS Chelsea here.
Plants, flowers and floristry
Chelsea would be nothing without the plants. In the show gardens they paint the borders in wild and imaginative combinations, but it is in the Great Pavilion where the plants really take centre stage. Under cover of a marquee large enough to park 500 London buses are over a hundred exhibits from the world's best nurseries, growers and florists.
Banks of perennials, alpines, cacti, tulips, daffodils and more in every shape, hue and size adorn the aisles and aisles of exhibits. It's a horticultural extravaganza featuring pretty much every genus known to botany. The displays encompass flowers, floristry and plants, featuring rare gems, more common examples and a few just unexpected surprises. It's always fun to look out for a few newbies exhibiting for the very first time.
Chelsea Plant of the Year
For the nurseries and plant specialists RHS Chelsea is usually a launch pad for new varieties and plants new to cultivation. Each year twenty or so plants are shortlisted for the RHS Chelsea Plant of the Year and one is picked as overall winner by the judges. There have been some really spectacular plants including several that were fed with Flower Power. A clematis raised on a diet of Richard Jackson's Flower Power was awarded the coveted title of RHS Chelsea Plant of the Year 2016. Clematis koreana 'Amber' from Taylors Clematis is a pretty, creamy yellow clematis with nodding heads of double flowers. Introduced into the UK by RHS Gold Medal winners Taylors Clematis, Clematis koreana 'Amber' really does have the wow factor. "It's the only yellow spring flowering double yellow clematis in existence," says Chris Cocks from Taylors Clematis. "It's very easy to grow because you can plant it in any aspect. It will also withstand a lot of wind so it's a great choice for coastal areas. It's totally disease resistant and wilt resistant too and it's a repeat flowerer, flowering first in May and June and then there's a second flush of flowers in August and September. The flowers are followed by pretty seed heads. It was fed with Flower Power, we use it on all of our plants at the nursery with great results."