Sudbury is a market town in the Stour Valley in Suffolk, an area made famous by artists such as Thomas Gainsborough and John Constable. It is just 70 miles from London and yet it feels as if it is in the heart of the countryside. Nearby are picturesque villages such as Long Melford and Lavenham, with black and white timbered houses a-tilt along the street. Both of these villages run summer garden-open schemes for local charities.
Gainsborough's House Museum
Thomas Gainsborough was born in Sudbury and behind his birthplace, now, Gainsborough's House Museum, there is a pretty garden with an ancient spreading mulberry. Other fruit trees, such as quince and medlar entice you along lavender-lined paths into the garden edged with soft and relaxed herbaceous borders.
In season the museum shop sells quinces, lavender wands and sachets, and pots of sumptuous mulberry jam. Visit all year but in summer herbs, fruit and roses are at their best.
Water meadow walks
Running alongside the busy town centre are the Common Lands or water meadows. These flatlands lie on either side of the River Stour, which sweeps around Sudbury on two sides. The Water Meadows are a magnet for walkers. Sudbury's Freemen have grazed cattle here for over 900 years. Today they are managed for grazing, as well as for wild birds, animals and flowers. The cattle arrive in summer and stay until autumn, while swans and other water birds nest and breed here. Sunsets are spectacular.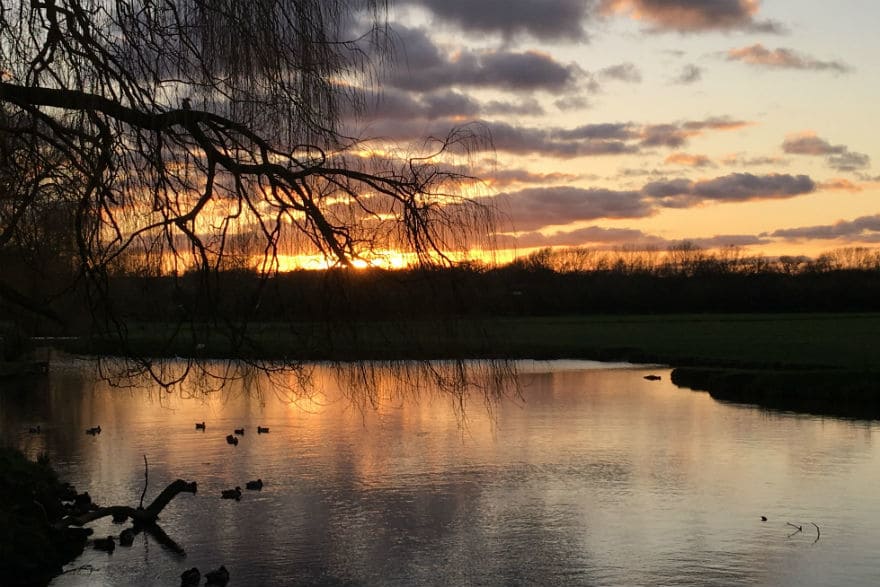 Gardens open for charity
There are several National Gardens Scheme gardens in the town or nearby. Suffolk NGS posts news about openings through the season on Facebook and also tweets as @SuffolkNGS.
22 Melford Road, CO10 1LS (500 metres from the town centre) a town garden, is open on Saturday and Sunday 4-5 June 2016 (11am-5pm) and by appointment from April to September. The garden rises behind the Victorian house and owners Colette and Conrad Bentley have dealt with the slope by making several distinct garden features on different levels. There is a large fishpond and waterfall and all through the garden they display the salvaged items that they have transformed into planting opportunities. The Bentleys serve light refreshments at their opening.
Old Rectory House, Little Cornard CO10 OPD (4km outside Sudbury) is a country garden, with woodland areas, established specimen trees (including a stately Wellingtonia), natural wildlife ponds and a stream, is open on Sunday May 1 2016 (2pm-5pm). Here Jane and David Mann grow fruit and veg in a semi-circular walled garden, where the raised beds radiate outwards from the central greenhouse. Fruit trees are trained against the mellow Suffolk brick walls. There's an emphasis on seasonal planting and wildlife. On the footprint of the Old Rectory Jane has created a box parterre, as well as an informal terrace. Surrounding the garden are 3.6 hectares of meadows that have been managed for the past decade and in summer are filled with wildflowers and insects. Enjoy a homemade tea here on open days.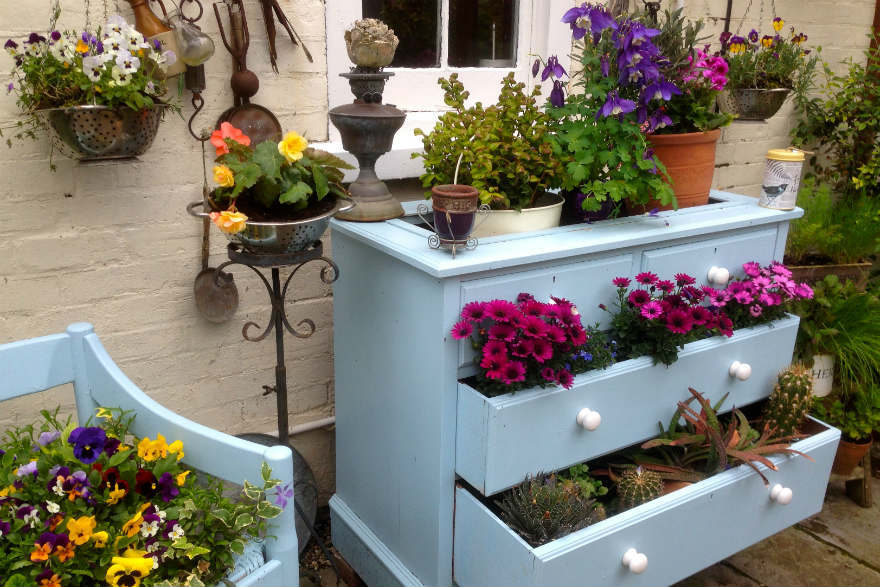 Special Sudbury events
Bank Holiday Monday May 2 2016 is the date for the annual Sudbury Plant Market on Market Hill.  Starting at 10am and running through to about 4pm this plant fair attracts nurseries from all corners of East Anglia.
Sudbury Summer Open Gardens, July 3 2016 (10.30am-5.30pm) raises funds for the St Nicholas Hospice in Bury St Edmunds (Sudbury Tourist Information Centre or www.seeanddosdbury.co.uk). A map ticket (£5 per person) goes on sale locally a week before the event.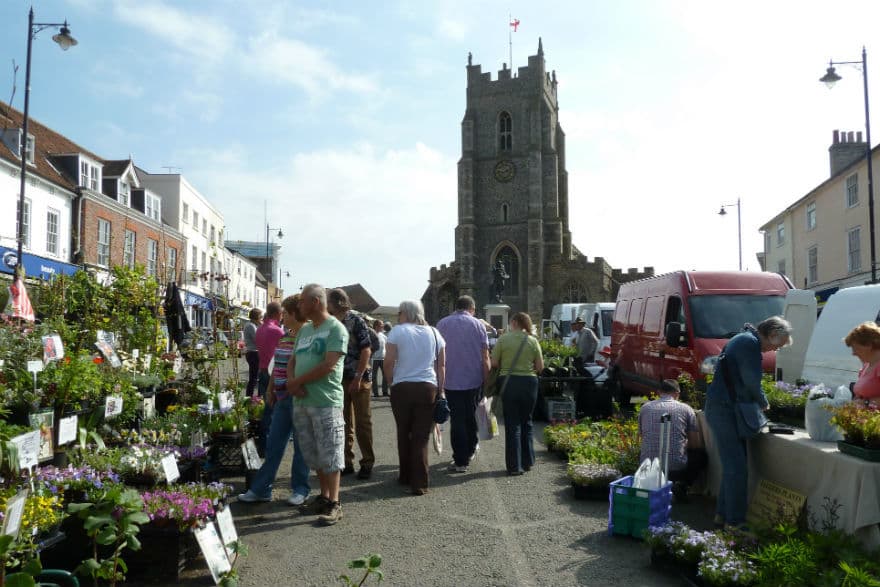 Places to eat
On weekdays and Saturdays David's Café Continental is one of many cafés and coffee shops in Sudbury. In Friars Street The Secret Garden offers teas and lunches during the weekend, with dinner on Fridays and Saturdays.
The Bulmer Fox (no bookings – Sunday lunch is always busy, so be there for noon on the dot) offers imaginatively and deliciously varied daily lunch and dinner menus. It is just outside Sudbury, so a perfect stopping off place before a good walk on the Water Meadows or a garden visit.