Visitors to my award winning Driftwood Garden are often amazed to learn that we have a dog; a Jack Russell called Albert. They are especially surprised to learn that he is allowed the full run of the garden as well. There are so many areas around the plot where he could create potential damage to the planting with him running around and exploring.
Damage limitation
Well, the layout has been created with him in mind and there are a few tricks around the garden that prevent any possible damage to the floral displays each summer. It's amazing what a few hidden supports and trellis can achieve. One of the main features of the garden, plants aside, are the rusted metal pieces of all shapes and sizes, used as sculpture and for more practical purposes of supporting plants. However, there are many there, some hidden, to deter Albert! Plant hoops double up as supports but more importantly they prevent Albert from charging into the stunning blooms once established. The Shasta daisies have pairs of hoops pushed into the centre of the clumps early in the season, for both purposes.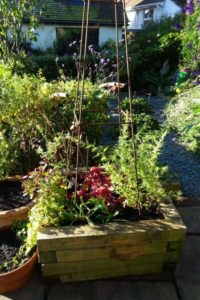 I use wire border edging around the edges of the beds. You can pick up individual edge pieces in colours such as black or dark green from the garden centre. I have some black metal ones which are not heavy or clunky, and are invisible from a distance. They are decorative and don't cost the earth and are very effective.
By using edging and plant hoops together, it keeps Albert safely at bay. It's a fine art; the raised flowerbeds around the Shasta daisies have carefully positioned arrangements of plant hoops put in place across the bed, each spring and these decorative metal edging along the front. The end result, once the plants all grow up, means a great display that's doggy proof!.
I've also got a range of decorative rusted metal circles that I place throughout the other beds around the garden, that blend in with the planting schemes and eventually get covered by the growth of the plants, however, Albert knows they are there.
Another great dog deterrent is the use of multi-sized containers grouped around the raised beds; I've found that Albert is never quite sure what's solid and what's not.
I've got lots of hedges, some large, some small, around the garden rooms too, which are a great way of preventing dogs from gaining access to areas of the garden you want to keep dog free.
Dogs won't want to enter gardens where plants with thorny textures or needles are present as they will scratch against them and be uncomfortable, so that's another useful idea to consider when planting up your garden, but do take care of their delicate noses and paws and try and keep them away from anything prickly.
There are many raised beds throughout the garden, with clearly defined paths, and it is quite amazing that Albert does seem to keep to them.
So, with a bit of thought at the outset, it's not impossible to have a beautiful garden and still have man's best friend around too.