When the Gardening Guys, Joe Shannon and Alex Redfern opened their garden for the first time for the NGS, they didn't realise what a storm they would create in the local gardening community.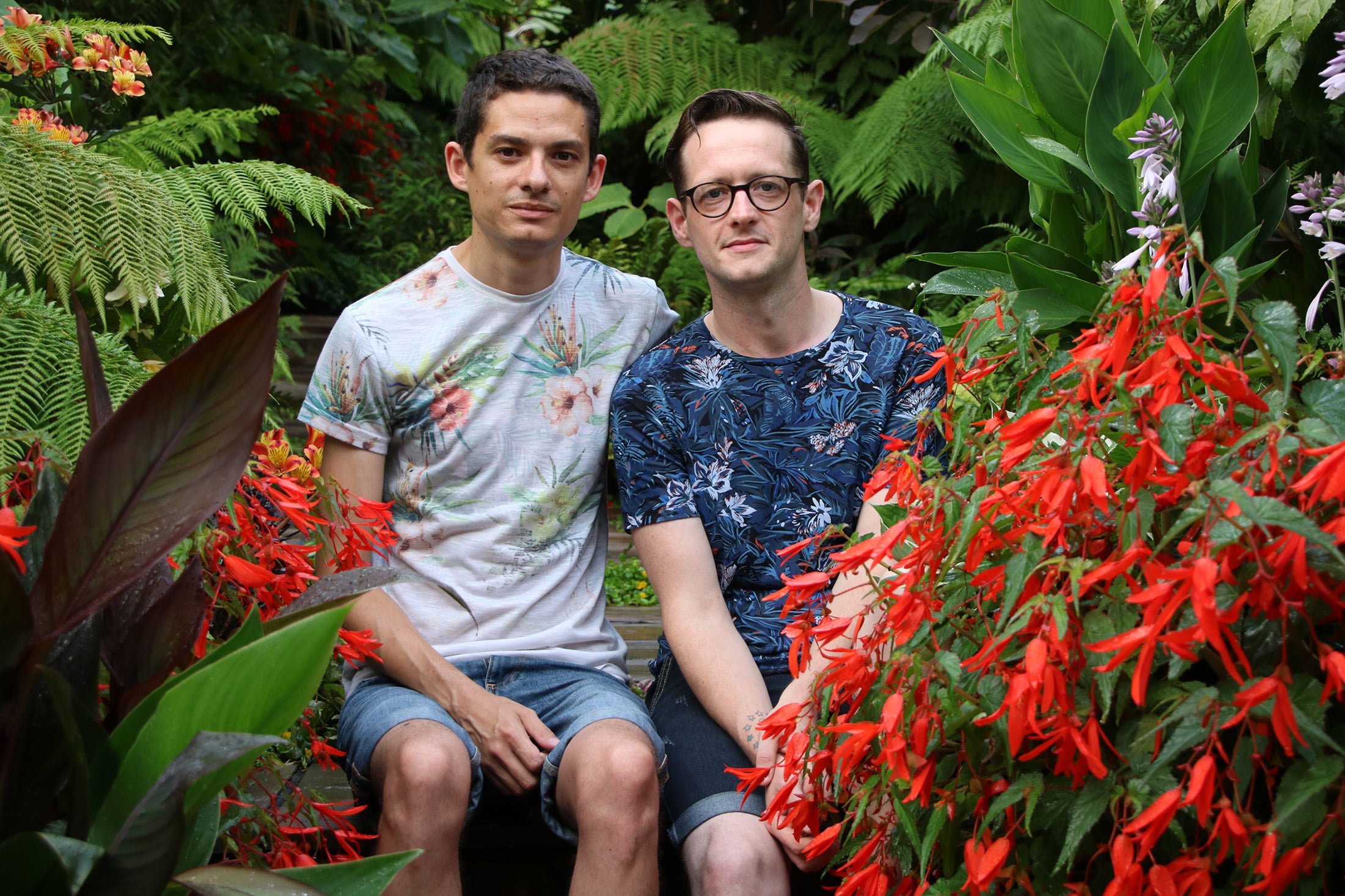 Not only did their small suburban, South east London garden attract hundreds visitors and raise thousands of pounds for charity but it also generated quite a stir in the hanging basket stakes.
Fund raising
"We opened the garden for three days," explains Alex. "A weekend in July and then one day in September. We had about 400 people through the garden, we served 350 slices of cake and sold 800 plants."
Joe and Alex use Flower Power Plant Food in their garden but had also used it for the plant sale plants too. "They were all fed with Flower Power so they were all in tip top condition and helped us to raise just shy of £4000 over 3 days. We didn't want to set a target but I was thinking that if we made £1000 that would be nice, but to exceed that was really great."
Forward planning
Joe and Alex had had a mini opening the year before so they knew what to expect. "It was actually easier this year than last, I think we'd done a lot of preparation. There's a small area outside the back of our garden which is a shared driveway really – in case it rained we put up a marquee there, and that was where our plant stall was set up."
But it was the cake stall that really took them by surprise. "Making the cakes was the most stressful part," admits Alex. "You can't really plan that far in advance, so they were all made the night before. Strangely enough our most favourite cake was a lavender cake. Because we opened for two days, we had people coming back on the Sunday just to buy some more of the lavender cake." They put a tweet onto twitter about the cake and it was their most liked tweet with the most impressions ever, leading them to conclude that open gardens are not about the garden but more about the cake!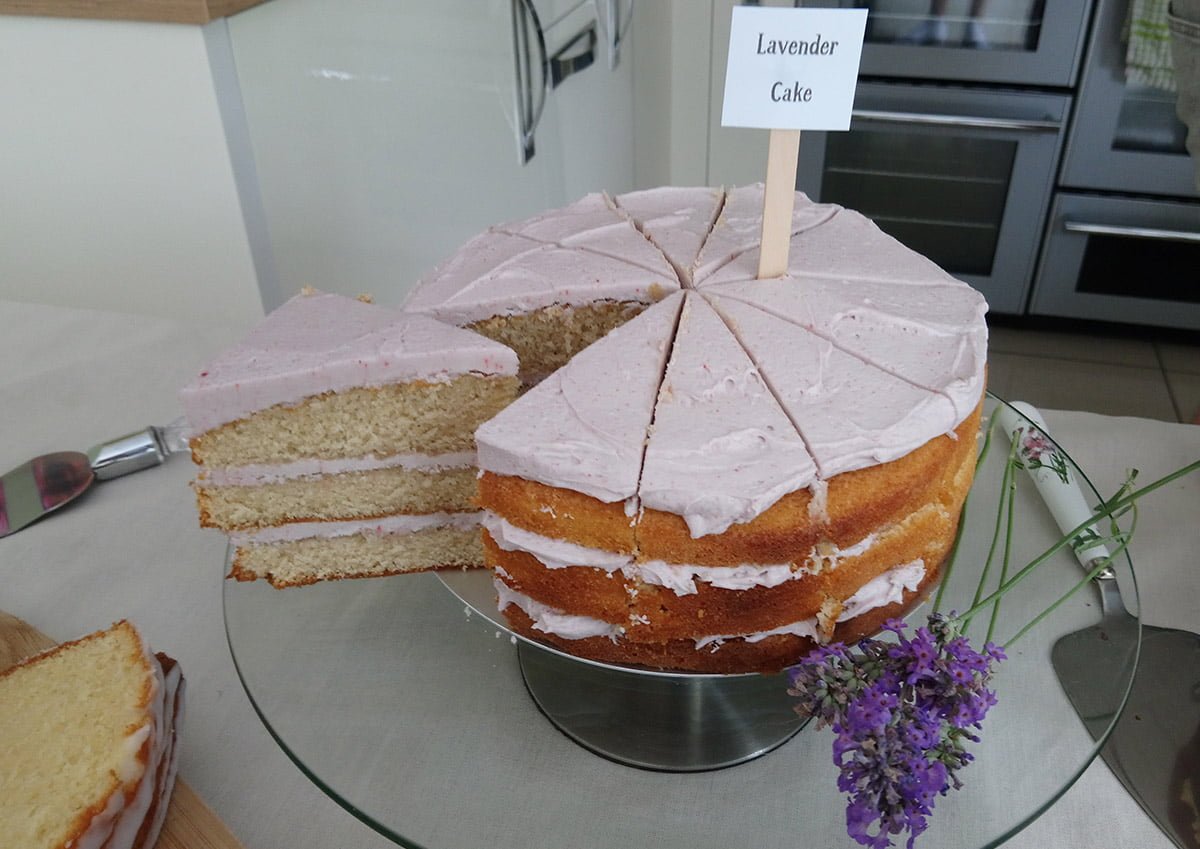 Feeding advice
Joe and Alex have used Flower Power on their garden plants for the last four years . "We get asked all the time how we feed things. People often say 'I grow similar plants but they are nowhere near as good as yours'. We tell everyone that we are feeding our plants with Flower Power. We find that we are standing there giving instructions most of the day because people say 'oh I use another food' and so we say 'OK but how often do you feed them?' Usually they say, 'oh I think I've done it once it this year'. Whatever you are feeding your plants with, you need to use it a lot more often. We tell people we use Flower Power on anything that flowers and then we just use a lawn feed on our tree fern."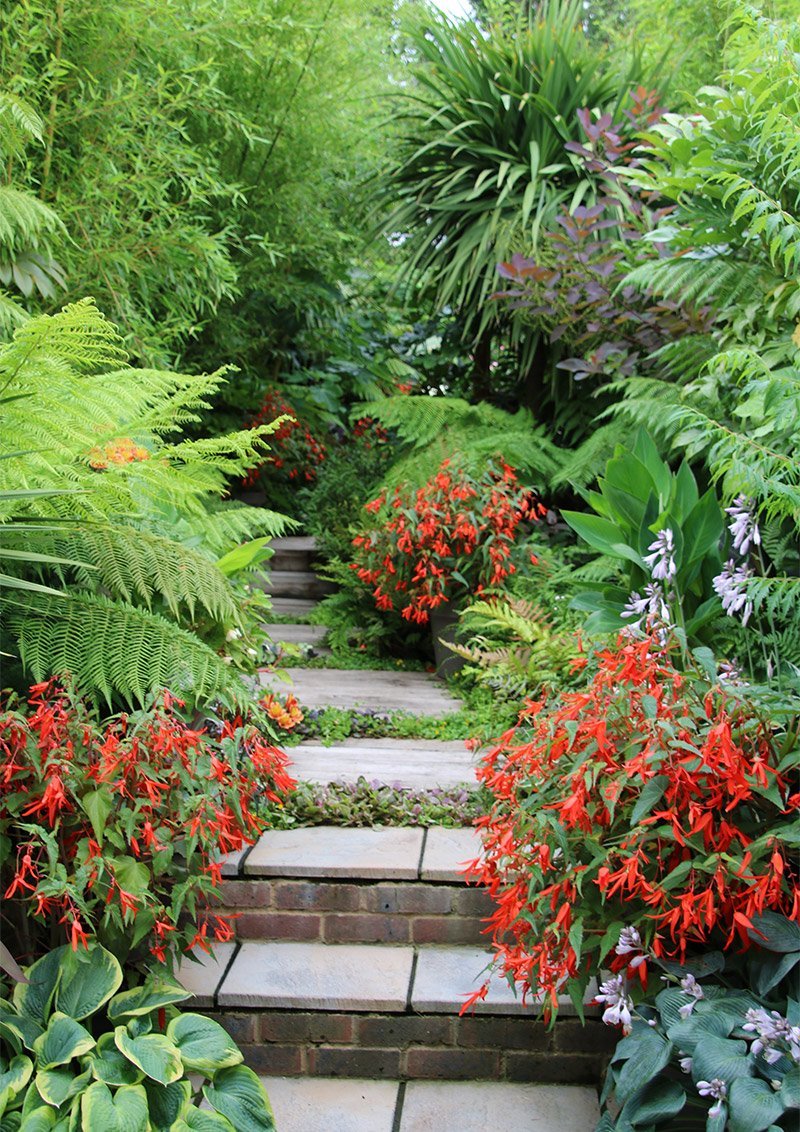 Basket Envy
But it was the hanging baskets outside their home and within Joe and Alex's garden that had the most attention. Partly because they looked so amazing but also because Alex's parents baskets didn't look so good. "It wasn't intentional to do a comparison,' explains Alex. "We planted up our hanging baskets and we had three out the front and my parents had two at theirs. They were exactly the same type of basket, with the same quantity of plants and very similar types of plants in them. For example we had trailing geraniums and they had ivy leaved trailing geraniums, we had Fuchsia 'Annabelle' and they had a different type of Fuchsia. We both had lots of lobelia and lots of bacopa. But the difference was that we fed ours twice a week with Flower Power and they fed just four times with another well-known plant food. We didn't realise it until our open day when people were asking us what we fed our baskets with?
We had a tub of Flower Power on the table; so we could just say, 'this is what we use, please take a photo'. But people were constantly asking, 'does it really work?' and probably not to my parents pleasure I was saying 'look if you walk just up the road and if you stop at a house with a silver birch at the front, just have a look at their hanging baskets." Alex planted all the baskets, so it wasn't done by someone that didn't know what they were doing. "They didn't use Flower Power and we did, a few people commented that they did go and have a look, and that ours were much better."
Mum's the word
Alex did get into a bit of trouble from him Mum. " First of all Mum was saying why are you rubbishing our baskets? But then later in the day I heard her telling people, well if you want to see inferior baskets fed with another product go and look at mine," he laughs. "I had actually given them a tub of Richard's Flower Power but because they were looking after all of the plants we were growing for our open day, they had thought that it was just for those plants, so they hadn't used it on any of their own. They've now been given instructions and another tub that they can use to try it for themselves."
Proud parents
Alex's parents are very proud of Joe and Alex. "Gardening is something that I picked up from my mum's mum and dad and both of my parents, so I think that they are quite pleased that not only are we interested in it, but that it's taken off a little bit too. They love the open days, and the magazine features. They are proud of that and so are our neighbours; we grew up on that road, so lots of our neighbours come to our open days and say we remember you as a kid pottering out in the front garden and it's so nice to see it now."
Open Garden
If you would like to see the Flower Power effect in Joe & Alex's garden it's may be open this year on July 11th and 12th for the NGS. Click here for more information on their garden and check for updates on open gardens and for Coronavirus advice.
https://ngs.org.uk/view-garden/35891/