If you are planning to visit the RHS Malvern Spring Festival 2018 then go. It's a great spring show with lots of fabulous plants, gardens and events to educate, inspire and entertain. Nestled in the Malvern Hills, the Three Counties Showground has a magical, green backdrop of rolling hills. With a blue sky and a decent weather forecast it's the perfect excuse to indulge in some garden inspired shopping opportunities and have a fabulous day out. If you still aren't' convinced then here are a few picks from this year's event to give you a taster.
The Great Pavilion of Art and Flowers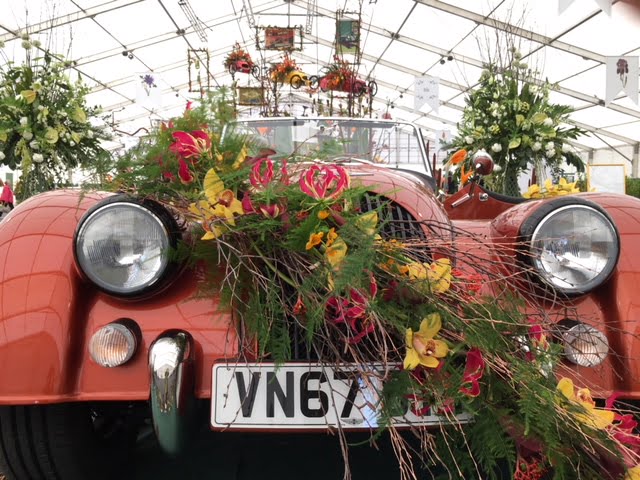 We all love flowers and a little bit of theatre. Here inside The Great Pavilion of Art and Flowers, you get both and plenty more. There's a Flower Talk Theatre featuring talks and demonstrations by notable guests including Jonathan Moseley. But don't miss the Iconic Morgan Car, dressed with flowers forming the centerpiece of this dramatic space.
Work of Heart Garden
It's been a few years since the magnificent plasticine garden by James May at Chelsea Flower Show. This show garden, designed and created by Clare Young workofheart.org is a full sized knitted and crocheted garden. Made in memory of Clare's husband Ken and as part of Clare's own therapy to cope with her bereavement. With the help of a global community of knitters and creators, the garden has been born to raise awareness of the work that hospices do and raise funds for Sue Ryder Leckhampton Court. It's truly a work of art capturing gardening accessories, flowers and plants in tightly knit stitches. Amazing.
It's quite something when a new exhibitor in the Floral Marquee wins an RHS Gold Medal, but to scoop The Lyn Downes Award for the Best Floral Marquee Exhibit too is practically unheard of. And when you discover that it was a collection of air plants that stole the show then the wonder is even more extraordinary. Andy first showed his plants at RHS Cardiff this spring and the Malvern Spring Festival is his second RHS Show. The display of bromeliads, including the silvery tillandsias is fabulous with lots of these amazing epiphytes on show.
There are dozens of displays in the Floral Marquee to enthrall every visitor, but this time it was the magnificent cacti from Southfield Nurseries that really took my eye. Back in fashion at last, these fascinating plants are displayed in all their glory and many in full flower. The range and beauty of these plants is immense and if you haven't got a garden, then cacti are just one of the plant groups that are perfect for growing indoors.
Billy's Cave
The heat of the sun transports the visitor to the origins of this garden. Designed by Villaggio Verde it captures the essence of a Portuguese smallholding. Complete with a cave, a spring, aromatic plants and the essential baby goats, it stops you in your tracks and carries you instantly to a hot, rural and arid Mediterranean destination. If the sunny weather and blue skies prevail this style of garden could become the norm.