You might think that in the summer there's plenty in flower for the bees, but quite often there's a forage gap around June when many of the spring and early summer flowers have finished and the later perennials haven't quite started. It's also because by May and June the honeybee colonies are at their peak, feeding thousands of babies and preparing to divide their colony into two or more to procreate. They need all the food they can get to sustain their activity and to store for future use.
Gardeners can help by growing good bee forage. Here are five of my favourite, easy to grow bee plants. There are hundreds more, simply spend a little time to watch which plants are magnets for bees in your area and scrounge a cutting or two.
Lavender
Lavender is a classic bee plant and a fantastic plant for every garden for many reasons. When in flower it looks and smells wonderful. It's a great source of nectar for butterflies and bees. It's semi-evergreen so it has a structure and a presence through the winter. But most of all its flowers can be used medicinally to aid sleep, aromatically to create calm and in the kitchen as a flavour. It's one of those must-have garden plants. If space is tight grow it in a pot, but it works best planted in a sunny garden spot. Choose lavender 'Hidcote' for its deep purple flowers, 'Hidcote Giant' is supposed to be the best or choose 'Munstead', which is a more compact form and good for pots, both widely available, reliable and great garden plants.
Agastache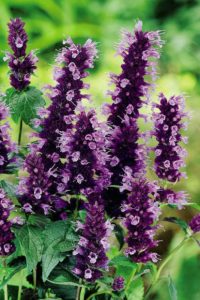 Sometimes called giant hyssop, it's not the same as the herb hyssop; its proper name is agastache and it's a real winner with the bees. Look out for plants at the garden centre or grow it from seed if you are seed sower. 'Black Adder' is the one I grow and it is commonly available. It's also a perennial, so once planted and established it's there pretty much for good (and if you are lucky it will self-seed too). It's a great garden plant with spikes of smoky purple flowers all summer and it's even got slightly aromatic foliage too. But best of all it's pretty resistant to garden pests and a powerful magnet for butterflies and bees.
Borage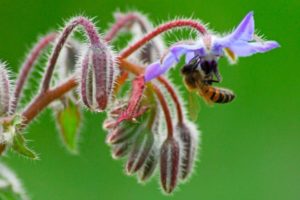 Borage is an amazing plant for bees. It's an annual herb worthy of any garden, the pretty blue flowers are great for summer drinks and the young borage leaves add texture to a salad. The flowers replenish their nectaries regularly and are a magnet for honeybees all summer. Grow from seed, but once you've got it, it will self-seed. But for early spring, what I call perennial borage is a great, vital bee plant. Technically called Trachystemon orientalis it's a great ground cover for woodland and shady areas. In February clusters of mauve/pink flowers push up from the soil and burst into starry balls of borage like flowers. It's alive with bees in no time and flowers for weeks, until the hairy green leaves finally swamp them out. Buy plants and share divisions with bee-friendly gardeners once established.
Raspberries
You might be surprised to find raspberries on my list of plants for bees. But remember that these delightful little creatures are essential for pollination for at least a third of the food that we eat. No pollinators, no fruit. So, raspberries; not just the most sumptuous and easy to grow garden fruit that there is. A bowl of sun warmed, freshly picked raspberries with vanilla infused cream or ice cream is enough to make me pack up work for the day. Divine. The bees think so too, but that's because the flowers are heavy with nectar and the canes are heavy with flowers. My raspberry patch buzzes with life in late May and June, with the sound of contented bees harvesting raspberry nectar for their stores. Raspberries and honey, now there's a match made in heaven. If you are tight on space grow them in a large container, or in a clump tied in to a central support. Just grow them. You won't be disappointed.
Catmint (Nepeta)
Catmint is a not just a lure for the feline species, it's also a crowd puller when it comes to bees. It's a perennial that dies back in winter to ground level, to spring up again as the lighter evenings arrive around the equinox. There are dozens of varieties, but Nepeta 'Six Hills Giant' is a popular choice with long racemes of purple flowers. It's a great plant for pollinators and a beautiful garden plant in its own right.