One of the lesser appreciated aspects of the RHS Chelsea Flower Show, are the garden products and accessories launched at the show. Fortunately there's a special award for The RHS Chelsea Garden Product of the Year and this year there's a shortlist of twelve interesting products.
Launched in 2011, the competition sees entries judged on a number of criteria, including innovation, visual appeal, functionality, quality, value for money and environmental sustainability. And this year there's a mix of high-end outdoor living products and accessories that support, enhance or preserve the environment. With a long hot summer predicted for the season ahead and an emphasis on green credentials, the shortlist for Product of the Year is relevant with some great outdoor living ideas and some really thoughtful sustainable products too. Here are five of our favourites.
Wilstone Obelisk Composter
Compost bins aren't usually the most attractive addition to the garden, but here is a great idea that not only looks good but is very practical too. It's a composter designed to 'feed' nutrients from decomposing waste directly into the soil where your plants are growing.
It will attract worms into the composter beneath the cone and the action of the worms will mix the organic matter into the root zone of your plants. But it's robust and elegant too and ideal for some of your garden favourites such as sweet peas and runner beans which will clamber over the obelisk that neatly fits over the top. At the end of the season when the plants are spent you can empty the composter and dig the organic matter into the soil. A 75-litre drum and scoop costs £39 and the 175cm tall obelisk costs £59 from Wilstone.
Stadler Wood Fired Oven
Pizza ovens are on-trend and if you love making this fast homemade meal then this no-fuss wood-fired oven could be perfect for you and your garden. Its make from laser-cut corten steel panels that are assembled to form a cooking oven and a wood burner beneath.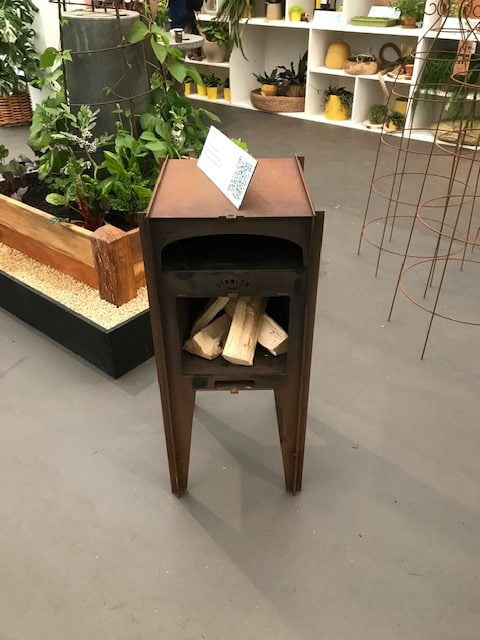 The oven is lined with cooking stones that take the heat from the fire and transfer it to the dough to create that crispy base effect we all love. You can go-low and gently bake a loaf of bread or fire it up for fresh, fast food pizza. Price £595 from Distinctive Garden.
Swan Indoor Watering Can
With plastic not so fantastic, there's a swath of plastic free products seeping into our gardening world. Some are innovative and some practical; this one is both.
It's an indoor watering can made from various agricultural by products, such as bamboo or chaff, with a plant fibre base, so it's biodegradable too. It has been formed in the shape of a swan, making the water flow easily and the handle easy to hold. And it looks different too. It costs £8, from Husk and would make a great present for a houseplant geek and is available in a range of colours – I love the lime green.
Grand George Bell, Plant Belles
Some of our plants need sturdy, permanent supports, but often the options are a grow through structure that sits above your herbaceous plants, or a full-blown obelisk. The Grande Plant Belles is a new kind of plant support that straddles the gap between obelisks and grow-through and looks attractive too.

It's been designed to enable creative shrub rose training with the loop and tie method inspired by Sissinghurst. It's a grown-up version that is taller, wider and heavier steel than the original Plant Belle range and is one of three new Belles to be unveiled & launched at Chelsea Flower Show 2019. The majestic stature of the new 'Grande' range has launched a brave new step for Plant Belles, into the realms of sculptural garden structures, which will remain visible and prominent all year round.
And the winner is:
HOTBIN Composting – HOTBIN Mini
We've featured the hotbin before but this is a smaller version designed for small gardens and even balconies that will digest a wide range of 'organic' waste that you may generate from your kitchen and garden. It's a fast composter that is insulated to hold in the heat and will transform your waste into a useful soil conditioner to enhance root health and feed your plants.
The HOTBIN Mini is a composting bin that has been designed for smaller households and produces compost from various types of waste, included cooked food, small bones and perennial weeds, in 30 to 90 days.