I love growing herbs and visiting herb gardens and nurseries, where I can see herbs grown to perfection, showing off their multiple qualities. Many other public gardens have wonderful herb gardens where you can see herbs in formal and ornamental settings. It is a bonus if there are herb plants for sale or you can take a course to learn more, or a place to sit and savour a herb tea and simply enjoy the aromatic pleasures of herb gardens.
Here are five of my favourite herb gardens that are open this summer. Please check the website for opening times before your visit.
Jekka's Herbetum
Rose Cottage, Shellards Lane, Alveston, Bristol BS35 3SY
www.jekkasherbfarm.com
A herb nurserywoman who knows a thing or two about herbs is Chelsea Gold Medal-winning Jekka McVicar . She has been growing and showing herbs for over 30 years. She created Jekka's Herbetum in the grounds of her herb farm in 2013, so that she could display her extensive collections of culinary and medicinal herbs and ensure that the history and usage of herbs was available to visitors. It is the 'go to' place for identifying herbs, since it houses the largest collection of culinary herbs in the UK. Some 300 culinary herbs are planted into specially designed wooden raised beds. Jekka holds several open days throughout the year, and group tours or a private visits are welcome by appointment. She will enthuse and inspire you as she encourages you to sniff and taste, and gives you the background of each of the herbs she loves to grow.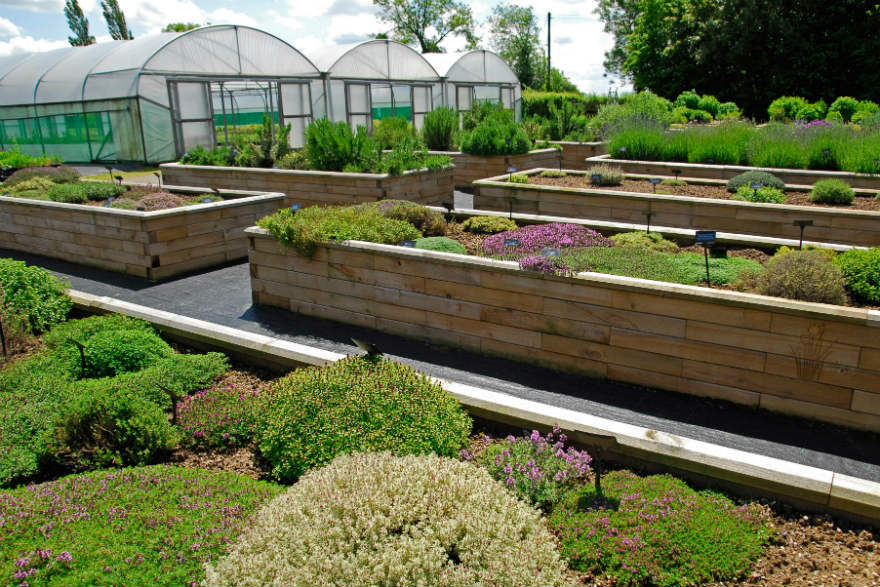 Downderry Nursery
Pillar Box Lane, Hadlow, Tonbridge, Kent, TN11 9SW
www.downderry-nursery.co.uk
Downderry Nursery is the place to go if you are a lavender lover, or have a penchant for rosemary. A summer visit will transport you to the hillsides of southern France. Downderry owners Simon and Dawn Charlesworth pride themselves on the extensive range of culinary, medicinal and decorative lavender and rosemary that they grow and sell. Some 300 different lavenders in varying shades of mauve to purple, with a pastel pink to white range, are set out in the walled garden of the nursery. At times when all the plants are fizzing with flowers it seems as if you could float and hover, like an insect from one side of the walled garden to the other, so solid does the planting look.
You can just hear the cry of the lavender sellers of Dickensian London, as you take in the almost continuous hit of aromatic scent from foliage and flowers in this enclosed garden. In addition fragrant roses hang like curtains on the walls.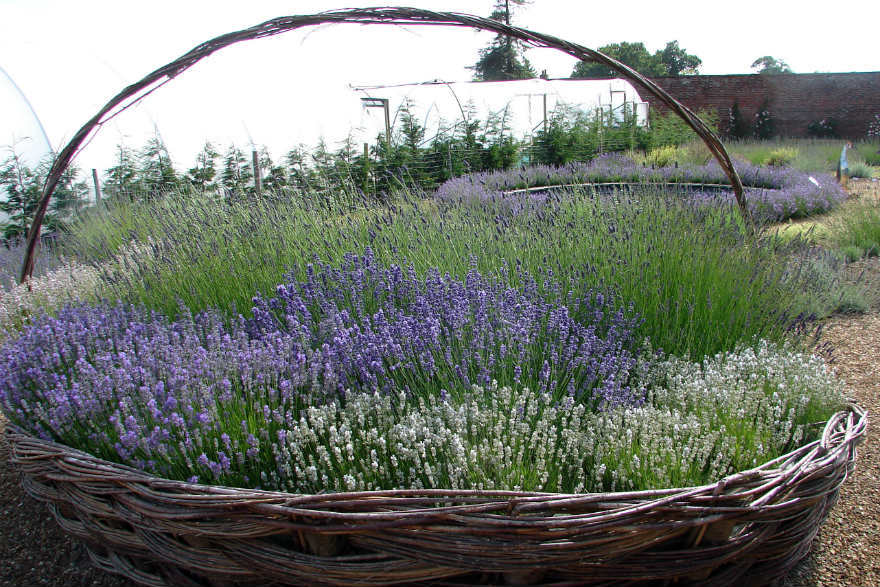 Dilston Physic Garden
Corbridge, Northumberland NE45 5QZ
www.dilstonphysicgarden.com
Dilston Physic Garden is a modern physic garden created by Professor Elaine Perry, a neuroscientist and Director of the Medicinal Plant Research Centre at the University of Newcastle. It's a teaching garden where she researches plant medicines and welcomes medical herbalists from the North East to pick herbs to make tinctures and ointments. The two-acre Northumberland garden, grows some 800 European medicinal species in tranquil areas, some themed around particular herbs, that flow together in a harmonious organic way, with statuary in iron and stone punctuating the landscape.
Perennial and annual herbs and herb trees grow in quantity and all are clearly labelled so that visitors can understand their uses.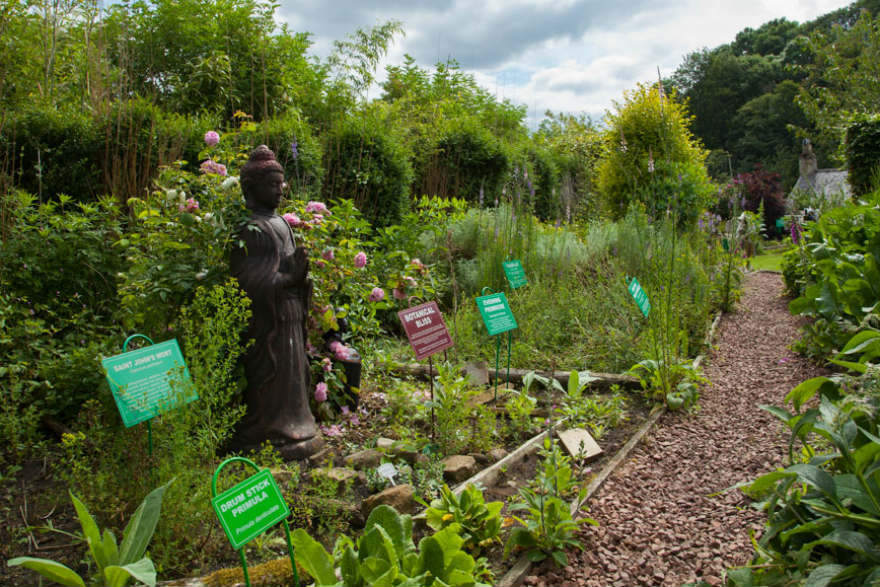 The Secret Herb Garden
32A Old Pentland Road, Lothianburn, Edinburgh, Scotland EH10 87EA
www.thesecretherbgarden.co.uk
Just a few miles south of Edinburgh at the Secret Herb Garden, Hamish and Liberty Martin have established a herb nursery and cafe on a 7.5acre site. Fruit trees and vines form interior walls and canopies, as they vie with herbs for space and attention.
The whole place communicates the 'magic of herbs' and they encourage visitors to wander through the greenhouse and around the outdoor garden. There are places to sit and just soak up the atmosphere, or you can take part in courses and get to know more about the herbs.
There are formal gardens showcasing the 500 varieties they grow in traditional designs, cottage garden styles and in order beds, where some 50 different mints may be seen. Hamish looks at herbs from a medicinal and useful point of view, while Liberty uses the cultivated fruits and herbs as well as wild herbs for the delicious salads, cakes and teas that are on sale at the cafe.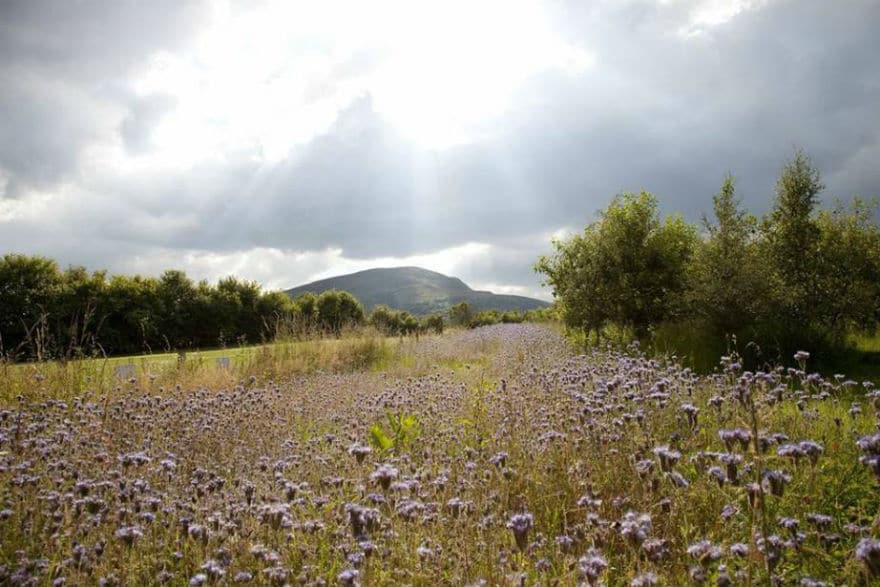 Chelsea Physic Garden
66 Royal Hospital Road, London SW3 4HS
www.chelseaphysicgarden.co.uk
The Chelsea Physic Garden (www.chelseaphysicgarden.co.uk) is London's oldest botanic garden. Established by The Worshipful Society of Apothecaries of London in 1673, its purpose was to grow and demonstrate medicinal and useful plants for the use and education of the Society's apprentices. By the 18th century it had become an important centre for botany and international plant exchanges.
It is a walled four-acre garden at the heart of Chelsea on the Embankment. Once completely private and only used by the members of the Worshipful Society as an educational garden, it is now open to the public on regular, but seasonal basis. Steeped in botanical and medicinal history, it holds much for the modern visitor with several different garden areas where plants are grouped in themes, such as the garden of Medicinal Plants, the World Woodland Garden, the Garden of Edible and Useful Plants and the Glasshouse collection.
The garden continues to be an educational centre, reaching out to adults and schools offering lectures and school classes to demonstrate the value of plants through their usefulness. There is a cafe serving delicious meals and a book and gift shop, with plants for sale.