It's all about Flower Power inspired art and the theme can be interpreted in any way whatsoever and in any medium. All you have to do is create something that says 'Flower Power' to you and then enter your piece of art into the competition.
Proceeds from the Flower Power Art Challenge will raise money for the Greenfingers 'A Million Moments' appeal.  This appeal which aims to raise £1 million over three years to create even more inspiring gardens and outdoor spaces to help at least a further 5,000 children in hospices around the country.
"The competition is open to all; budding amateurs and professional artists," says Greenfingers founder Richard Jackson. "We are really looking forward to seeing the wide variety of interpretations of the brief, we want every entrant to really let their creative ideas bloom."
Whether the theme conjures images of the 1960's with flowers in the hair or the glory of herbaceous borders, you have the perfect excuse to get creative and make art, all in the name of Flower Power.
The idea is to inspire everyone to have a go at visually blending the wonder of horticulture and art to create something beautiful and raise money for a charity that creates magical gardens for children hospices; Greenfingers.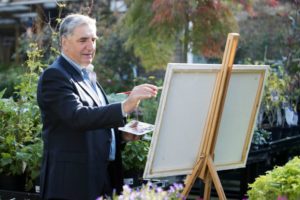 The competition was launched by Greenfingers patron Jim Carter, otherwise known as Downton Abbey's Mr Carson, who is the first of many celebrities and well-known faces from the world of horticulture being invited to create artwork as part of the fundraising.
Take the challenge
There are two separate entry categories for professional and amateur artists, to ensure a level playing field and anyone can enter as many times as they like for the chance to win.
With £1000 prizes for the three winning artworks from each category, plus the overall winner in the amateur artist category gets the chance to appear as a guest artist on www.upandcomingart.co.uk for a year to further their artistic career, it's a great excuse to get the paints, pastels, pencils and easel out.
The closing date is 31 January 2016.
Entries cost £5 each, all of which goes to Greengingers.
See the Greenfingers website for full details on how to enter.
Public voting
After the closing date the public can vote online for their favourite entry to create a shortlist for the final judging.
This exciting process will culminate in an exhibition in April 2016, showcasing the shortlisted works of art. The final winners will be chosen by an esteemed panel of judges from the art and horticultural world.  Exhibited artwork will be sold and the proceeds split equally between the artist and the charity.
Celebrity artwork will be sold anonymously via a silent auction, with the purchaser only discovering the identity of the artist after the sale.
This exciting competition is the brainchild of Greenfingers charity founder Richard Jackson and is sponsored by Flower Power Plant Food.