Belton House is a National Trust property just north of Grantham. It's a lovely country house set among 36 acres of formal gardens and 1300 acres of parklands. I've been to a couple of National Trust properties (including Anglesey Abbey) since I've had Little Miss and the one thing I've noticed is how geared up to families they are. I think there is this perception that the National Trust is for older people, and sure, there is plenty of that stereotypical member at the properties, but I've been surprised how many families as well.
We visit Belton House several times a year, the last time we visited was early September when we had some friends visiting.
What's at Belton House?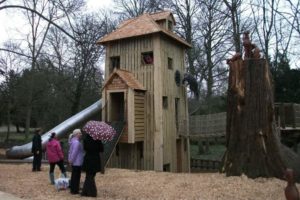 Belton House is very family-friendly. For starters there is the adventure playground. The National Trust has just spent £1.4 million on renovating the playground. It opened in stages over spring/summer 2015. Most impressive is the new play tower. This uses the old tube slide (for anyone who is familiar with the old Belton House playground), but is so much more than a slide. It has a number of entry points – ladders, a swing bridge and climbing board. But the coolest thing (according to Little Miss) is the wire climbing tube that takes you up to the top level. All the kids seemed to love this.
There is some great new wooden equipment, including a seesaw pump. You sit on the seesaw and as you go up and down you create a pumping mechanism which drives three water features. There is also a wooden carved train and platform and some wobbly plates.
There's also a little train (£1 per person) that runs the length of the playground. The kids went on it and were very excited as they saw some deer in the neighbouring parkland.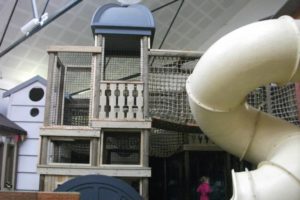 We finally convinced the kids to leave the playground with the promise of ice cream in the Ride Play Café. Again, top marks to Belton House for family-friendliness with the Ride Play Café. It's a café with an indoor playground, complete with cargo nets, swing bridges, swirly slides, tunnels, towers and picnic tables with chalk boards as tops. Belton have really thought about families when designing this café. This is the second café at Belton House. There is the Stable restaurant as well that serves hot lunches as well as lighter lunches for visitors who want a quieter time!
The gardens at Belton House
I have to admit that I have only covered a tiny portion of the gardens at Belton House. But what I've seen I've really enjoyed, and so has Little Miss. There's so much space to run around. When we went last time Little Miss and her friends spent about an hour playing hide and seek in a huge bush. There's a maze and boathouse and lake, but we've never made it that far down in the garden!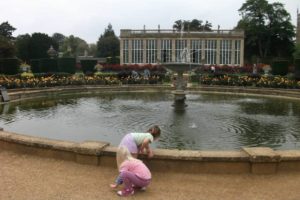 We have never been through the house, but my friend has and said her little boy was quite intrigued by it all. The house has opulent decor, fine furnishings and an impressive portrait gallery. You can enjoy the house at your own pace, or join a guided tour. This year there are special opportunities to look behind the scenes at Belton House with 'Meet the Experts' tours and the 'Upstairs Downstairs Servants Tour' throughout the year. Find out more on the Belton House website.
We spent the whole day at Belton House. There was so much for the kids to see and do and we've only covered a fraction of the gardens.
Events at Belton House
There are lots of family events at Belton House, especially over school holidays. Regular events include the Belton Button Bucks club every first and third Thursday of the month (parent and toddler group) and the wildlife explorers club the first Saturday of every month (for children 5yrs +). These events both happen in the Discovery Centre, a purpose built classroom in the courtyard. The Discovery Centre is open weekends and holidays as well with children's arts and crafts. See the Belton House website for more details about the family events.Events at Belton House
All the important bits
Location
Belton House is just north of Grantham just off the A607 (entrance in the village of Belton). The postcode is NG32 2LS
Car parking
Car parking is free and there seems to be plenty of it.
Tickets and prices
Tickets are £10.60 for an adult for just the grounds. Children are£7 (under 5s free) and a family £28.50 (2 adults plus 3 children). National Trust members go free. See the Belton House website for prices for the house + gardens and winter prices. Entry to the parklands is free.
Eating and drinking
There are two choices for eating, the family-friendly Ride Play Café with bacon sandwiches, tasty toasties, light lunches, plus delicious scones, brownies and cakes, as well as a kids' option where they can choose a sandwich and three or four other items for around £4. Both times we have been to Belton House, we brought a picnic lunch, so have only eaten cake for afternoon tea at the Ride Play Café. There's also the Stables restaurant which serves hot meals from midday, as well as lighter bites, hot drinks and cakes and scones. Picnics are welcome in the garden and there are lots of picnic tables in the adventure playground. One thing to note, there are no rubbish bins in the adventure playground – you are encouraged to take your rubbish home.
Facilities
There are toilets and baby changing facilities at the entrance, the Ride Play Café and in the house. There are also toilets in the adventure playground.