Garden harvests may or may not be bountiful, but one thing you can be sure of is that they won't be spread evenly through the year. Growing your own is fraught with bare times as well as times of plenty. A secondary skill of the kitchen gardener, yet no less important than the growing, is the art of preservation, to keep those times of plenty going on as long as possible.
If you can't stand the heat…
Jams and chutneys are often the first thing that comes to mind, but I am going to make a confession. In the height of summer, when the blackcurrants, gooseberries and plums are dripping off the plants, the last thing I want to do is hover over a hot stove, stirring a jam pan and sterilising jars with boiling water. I also have a tiny kitchen, so the inevitable jammageddon generally results in every surface covered in sticky gloop. Mercifully then, I discovered the joy of preserving fruit in alcohol. Minimal mess, minimal fuss and best of all, no burnt jam pan to scrape!
I started like most people by making sloe gin from wild gathered fruit. Many books will tell you that they are best harvested after the first frost, but that is so late in the south east that the birds have got most of them by then.  The frost breaks open the fruit cells, making it softer and the flavour easier to impart, but I cheat and put them in the freezer for a day or so before putting them into bottles with an equal amount of sugar and topping up with gin (no need to buy the nice stuff, its flavour will be overpowered by the sloes). This will be ready to drink in about three months, but the longer you leave it, the smoother it becomes.
Getting into the spirit…
The boozy sloes that are strained out of it tend to go straight on the compost heap, which seems a shame, but they are bitter and stony and hard to reuse. Better yet to have a dual-purpose fruit liqueur that can provide food and drink, which is exactly what I moved on to next.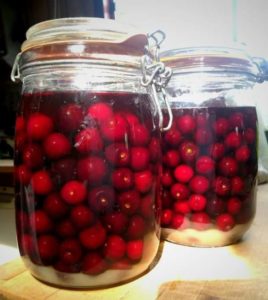 Sweet cherries, peaches and apricots can be de-stoned and put in brandy with sugar and left for a couple months. The quantity of sugar that you add is really up to your taste – I find most recipes too sweet so I reduce the amount of sugar but unlike with jams, where the sugar is required as a preservative, the alcohol will do that job instead. As long as the alcohol is at least 35% ABV and the fruit is completely covered, they will keep for years. As well as resulting in a deliciously flavoured liqueur, the fruit can be fished out and is delicious with vanilla ice-cream, while the cherries can be used to make a wicked black forest gateaux or used as a fancy cocktail garnish.
Get creative
At the other end of the taste spectrum are the sour fruits – morello cherries, rhubarb and gooseberries. I think these are better paired with gin and go a little sparing on the sugar. These make excellent cocktail spirits as they are not too sweet but are full of flavour.
The best rhubarb to use is the early season forced crop, as it will impart a delicate pink colour to the gin. Later season rhubarb will still taste good but makes the gin go a less appealing brown colour. A combination that sounds odd but actually works really well together is bourbon and blackcurrants. The earthy, woody flavours blend well together and make for an interesting take on the classic cassis, which is blackcurrants, sugar and clear spirit. Delicious sipped on its own or used as an ingredient in a Kir cocktail.
This isn't by any means an exhaustive list of what can be preserved in alcohol – the outside world is full of fruit and the kitchen is your laboratory – get creative!  These creations make wonderful gifts for friends and family and since I started giving my family Christmas presents of homemade booze they now reciprocate with their own homemade concoctions – double win!
Please drink responsibly, for further information please visit: Drinkaware drinkaware.co.uk or for the USA, visit rehabnet.com