Most gardens are bordered either side by next-door's plot. That's great if you all get along, but sometimes you want a little privacy to read quietly or potter without attracting the attention of the neighbourhood watch! Or maybe you don't want to see what goes on in the next-door garden? Whatever your reasons, creating a bit of privacy is not as difficult as you might think.
Birds eye view
Take a look at where your garden is overlooked. It might be from a window up high next door, or it could be a gap in the fence, a gateway or even the houses behind yours if they are raised on a slope. You don't need to barricade yourselves in. Instead see whether a carefully positioned garden tree planted between the viewing point and your garden might be the perfect solution. Think about how big it will grow and whether it holds its leaves in winter.
Decorative screen
Dividers don't need to be boring fence panels. There are lots of very attractive and decorative garden screens that are now widely available. Take a look at Screen with Envy for some inspiration.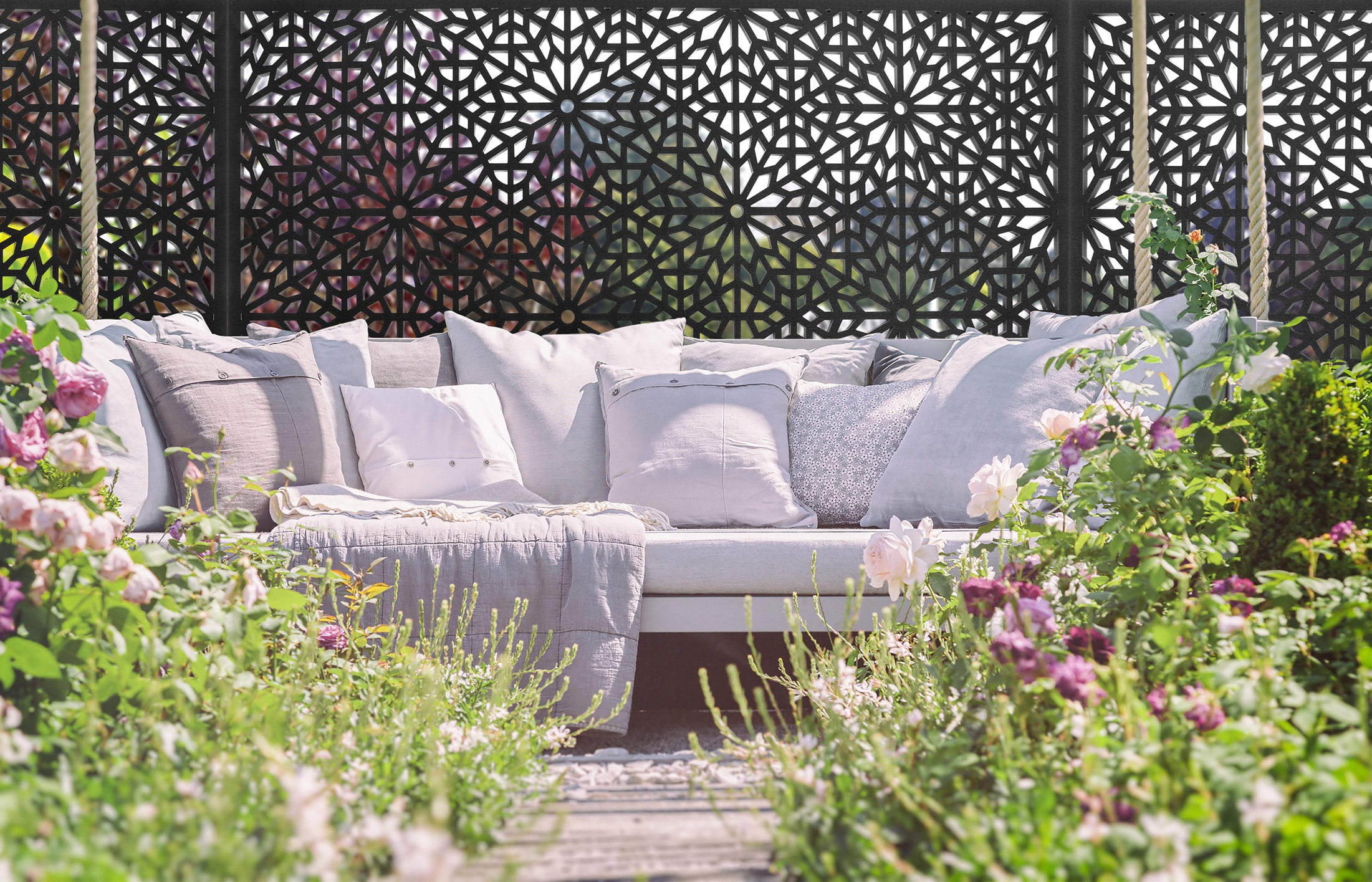 But if you are creative or working on a budget why not recycle some materials to create a different effect? Old scaffolding boards positioned at an angle in a row, or a curve can screen an area of the garden from different directions.
Trellis
Garden trellis is another great way to screen off part of the garden. Position it where you can plant beneath it or place a large trough at the base. Grow annual climbers the first year for fast coverage, but plant some perennial climbers too such as clematis or jasmine to establish this year so that they will clothe the trellis for years to come.
Living hedges
Garden hedges can be a great way to divide a garden and create some privacy, but is not always the best solution in urban areas. You can still use plants to create a screen, just think a bit more creatively. Can you put up a loose screen of bamboo canes and train runner beans or sweet peas to grow over it? Lovely for the summer and if you choose beans, you get a lovely crop of pods too. Or why not plant a staggered double row of sunflowers. As they mature the stems and foliage will create a leafy screen topped with fabulous smiley-faced flowers.