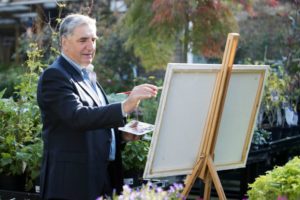 It's funny how big things can develop from small ideas. A couple of years ago, I visited the Summer Exhibition and idly thought wouldn't it be fun to have an art exhibition based around the theme of Flower Power.
I discussed the idea with the wonderful team at the Greenfingers charity and offered to sponsor it. Since then project leader, Ollie, has done a brilliant job in turning my sketchy idea into reality. It was a proud moment when Jim Carter (Carson from Downton Abbey) officially  launched the Flower Power Art Challenge in October.
We're asking artists to paint, sketch or create a collage on the theme of 'Flower Power' . There are two categories, one for amateurs and the other for professional artists. The public will be invited to vote for their favourites and these will be exhibited at the Embassy Tea Gallery in London next April. A special panel of judges, including Paul Bell (winner of the 2015 BBC Big Painting Challenge) will select the best . The winner in each category will win £1000 and there are runner up prizes too, with a total prize fund of £3500.
The exhibited art will be on sale during the exhibition (the artist decides, in advance, how much they'd like to sell their work for, and the proceeds of the sale will be divided equally between the artist and Greenfingers charity). There's also an additional prize for the winning amateur artist. They'll be invited to become a guest artist for one year on the highly prestigious www.upandcomingart.co.uk  website.
We hope that hundreds of artists will enter and that we can raise thousands of pounds to help Greenfingers in their amazing work creating gardens for children's hospices. There's plenty of time for you and your friends to plan your masterpieces, the closing date isn't until 31 January.
Find out more on entering the Flower Power Art Challenge
Happy painting, creating and crafting !