Life has been a fantastic mix of highs and lows, wildlife and nature, travel and experience and down to earth gardening.
I am so lucky to live in the countryside. Beyond my home is an extensive area that is wild, unmanaged and a haven for wildlife. It's alive with insects, birds, bats and so much more and treasure trove of rare and also 'common' creatures.
As the weather warms there are all sorts of delights coming out of hibernation. The amphibians are risking life and limb, returning to their ponds to breed. The melodic frog chorus is such a beautiful composition, breaking the airwaves with an almost electronic note as they call to advertise their prowess and presence.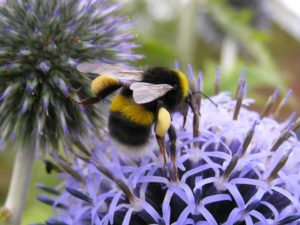 Queen bumble bees abound, searching for suitable nest sites with their zig zag ground hugging flights and supping at the spring flowers for vital nectar, It's a tough time for emerging creatures especially when the temperatures are still low and food is scarce.
The birds are stating to nest, reptiles are waking and basking in the rare spring sunshine and hedgehogs are waking from their winter slumber looking for food. It's a magical time in the garden.
Hedgehog matters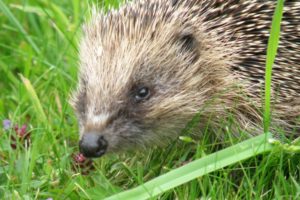 I have the privilege of being a release site for rescue hedgehogs. Over the last ten or maybe fifteen years we have released a dozen or so of these precious creatures into the wilds of our garden and beyond. There are no boundaries so they can find a new nest site, though there are plenty of safe nesting places in the garden too. I don't have a lawn anymore; it's now wild meadow, long grass and flower borders, so the need for garden machinery is very much reduced. Imagine my horror when an SOS from a neighbour revealed a badly injured hog out in the daylight. Hedgehogs are nocturnal, so if you ever find one out in the daylight it's time to get help, fast. Don't delay, it might look OK but really it's not. This little hog had met a trimmer (commonly known as a 'Strimmer') and was in trouble. I can't tell you how bad it was because it is too distressing to even write. Please, please, please take care when gardening. Always look before you mow, strim or hack into long grass and wild areas. Don't spear the compost heap with a fork or spade without checking for wildlife first. Our gardens can be wildlife havens, but can also harbour all manner of dangers too. Garden netting, deep ponds, chemicals, loose drain covers and garden tools are all potential death traps, not just for hedgehogs, but children, pets and other wildlife too. Spend some time checking and removing danger from your garden to make it safe for all. It will make a big difference. For more information on helping hogs visit the Willows Hedgehog Rescue website.
Botanical wonders
On a happier note I've just got back from two days in Amsterdam. Wow, what a great city. Instead of focusing on city centre activities, I had the privilege to visit some of the neighbourhoods surrounding Amsterdam.
One of the highlights of my trip was a return visit to Hortus Botanicus, Amsterdam's Botanic Garden. It's one of the oldest botanical gardens and was first started as a herb garden for city doctors and herbalists. Today it still contains plenty of medicinal plants and loads of fascinating information for visitors, well worth a visit.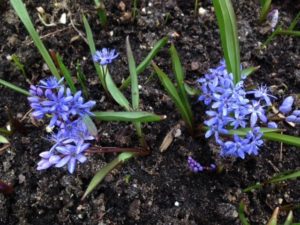 March was still a bit early in the season to see it at its best but there was still lots of fascinating plants to see, especially some spring flowering delights such as Scilla bifolia. I just love the way the flower buds are like an open pod of peas before they burst into bloom.
In one greenhouse I found dozens of truly beautiful and exotic looking butterflies including a species with virtually transparent wings. It's called a Glass winged butterfly (Greta oto) for obvious reasons.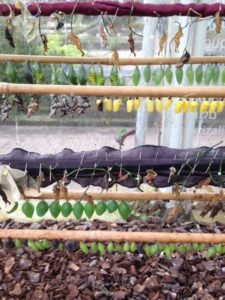 There were lots of Zebra butterflies (Heliconius charithonia) and a really beautiful Flambeau butterfly (Dryas iulia) But it was the rack of butterfly chrysalii that were so fascinating. You could actually stand and watch the magic of a freshly hatched butterfly emerging from its cocoon.
Don't miss the café where you can enjoy a light lunch or a refreshing glass of mint tea, it's a hot favourite in the Netherlands and to be recommended.
Amsterdam on a budget
If you've got an I Amsterdam City Card  you can enjoy the public transport system and get around on the bus, tram and metro, all included. There's a free canal cruise and a handy map too.
It also includes the entry into several Amsterdam attractions, including Hortus Botanicus and the very nearby (walking distance) Artis Royal Zoo .
Now if I am honest zoos aren't really my thing. I know that some of them do great conservation work, but I can't bear to see any creature confined, distressed and trapped, so safari parks are my preferred compromise when it comes to 'displaying animals' for the entertainment of others.
Artis Zoo is one of the oldest zoos in Europe. I went to see the new spring bulb plantings, the ancient trees and shrubs and the formal gardens that punctuate the site, which were all lovely.
There is masses to see here, but if you aren't zoo friendly, then I'd spend the day at Hortus and enjoy the plants and ambience before hopping on the tram back to your next museum, café or gallery.