Sometimes it really is the simple things that kids enjoy the most, like running through the trees in woodlands or splashing about in puddles. And sometimes the best days out are quite unexpected, like our day out at Grimsthorpe Castle.
I've been to Grimsthorpe Castle once, last autumn when it had a couple of open weekends before Christmas. Only the grounds and gardens were open, and Little Miss and I had a good time stomping through the autumn leaves. But I was keen to visit again and explore the adventure playground, having heard so many good things about it.
What's at Grimsthorpe Castle?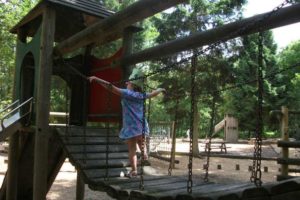 Right from our arrival, Little Miss was in her element. We went to the adventure playground first, which is as good as everyone says it is. It's set in the woodland, which gives it a relaxing feeling (well, as relaxed as a playground can be!). There's a zip wire, climbing frames, swings, slides, towers and wobbly bridges. Little Miss and her friend had a good play on everything, but were intrigued by the woodland. In the end we left the playground and went to play hide and seek in the woods!
After exhausting everyone, we decided to head up to the castle to have a look around the gardens. Little Miss surprised me by her interest in the garden and flowers. Her new favourite word is 'boring', so I thought she would find the gardens boring. But on the contrary, she loved them. We were all sniffing the flowers, as some were fragrant and others not. Then we had to point out our favourite flower, which kept changing as we walked through different parts of the garden.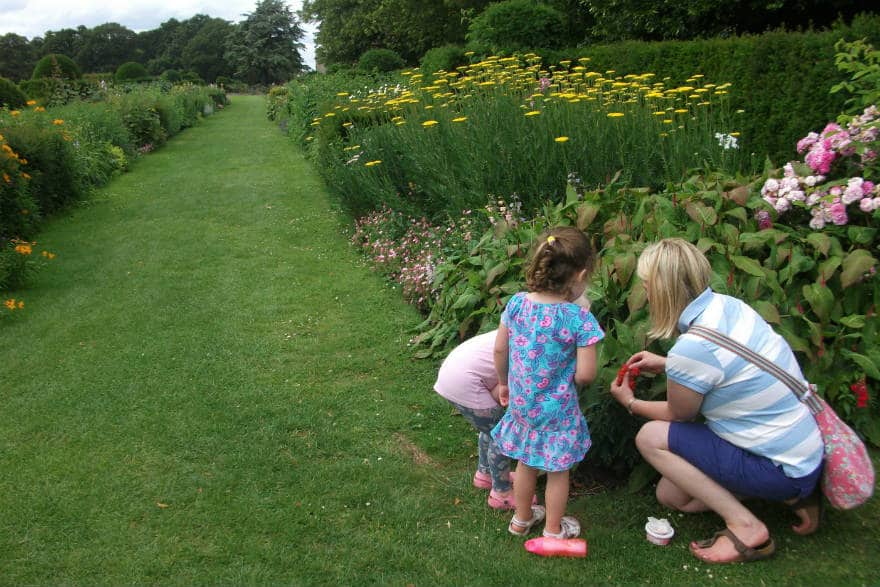 All the important bits
Location
Grimsthorpe Castle is on the A151 between Colsterworth and Bourne. Use PE10 0LZ for sat nav.
Car parking
There is a large car park. You pay your entrance fee at a kiosk on the way into the car park.
Tickets and prices
Tickets for just the gardens and parkland are £5.50 (adult), £4.50 (concession) and £2 (child 5-16 years). Tickets for the castle and gardens are £10.50 (adult), £9.50 (concession) and £4 (child 5-16 years). See Grimsthorpe Castle website for opening times.
Eating and drinking
Grimsthorpe Castle is a great place for a picnic. There are picnic tables in the playground and courtyard by the visitor information centre and tearooms, or spread out a rug in the grounds somewhere. The Coach House Tearoom serves light lunches, snacks and drinks and the Stables Shop sells those all-important ice creams! The Coach House Tearoom has highchairs and a microwave for heating baby food.
Facilities
There are toilets by the Stables Shop in the courtyard with baby changing and also toilets near the castle. Just note there are no toilets by the adventure playground.