Tweeting isn't just the sound of the early morning birds around your window… Oh no, it's the sound of a worldwide network of garden and plant lovers, connecting through the most buzzy, most varied, most enjoyable social media platform; Twitter!
Twitter can look a touch daunting at first sight. All that chat about hashtags and writing messages in just 140 characters… flummoxing. However, once you get the hang of it, you'll wonder how you ever lived without it, as you'll build a host of new gardening contacts, drench yourself in green inspiration and a take advantage of a knowledge network you never knew existed.
If Facebook is the digital garden fence, then Twitter must be your garden borders full of plants; all vying for your attention, flaunting their flowery wares, but also grumbling when they're not happy.
What is Twitter?
Twitter, and 'tweeting', is about broadcasting daily short messages to the world, with a view that your messages will be useful and interesting to someone. Of course, conversely, Twitter is also about discovering interesting people online.
People send tweets for all sorts of reasons: vanity, attention, self-promotion, boredom, to share and seek knowledge… But, don't fear, you can control WHO you follow, and can make sure you only follow tweeters who send out content that's useful and relevant to you.
It can be fast-moving though, so make you're wearing your seat belt before you hop into the driving seat.
Finding people to follow
 You'll be surprised by who you can find on twitter; from some of the biggest gardening companies to your local tree surgeon. Type the name in the search box and you're all set to discover. It helps if you know their twitter 'handle' (their account name, in effect), which can sometimes be quite different to their actual name. For example, James Wong is @botanygeek.
Here are five good gardening accounts to get started with:
 Your timeline
 This continuous feed shows you every tweet from the accounts that you follow. This chatter can be as noisy as you can handle; follow more accounts, see more tweets. You will notice the busier times of day are lunchtimes and evenings, and indeed you'll find that's when you'll use it most too.
Sending a tweet
Click on the 'send tweet' button and you're ready to send your first tweet. Anyone that clicks onto your account will be able to see this tweet, regardless of whether they follow you or not, so be careful with what you broadcast.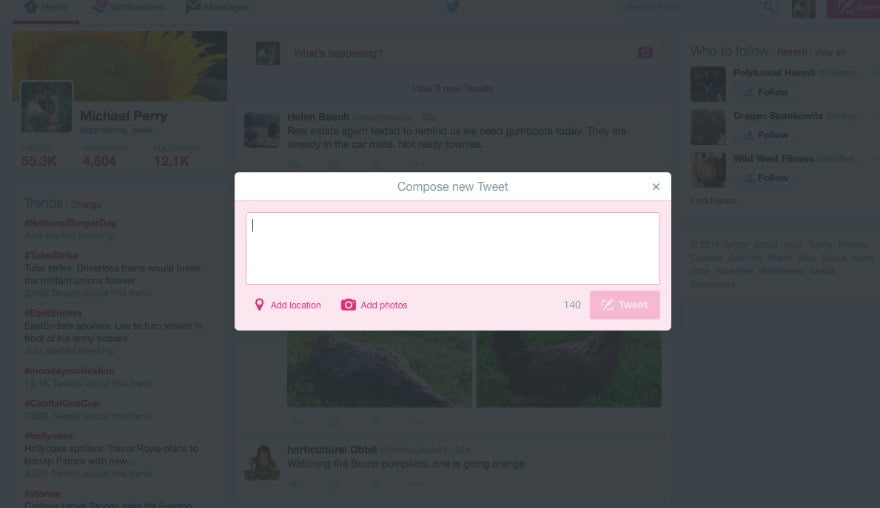 You can attach a photo to your tweet if you want as well, but remember you'll only have a limit of 140 characters for your tweet (not including the twitter handle), so keep it brief and concise. The magic of twitter is the punchy style, which is efficient, but can also make it seem quite a frenzy of activity.
Using a hashtag and why
To aid the search function on twitter, it's a good idea to add a hashtag, and this can as unusual as you like. One particularly good example is #rhschelsea; by typing this hashtag into the search box you can see all the news, pictures and stories from RHS Chelsea Flower Show.
Lots of users also use hashtags while they watch popular TV programmes (for example #loveyourgarden). This means they'll be able to track other viewer's comments, so it almost becomes like you're all watching the show together.
Replying to a tweet
You can reply to any tweet that has been sent, even those sent by famous people. Simply click on reply and type in the box, but remember you are only allowed 140 characters, so keep it brief. And remember many high profile people will have 1000's of tweets so may not have time to reply.
Re-tweet
This button simply 'retweets' the tweet in your timeline, and broadcasts it to your own followers. It's a fantastic way of spreading the word about something you feel strongly about or an event you want to help publicise.
Favourites
You can use this button in two ways. Firstly, you can 'like' the tweet, in a similar way to how you would on Facebook. The sender of the tweet then knows that you found the tweet interesting. Or, you can use it to 'bookmark' the tweet, and then go back to it later. All of your favourite tweets are all stored in one place.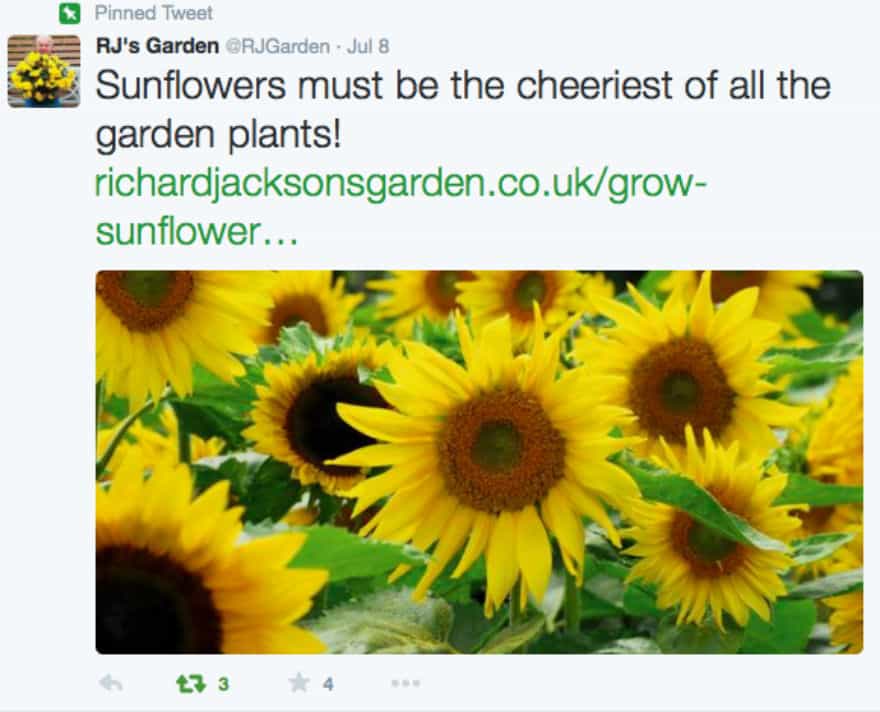 Sending a direct message
If you follow someone AND they follow you back, so do have the option of sending a direct message (DM). Although make sure you get your tweets and direct messages the right way round.
Lists
As Twitter is always so busy, and you may easily end up following 100s if not 1000s of accounts, you can sort the accounts you follow into groups, and view them as their groups. For example you might want all gardening friends together, simply click on lists and add accounts.
Seeing the performance of your tweet
This interesting button allows you to see how many people have viewed your tweet. Click on it every so often and see how far-reaching this social platform can be.
What can Twitter do for me and my garden?
Connect with like-minded horticultural enthusiasts of every level
There are no horticultural social rankings on twitter. Students chat away to aged hortics, nursery owners to tree surgeons; the flowery knowledge just flows. Gardening can often be a solitary activity, and many head gardeners have found Twitter a lifeline over the last few years, tuning in to horticultural gossip and improving their job satisfaction. Twitter can also be a lifeline for those that are housebound or cannot work.
Expanding your knowledge
With twitter, you will never stop learning. Tweeters from all around the world are ready and waiting to help with gardening problems, plant identifications, pruning advice, and with (most importantly) first-hand experience. Some students have even found it helpful with getting advice and opinions with their dissertations.
Find out the latest plant news
As with Facebook, many large horticultural companies have twitter accounts, and use their tweets to highlight special offers, new products and competitions. A popular style of competition is 'RT and follow', which is very simple and helps the company to boost their follower count, but there could be a prize in it for you.