I take my hat off to all those hard-working nurserymen and women who get up early, pack their vans with plants and head off to another plant fair. It's exhausting work having to move stands, load, unload, drive home and then water hundreds of plants on the nursery before hitting the pillow. The stamina of these plant experts is notable, even on the wettest of days. Nursery folk often continue to smile and enthuse about their plants from under a waterproof while clutching a grey cup of tea from a flask. These are hardy folk who certainly deserve our support. Without them the plant world would be very dull and uninformed. The many plant fairs across the country are what keep these nurseries going, so we must attend them.
Country Gardeners' Day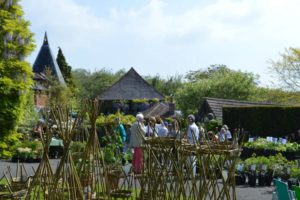 At the end of May I held our annual Country Gardeners' Day at Stockton Bury Gardens in Herefordshire. Each year I invite about 15 nurseries and garden suppliers to join us. Herefordshire is rich in horticultural talent, which allows me to restrict our exhibitors to those local to the area.
The forecast predicted heavy rain and thunder and that's what we got. The event was far from a washout though as keen gardeners poured in to look for plants. Passionate gardeners always arrive as the gates open – it could be compared to the start of a race. They're enticed by the chance to talk to the specialist growers and enjoy shopping within the heart of a garden.
Music, cake, and tea are all part of the day and a good plant fair is fun. Brush the frivolities aside however, and the reality is that these events are so important for the nurseries in particular. Here they get to highlight their specialism without having the expense of opening their nurseries to the public. Those that offer a mail order service get the chance to talk to their customer to establish what the up and coming trends are and they can also discuss the challenges of the season with other growers.
Shop local
For the customer, the benefits of attending a plant fair are priceless. They can hear first-hand from the experts how to care for a plant and they can buy rare and unusual plants that you won't find at the average garden centre. It's a great help to be surrounded by plants that have been produced in the local area as it's likely that they will suit the customer's soil and site too.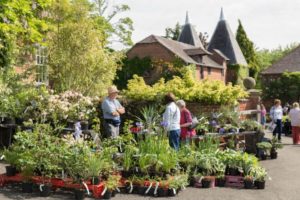 We should all be focusing on shopping local for environmental reasons. Low mileage plants make sense and by buying those produced in the UK you avoid the risk of importing pests and diseases from afar. The Royal Horticultural Society is keen to encourage us to buy local for this reason. There is a bacterium that is causing great concern amongst gardeners – Xylella fastidiosa. It restricts water movement inside the plants, which results in death. The UK is free of this devastating disease at present but in other parts of Europe it has caused great damage. It affects hundreds of plant species – most notably lavender and rosemary – and it is likely to arrive through the importation of infected plants. Buying locally from nurseries that produce their own stock is the most responsible way of gardening and will hopefully go some way to keeping the UK free of this problem.
Next time you see a sign for a plant fair don't drive by. Whatever the weather pull in and do your bit to support our exceptional nurserymen and women.