TV gardener and presenter, Charlie Dimmock, is shaking up the gardening world this summer. With a garden full of potentially poisonous plants currently on display to the public, as well as some interesting angles on solving the allotment shortage crisis, she has also turned down an invitation into 'the jungle'. Having previously appeared on reality shows The Games and 71 Degrees North, Charlie recently revealed she has turned down I'm a Celebrity Get Me Out of Here because it is "not for me and possibly not that enjoyable" although she says she would love to be asked to be on Strictly Come Dancing if her regular pantomime commitments allow it.
Protecting pets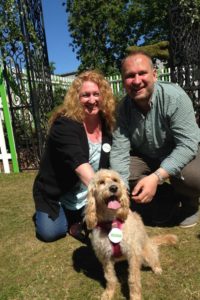 Her most recent project is the Poisonous Pawtanical Garden, sponsored by MoreThan insurance. The garden, at Horniman Museum in South London, features more than 30 plants could cause illness or even death to pets if chewed or eaten. Charlie said: "Be aware of what you may already have in your garden if you have cats and dogs. Don't pull the plants out but if you're going out buying bedding plants don't buy ones that are cat toxic like begonias – go for bizzy lizzies instead."
The former Ground Force star, who has a horse and has owned dogs and cats, said, "be aware that plants like hydrangeas, clematis and wisteria can be toxic to cats and dogs. If your puppy is chomping on a hydrangea you should stop it." Other plants to avoid include lilies, foxgloves, dahlias, box (Buxus), ivy, laurel, poppies and chrysanthemums.
The Poisonous Pawtanical Garden has been designed by Chelsea Flower Show gold medal winner Ian Drummond, who advises pet owners to visit the garden or to research about which plants are more friendly to pets to prevent their dogs and cats from falling sick.
Potentially poisonous plants if eaten by dogs and cats
Some 8% of people surveyed by MoreThan insurance, creators of the Poisonous Pawtanical garden at London's Horniman Museum until 14 June, had experienced illness in their dogs and cats because they ate plants that are poisonous to them. Plants to avoid include:  lilies, dahlias, foxgloves, peonies, box, ivy, hydrangea, laurel, poppies, marigold, tomatoes (plants), daisies and chrysanthemums.
Download the full list of poisonous plants here (pdf)
Charlie Dimmock in the spotlight
Famous as the 'braless gardener' when she presented the BBC Ground Force show, which attracted 12 million viewers at its height in the late 1990s, Charlie is appearing at RHS Hampton Court Flower Show (30 June-5 July) to talk about her speciality, water gardening. Charlie, 48, has also appeared on the BBC's Great British Garden Revival recently, presenting shows on water gardening and peonies.
She has filmed a series on allotments, which has yet to be broadcast, and believes Britain's allotment shortage could be solved by cutting plots into quarters. She said: "A lot of plots are way too big for the average couple and if you halved them and halved them again, that would be more practical for many people."