In the words of Audrey Hepburn 'To plant a garden is to believe in tomorrow.' Gardening can help with depression and be tremendously beneficial for people suffering with bereavement, loneliness and illness. Green therapy. In these unsettled times, gardening may be the perfect antidote to some of our troubles and worries.
There is always something requiring attention in the garden. It provides a great distraction to occupy your mind. It gives purpose, focus and an end result for your effort.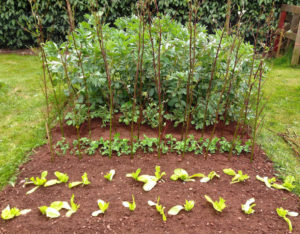 Scientific research has proven that getting dirty is actually good for us. Soil contains the harmless bacterium Mycobacterium vaccae which releases dopamine and serotonin, a natural anti-depressant in the brain and makes us happy.
If you do not have a garden consider putting your name down for an allotment. Transforming weeds and neglect into a fine tilth is extremely satisfying, provides purpose and goals. Sowing, growing and harvesting crops is incredibly therapeutic and rewarding. We should never under estimate the power of nature to calm and centre thoughts and to inspire hope for the future. The anticipation that there is something to look forward to whether it is a new bloom or a fruit and veg crop works wonders on lifting spirits.
We all juggle numerous tasks in our fast-paced modern lives. Gardening requires us to slow down, contemplate and appreciate the little details in life that can be easily missed if racing around at full-speed. It reminds us of our connection with nature and the wonderful cycle of life that is going on right under our noses. We just need to take time to appreciate it.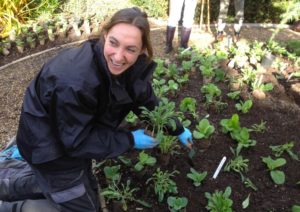 Gardening can reduce anxiety and gardening with someone else can help combat loneliness and shelve worries for an hour of two. Discussing planting schemes and developments all express optimism and allow our minds to think positively about the future. Sit back and admire all your hard work and enjoy the sense of achievement. I work with people who have experienced bereavement or long-term illness. Gardening has been a tremendous respite, an escape from the house, provided achievable goals with visible results from a few hours toil when other aspects of life may not be so straightford.
So how can we plant hope?
Plant bulbs. Long winters can be demoralising but a splash of early spring colour brings hope. Plant successively, as one flower fades another emerges for months of blooms. Consider crocus, fritillary, narcissus, snowdrops and bluebells followed by tulips and alliums.
Whatever your garden size or budget add some new plants to your plot for some instant gratification.
Choose personally relevant plants to add nostalgia to your garden.
Inhale. Scent is such an evocative sense. It can propel us back to times gone by and remind us of people and places.
Roll up your shelves, step outside your door and tackle the weeds. Like a spring clean, half an hour of weeding can be liberating and will improve spirits.
Join your local gardening club to meet like-minded people.
Put your name down for an allotment.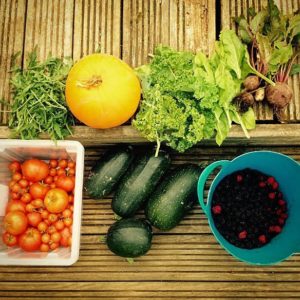 Keep fit. Gardening can improve overall health by getting you out of the armchair and save you a trip to the gym.
Phone a friend. Gardening can be incredibly social so call in help. Have a good chat and dig.
Garden with children. Whatever age, flower power is magnetic. Passing knowledge to the next generation is immensely satisfying.
Hire a professional. Get regular help from a professional gardener. Discuss plants and garden aspirations. Moving projects forward can be incredibly liberating.
Gardening has such a positive effect on mind, body and general wellbeing. We literally can plant hope.