Thank you to everyone who took part in our very first trials. We were delighted with the response and really appreciate everyone's enthusiastic participation. I've summarised your findings, and then sent them to the various suppliers for their comments. Only Unwins gave us any feedback, so we've included their comments in this report.
Rhododendron 'Tinkerbird': Our Star plant for 2017!
We were very excited to be able to include the world's first hardy scented compact rhododendron in our trial and it more than lived up to our expectations. Our team of trialists absolutely loved it! Sue Whiteside from Chelmsford rated it very highly, 'it was quick to flower, had an excellent scent and lovely blooms.' She recommended it highly. 'The scent was amazing, the flowers lovely and a good colour too' commented Joanna Hughes from Exeter, who then asked 'where can I buy more?' There's some good news Joanna – encouraged by the success of the trial, Ken Evans from Plants2gardens has bought all the stock and will be selling it on QVC in January.
Hydrangea 'Double Dutch Pink'
There was a bit of a mixed reaction to this plant. Heather Cresswell from Reading thought it a 'very pretty plant, with an unusual colour and shape of flower petals' while Terry Cullum from Grays thought 'the flower heads weren't impressive but were a good colour.' Andrew Bach from Romford 'liked the colour change of the flowers but was disappointed by the limited number of flowers.' The conclusion was that our panel will grow it on into next year, see how well it performs in 2017 and reserve their judgement until then.
Hydrangea 'Teller Jixi'
This was more popular than 'Double Dutch Pink'. Gail Bolstridge in Nottingham told us that 'it has been really beautiful all summer and everyone has admired it.' Lynda Brown from Colchester loved the colour of the flowers as did Bill Holder in Buntingford. Mrs Vaughan from Wymondham thought it was a robust grower, liked the multi-flowered heads and said 'it's a wonderful addition to my collection of hydrangeas – they're my favourite plants!'
Digitalis 'Goldcrest'
The jury is out on this as the plants didn't flower this year so our trialists are growing them on another season in the expectation of a full display next year.
Bidens
We received only one report back from L. Murphy from Ashbourne who found the three different varieties sent 'all to be very similar and they weren't special enough' and he'd 'not choose to grow them again in the future.'
Viola 'Bunny Ears'
Generally everyone loved the cute flowers (which smell like sweet peas according to Elaine Olley from South Shields) but disliked the plants growing very straggly. It could be that this is a plant best grown for a winter/spring display (when the conditions are cooler) rather than the summer.
Pumpkin 'Evergold'
This was a big success. Debi Holland from Nailsea liked that it 'was quick growing and fun for the kids, also that the pumpkins were petite but perfectly formed and ready for Halloween' while Ruth Stephens from Yorkshire had a 'fantastic crop.'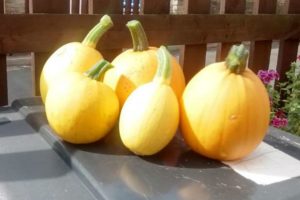 Unwins response: It's great to hear you had success with pumpkin Evergold. It's special to us as unlike other pumpkins which grow green and ripen to orange, Evergold's young fruit are orange in colour, so you're guaranteed an orange pumpkin for Halloween. It is a medium-sized pumpkin which grows well on a sunny site in deep rich soil. To get the best from the plant, feed and water regularly and remove some of the early fruit, leaving three per plant to grown on will help ensure best results.
Sweet Pea 'Maloy'
We only received one report back, from Anne Taylor in Wakefield who 'loved the flowers which gave a great display but they were late for the season, and didn't start to bloom until the end of July (Richard's note: but this might be due to a late sowing). Also the flowers didn't have any scent.'
Unwins reponse: Maloy is a variety for flower power and is classed as a multi-flora, bred to carry more flowers per stem than standard sweet peas. It is great for bringing a beautiful display of cutflowers with lots of colour, offering up to seven flowers per stem, compared with standard four or five flowers per stem. As it's bred for the cut flower market, it's not a highly scented variety but it's certainly a variety worth growing. The late blooms experienced by Anne could be due to when the seeds were sown. To achieve best possible results, Unwins recommend sweet peas seeds to be sown between January and April.
Digitalis 'Knee High'
There were differing views on this plant. Jeanette Painter from Romford said 'they are really pretty and I'm very pleased with them' while Royce Tasker from Doncaster 'didn't like anything about them.' Mrs Allsop from Northampton was more positive she thought that 'the height was good, but they didn't produce many flowers.'
Physostegia 'Autumn Carnival'
This was sent as a substitute plant for another variety which, at the last minute, wasn't available. A few trialists reported small flowers appearing in October, others had no flowers at all, so it look as though we'll have to grow it for another season to see it in full flower.
Un-named experimental strawberry
Again, this was sent as a substitute, but although it was reported by our trialists as being easy to grow, the fruiting was poor but that might well be due to the plants being sent out late in the season (early June) so we'll wait until next season to properly judge its performance.
Thank you, once again, to everyone who took part. We've learnt a lot from this first trial. The growers/nurseries need to send out flowering size plants and also we need to receive them in plenty of time for our trialists to be able to test them throughout a full growing season. We'll be launching our 2017 trial in the early New Year. We'll be asking for volunteers then, so if you'd like to take part, watch out for my monthly newsletter.