Putting Flower Power into the hands of keen amateur gardeners helps to see the results helps to show what a difference it can make. Last summer we asked some keen amateur gardeners to try Flower Power for the first time.
Starbeck in Bloom, North Yorkshire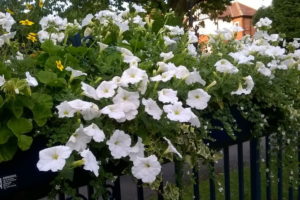 At Starbeck in Bloom 2017, the whole community pulled together with over 25 separate groups helping with projects and fundraising and work parties. The culmination was a River of Flowers stretching down the High Street of yellow flowers made of recycled materials made by 18 groups.
The bloom group worked very hard by bringing the wider community together to help make Starbeck a better place to live and this year the group were entered into Britain in Bloom in the Urban category. They used Flower Power to feed the plants in their displays and won not just a Silver Gilt medal but also a Gold award for community participation.
"We were really pleased to use the Flower Power again in Starbeck," says Christine Stewart who leads the volunteers . "We have had good results especially in the new borders in the library garden. These were donated plants and the soil is quite impoverished so by using Flower Power when watering helped to get them established and they all gave us a good show later in the season. Our cenotaph barrier baskets have never been very good, but this year they were outstanding. On investigation one of our team, Andy had been feeding them weekly using the Flower Power which I had given him for the street tubs. All in all Starbeck looked lovely all through the summer and Flower Power fertiliser ready did help ensure the plants were in tip top condition.
Please pass on our thanks to Richard Jackson from all at Starbeck in Bloom"
Garden Club plant trial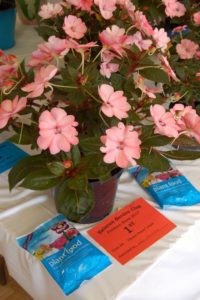 Rainton Garden Club in Yorkshire meets at the village hall, the hub of the village. Last summer about 40 members of the club took part in a trial to grow a Sunpatien.
Members could use their own compost and pot, but they had to feed with Flower Power though the growing season.
On show day in August around twenty members staged their plants and there were some very good specimens. Many of the members had also used the Flower Power around their garden on hanging baskets, tomatoes and peppers and the feedback was excellent.