It always happens when I start my autumn tidy up. There comes a moment, normally during a tea break, when I start to mull over the highs and lows of my gardening season.
Last week, I'd just been emptying some pots of summer bedding when I remembered how slow the spring had been to get going and that got me thinking about the weather, the success and the failures. It hasn't been the easiest of seasons, but we gardeners are used to a few challenges!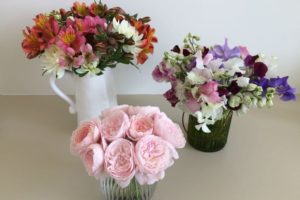 It was a cold spring (with an early Easter, which invariably means poor weather). My spring bedding enjoyed the cooler conditions and lasted much longer, as did the tulips. Inspired by Sarah Raven, I'd tried a few new varieties this year but 'Princess Irene' (which I plant every year) still outshone all the newcomers. Everything seemed slower than usual to get growing in May and by June, my David Austin roses were at least two weeks later coming into bloom.
Fruitful greenhouse
I spent a lot of time in the spring sheltering from the rain in the greenhouse, and, maybe because I was pottering inside it more during the spring, my grafted vegetables (from Suttons Seeds) got away to a splendid start. I was picking cucumbers from late June ('Carmen' and 'Mini-Star' were especially productive, and tasty too), while the tomatoes weren't far behind. I had space for just six tomato plants but, powered by twice-weekly feeding with Flower Power, the grafted plants produced my biggest and best crop ever. The family favourites were the cherry varieties, 'Sweet Petite' and 'Orange Paruche'. All the grafted peppers also did exceptionally well. 'Cupid', a mini-bell variety, that I'd not grown before, produced a staggering 100 mini red peppers that tasted as good as they looked.
Garden glories and a few crop failures
Outside in the garden, my successes included a QVC selection of sweet peas from Unwins. They were absolutely stunning. I planted them out in March and I guess that the cool and wet spring suited their early growth. The flowers were breathtaking, with strong, sturdy stems that made them a delight to pick. During the summer, I did keep them well watered, well fed, and I deadheaded them regularly so they didn't go to seed.
My dahlias have been wonderful this summer too, I'd tried some new varieties from Woolmans and Rose Cottage Plants, including 'Purple Flame' (it's fabulous) and the white flowered ' Karma Maarten Zwaan' which is my wife, Val's, current favourite for picking.
I'll gloss over the disasters quickly. My raspberries struggled (my fault completely, I wasn't ruthless enough thinning them out the canes last autumn and tried to grow too many in too small a space.) As for my blackberries, I'd waited a year to get a crop and it was huge! The problem was that the blackberries were small, full of pips and tasted bitter (the ones I picked from the hedgerows were much better). I'd originally been given these plants to trial so I reckon they must have been mislabelled, as they certainly weren't the exciting new, giant fruited, top flavoured variety I'd been promised !
Website success
In between working in my garden, and popping into Chiswick for the QVC shows, I've really enjoyed working on my website. When we launched it last year, we decided we'd like it to be slightly different from the traditional gardening websites. We wanted it to be helpful and friendly, a bit like mates having a chat over the garden fence. I was so pleased when lots of my gardening buddies agreed to contribute, and especially delighted that we could also encourage new talent too, including Vicki Cooke (Keeper of the Kitchen Garden at Hampton court) and Lawrence Wright (recently voted Young Horticulturist of the year!)
This year, we introduced some new ideas, including our Gardens to Visit series and, hot off the press this month, our very first 'Insider's Guide', to RHS Wisley. We had a huge response to our new Gardening Club and since January, we've personally answered over 4000 of your gardening questions, invited over 100 members to take part in special trials on yet-to-be launched plants and products, and even held an exclusive garden day for members at Easton Walled Garden in June.
Future planning
One of the joys of gardening is looking forward and we're planning to make our website even better for next year. Please let me know if there's anything you'd like us to consider adding to the site. As a thank you for your help, I'll give some £25 Garden Gift vouchers for the ideas that we like best. Please email your ideas to [email protected]