Anemone Mistral is a beautiful, Italian bred anemone that makes a fantastic cut flower and is so very easy to grow.
Anemone Mistral is one of Richard's favourite plants.
"I just love these flowers! They are very special and much sought after Italian bred anemones which are admired world-wide for their glorious, velvet textured, brightly coloured beautiful blooms. These breathtaking flowers can cost a fortune at the top florists, but now, you can easily grow your own!"
Easy to grow
But you might be asking yourself, "how do I grow anemone mistral?" Luckily, mistral anemones are really easy to grow. The corms stay dormant until you start them into growth in the spring. Plant out your corns as soon as possible after receiving them. If planting is delayed, store them in a cool, dark, frost free position. Prior to planting, soak them in a saucer of water for two to three hours, or overnight to ensure they are plump and ready to romp away. During this process they will easily double in size.
Growing in pots
Plant one corm per 15cm (6in) pot or 5 corms per 35cm (14in) pot. Fill the pots with a good quality multi-purpose compost (Richard Jackson's Compost is perfect for them!) and plant each corm approximately 5cm (2in) deep. Water them and place the pots in a sheltered, sunny spot outside (a sunny patio is ideal) and let the compost dry out slightly each time before watering them again.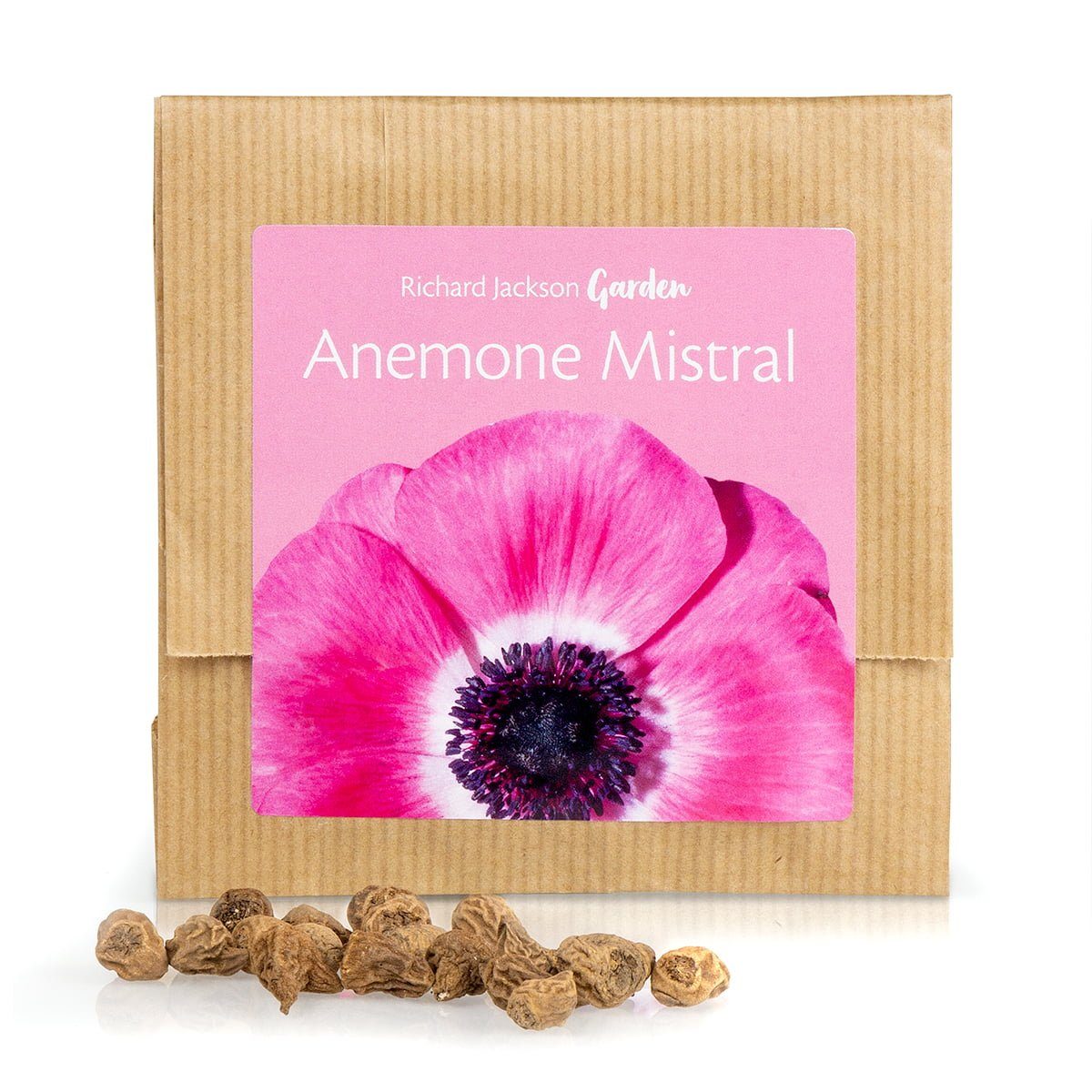 Growing in garden borders
Your anemones will happily grow in sun or light shade, but the soil must be well drained. Plant the corms 5cm (2in) deep, spacing them 10cm (4in) apart. It's important that the corms don't touch or stand in waterlogged soil.
Growing on
The first leaves will appear in a few weeks. If frosts are forecast, lightly cover the leaves overnight with a tea towel, horticultural fleece, or some newspaper.
The flowers will begin to appear in late spring/early summer. They grow up to 20-25cm (8-10in) tall on sturdy stems, so they don't usually need staking. If you want to cut them, for the longest lasting flowers, pick them when the flower head is about 1cm above the little ruff of green leaves. For bigger flowers, but less long-lived in water, cut them when they're just about to open.
Remove fading flowers to keep the plants tidy and to encourage more flowers to appear. Cut flowers can last up to two weeks in water. Change the water daily for the best results.
Enjoy even more flowers next year!
Feed the plants once a week with a high potash plant food (like Flower Power Premium Plant Food) as this will help the corms grow bigger. Once the leaves start to turn yellow during the summer, cut back the dying leaves. If growing in pots, move them into a frost-free spot and let them dry out completely until next spring, or tip the corms out of the pot and let them dry out. If growing in the ground, dig the corms up and dry them out. The dry corms should be stored in a frost-free place until re-planting next spring.