Flower Power is becoming the plant food of choice for many home gardeners, but its professional formulation is also perfect for nurseries that grow flowering plants.
Plant of the year
In 2016 Taylors Clematis won a staggering FIVE gold medals at the RHS Shows, including RHS Chelsea Flower Show, RHS Hampton Court Flower Show and RHS Tatton Park Flower Show.
"We have had a great year with our clematis in 2016 and have been 'dripping' with Gold medals at all the flower shows we have attended," says Chris Cocks of Taylors Clematis. "We also achieved the prestigious RHS Plant of the Year 2016 at the Chelsea Flower Show with Clematis 'Amber', which we fed with Flower Power Plant Food."
Chris continues: "Over the past 20-years we have tried many different plant foods to feed our precious show plants and although we have had good results in the past, we feel that Flower Power has given our clematis an extra boost and improved flowering. We would recommend Richard Jackson's Flower Power Plant Food to everyone, whether in a horticultural business or a home gardener that loves to grow beautiful plants and flowers."
Gold at every show
The fabulous flower power fed fuchsias from Roualeyn Nursery in Wales won gold medals at every show in 2016. The nursery exhibits at numerous flower shows throughout the season including RHS Cardiff Flower Show, RHS Malvern Spring Festival, RHS Chelsea Flower Show, Hampton Court Flower Show and Tatton Park Flower Show, not to mention several others including Harrogate Spring and Autumn Shows and Southport Flower Show. "Since starting to use Flower Power over three years ago, it has proven to be a first class fertiliser,' says Colin Jones from Roualeyn Nursery. "My plants have excellent quality, quantity and size of flowers, along with good foliage colour, which has continued to impress the Flower Show judges and the general public. Flower Power has certainly helped us attain these outstanding results and we are looking forward to the 2017 show season with great expectations.
Gold in Britain in Bloom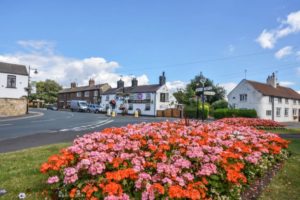 The RHS Britain in Bloom judges awarded a Gold Award to a whole village that used Flower Power to feed its displays. The Barwick in Bloom team were convinced that Flower Power worked its magic.
"We were delighted with the results of using your Flower Power plant food during the summer. The flowerbeds and planters in the village were absolutely stunning and we are sure that they benefitted greatly from the application of Flower Power. The Britain in Bloom judges were also impressed as we achieved a Gold Award in RHS Britain in Bloom 2016 and they specifically said that 'the overall impact of the bedding schemes throughout the village was of a very high standard'. Clearly Richard Jackson's Flower Power works!" exclaims Barwick in Bloom Chairman John Tinker MBE.
Professional formula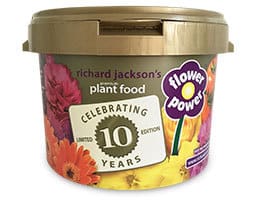 Ten years ago Flower Power Plant Food was launched to the UK's home gardener. After years of recommending that gardeners used tomato food to feed their flowering plants, Richard teamed up with a former colleague from Fisons and top garden scientist Dr Arnie Rainbow and together they developed a high potash plant food called Flower Power. "I wanted to make sure I was proud to put my name to it, so I talked to Arnie and said I want to introduce a fertiliser based on a professional formulation," explains Richard. Flower Power was the result.
"What happened was, people start talking about it and using it. Since then it has sold on customer recommendation."
Flower Power Plant Food has become the secret of success for many home gardeners as well as professional growers. This unique, professional quality plant food contains rich levels of potash that enhances the production of flowers, fruit and vegetables and also helps to toughen the plants too. The fantastic results speak for themselves.