Taking play outside generally helps children to behave better. If they are reluctant to leave indoor toys, simply get them to use them outside. Setting up their toys in a 'village' scene on the lawn brings the children closer to the natural world and encourages imaginative play.
Getting started
You need a reasonably level surface, so remove any debris and mow the lawn. Lay down a green or brown towel or blanket for the landscape. Set up a toy train set if you have one and build the rest of the scene around it. Toy farmyard animals and other items can be added but be aware that small precious items are easily lost in a garden. Borrow some potted plants from the patio or make trees from bits of sponge painted green and stuck on sticks. Use the contours of the garden to add hills and tunnels. If the ground is too bumpy for a train track, lay them out on a patio or deck in a similar way.
The whole concept of toys in the garden is a fruitful one. From the abacus to building bricks, via trains, action figures, Teddy tea parties, puzzle games, dolls, mat games, toy trucks, hula hoops, space hoppers and more. Children will benefit socially, physically and mentally from playing in green space, as numerous scientific studies have proved.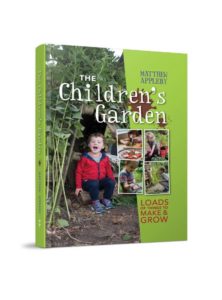 More model ideas
Make a garden tunnel, maze or labyrinth for your train or toy car track.
Create a rainforest in an old fish tank or terrarium. Line the bottom with gravel, add soil, plant small house plants, top with moss. Spray with a water mister daily.
Older children might like to build an ant farm. Start with an old fish tank, big jar or bottle. Put in sand and then start looking for ants. They like the cracks in pavements or anywhere dry and sandy. Capture them,
without getting bitten, and put them in their new home, with some leaves on top. Make the whole 'moonscape' more realistic by adding plastic aliens and spaceships.
The Children's Garden is available now from all good book store and online at an RRP of £14.99.