The Beth Chatto Gardens are in Essex, just a few miles outside Colchester. They are open all year round (apart from two weeks between Christmas and New Year), but do check the opening times to plan your visit. It's a 7-acre site, and a generous amount of the site is actually open to visitors without the need to pay for garden entry.
You can have a day out and enjoy the beautiful and world acclaimed gravel Garden, feast on a light lunch or enjoy refreshments in the stylish and beautiful tea rooms and indulge your passion for plants without purchasing a ticket to the main gardens. There is plenty of free car parking and even space for a coach or two. Dogs, except assistance dogs are not allowed.
Gravel garden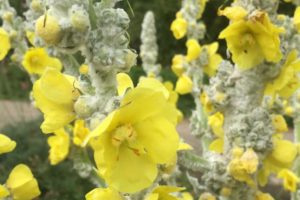 The gravel garden in midsummer is a delight, awash with drought resistant plants from the Mediterranean and other hot dry climates. Huge spires of yellow Verbascum bombyciferum, clumps of vibrant pink Armeria, rock rose, Phlomis, lavender, Parahebe perforata and other summer beauties creating a living tapestry of colour with a scented, ethereal aura. Poppies, grasses, agapanthus, sedums and verbenas all jostle for space in the action packed borders creating colour and interest for the summer months. Benches tucked into the curve of the borders provide plenty of resting spots for the tired and ailing and the chance to sit within the garden and really appreciate the planting and energy.
It's alive with the buzz of insects, drinking deeply from the nectaries on the flowers. Take time to wander across the gravel walkways that lead around this area and look down to see what plants are joining the borders, by spreading stealthily through the gravel itself.
Pots of wonder
Don't miss the planted pots and glasshouse around the tearoom and scree garden. Packed full of fabulous succulents, each one a wonderful living sculpture for the greenhouse, conservatory or summer patio. Spikey agaves, glossy heads of aeoniums and a fantastic array of exotic looking echeverias, one Echeveria 'Mauna Loa' is a little bit reminiscent of the Star Trek Klingons with its rather warty, frilly leaves. If you are on a budget, keep your wallet under lock and key as I guarantee you will be enticed to part with your hard earned cash if you have even the slightest interest in plants.
The plant nursery is a sweetshop for plant lovers, packed full of beautiful garden delights, all labeled and presented to lure you to temptation. I couldn't resist and left with a box full of fabulous, healthy plants to restock my glasshouse and garden. I defy anyone to linger bear the display of houseleeks and not leave with at least a pot of these fascinating little plants. I succumbed to that as well.
Water garden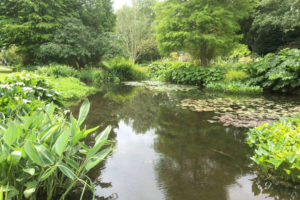 Entry into the main gardens costs £6.95 and allows you access to the reservoir garden, the water garden and the woodland garden. It's a stark and very lush contrast with the scree and gravel garden with four shaped ponds at its heart and plenty of marginal and bog loving plants such as primulas, astilbes and rodgersia enjoying the benefits of the adjacent water and some very dramatic specimen trees.
Dodging a few rain showers and with a long drive ahead we were lured back to the tearooms for a cuppa and a last visit to the plant nursery and shop before we left. It was well worth the extensive detour and a fabulous day out. If you are in the area do check it out and if you know any other lovely gardens in the area to visit then let us know.