Over the centuries the tulip flower in its many forms has been venerated as a holy flower, revered as a botanical wonder, sold as a financial future and even worn as a priceless jewel by the gentry.
In its heyday the tulip not only dominated an era but it also inadvertently exploited the weakness of human desire and greed so effectively that little has come close ever since. Tulips span the boundary between spring and summer and their flamboyant colours and displays will lift your spirits and inspire even the most reticent garden visitor.
If you fancy a day out this spring, we've picked five great gardens to visit with tulips aplenty for you to admire. In no particular order:
Pashley Manor Gardens
Ticehurst, Near Wadhurst, East Sussex TN5 7HE
In late April and early May, the Tulip Festival at Pashley Manor on the border of Sussex and Kent is the place to be. The gardens are carpeted with 30 000 tulips in elegant displays of colour themed garden rooms and sweeping borders where they are mixed with herbaceous partners. It's a cacophony of colour and combinations to inspire and wow the visitors. There's a riot of hot red and orange blooms, softened with the bronze foliage of feathery fennel. Don't miss the white lily flowered tulips partnered with the palest cream, classic varieties around an old brick terrace, or the soft pink peony flowered blooms cloistered between red brick walls and pleached pear trees. And inside the Bloms Bulbs marquee there's a display of cut tulip flowers so you can see the blooms close up and even order some if you so desire.
Arundel Castle
South Downs National Park, Arundel BN18 9AB
The Arundel Castle Tulip Festival at Arundel Castle is the largest public display of its kind in the country, with more than 38 000 stunning flowers on show which includes a fabulous labyrinth of 8 000 red tulips. This year the key colours for the displays are pink, purple, red and white with dramatic plantings of 'Purple Dream', 'Purple Prince', Pink Impression' and 'White Triumphator'. Following on fro the tulip festival will be the Allium Extravaganza, which is expected to reach its peak at the end of May.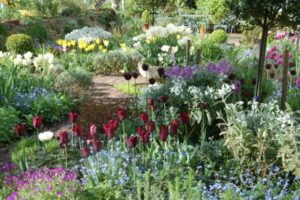 Shepherd House
Inveresk, Musselburgh EH21 7TH
Tucked inside a walled triangle in the 18th century village of Inveresk lies the pretty one acre garden of Shepherd House. It's richly planted with tulips throughout, which are added to each year. 'White Triumphator' tulips beside the pond are a striking sight with the pale greeny blue foliage of bearded iris, yet to flower. In the courtyard there are four colour schemed beds with clumps of tulips of similar tones. Generous groups of tulips are also displayed throughout the garden in the herbaceous borders and also in large pots creating colour and interest from February to May. Look out for the species tulips in the alpine wall.
Osborne House
York Avenue, East Cowes, Isle of Wight, PO32 6JX
Colourful swaths of tulips used for bedding displays were the height of fashion in Victorian times. The ornate garden terraces at Queen Victoria's summer residence, Osborne House on the Isle of Wight are a riot of tulips in spring reflecting this colourful trend. Colour themed and mixed with spring perennials the effect is quite stunning. Don't forget to visit the Victorian walled garden, where some of the beds are packed with tulips and vast pots display these spring flowers in all their glory. The espalier fruit trees will be in flower and it's an oasis of calm within the greater landscape.
Constable Burton Hall Tulip Festival
Leyburn, North Yorkshire DL8 5LJ
From April 29th – May 1st 2017, the gardens at Constable Burton Hall are open for the annual Tulip Festival held within its ample acres of woodland and gardens. Don't miss Nanny's Garden where the ornamental weeping, silver pear cascades down over a fabulous combination of Tulipa 'Purple Prince' and the Tulipa 'Yellow Purissima'. Beds of tulips, in full flower are a sea of colour mapping out a route around the garden that takes in the magnificent avenue of lime trees, the rose border and a pleasing colour sequence of tulip cultivars all down the path.