Some gardens have been heavily sponsored with huge budgets, but others have been created on a shoestring, but what shines through is the passion for not just plants and garden design, but for horticulture in general.
Here are my pick of this year's show gardens before the show opens on Tuesday.
Blind Veterans UK: It's all about Community Garden (stand 331)
Designers: Andrew Fisher Tomlin and Dan Bowyer
This garden is simply stunning. It's packed full of great ideas in both planting and landscaping that enhance the appreciation of the garden. It's a community garden that offers a vast array of sensory stimulus to those with vision impairment, but also for anyone else that uses the garden.
The beds are planted with plants bearing richly coloured flowers for those with a modicum of sight, it's a cacophony of texture and vibrancy, and alive with insects. The borders are buzzing with pollinators visiting a range of nectar and pollen rich blooms, with a rich wild mix of viper's bugloss, yarrow, daisies, knapweed and self heal. There's a beer hive, a traditional beehive that disguises a cache of beer. Woven willow and oak have been intertwined into a gazebo structure that offers shelter from the rain. Even the vegetable garden is tactile with great triffid like kales of bubbly foliage and giant cabbages that reflect the silver galvanized railings and twisted metal gates.
The Zoflora and Caudwell Children's Wild Garden (stand 425)
Designers: Adam White and Andree Davies
What I really love about this garden is that it's designed for kids and yet it isn't childish or garish or patronising. It simply contains classic garden elements that children and grown ups adore in a fabulous, wild setting. Designed to highlight the beneficial qualities of a therapeutic outdoor space for children with differing abilities but especially for those who are disabled or with autism spectrum disorder. There's playful edible planting, wild grassy mounds, treetop nests and tree houses, a secret cave, giant hollow logs and a shallow accessible play pool with cobbles. It's all interconnected with safe areas to rest and play. It all looks so natural and accessible and friendly, the perfect space for family fun and a great introduction to the healing powers of gardens.
Viking Cruises World of Discovery Garden (stand 450)
Designer: Paul Hervey-Brookes
The planting in this garden is a delight, packed with grasses and perennials whispering in the breeze. The soft blue triple arched wall at the back of the garden is a lovely calming backdrop to the whole effect and the border plants and little copse of silver birch continue the soft palette of colour. Purple Russian sage and a mix of rich pink yarrows add accents of colour to the airy planting underplanted with shade loving hostas and other woodland plants. Inspired by travel to far-flung places the mix of plants are of diverse origin but have been used to create a soft and romantic effect.
Colour Box (stand 652)
Designers: Charlie Bloom and Simon Webster
This garden was put together on a very small budget with the help and support of a diverse collection of people and as the result of simply asking for help. It's a fabulous mix of colour from the pink and green cubes to the densely planted borders. It's a celebration of flowers and foliage and simply screams life and vibrancy from every angle. A rainbow of colours that melts into the next, with clumps of pink yarrow, rich red heleniums, true blue agapanthus and the lime green and red of the blood grass, stark against the black dyed water.
The Perennial Sanctuary Garden (stand 789)
Designer: Tom Massey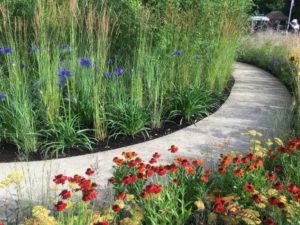 This garden combines the meditative effect of motion, moving gently between the plants and along an almost labyrinthine path to a place of safety and reflection. It mirrors the journey of a soul from a place of chaos, depicted by bright, rich, jarring plants through softer planting until you reach the central sanctuary surrounded by bamboo. The planting is rich and flowing, using sunny sunflowers and sneezewort in colourful chaotic clumps, then the blue heads of agapanthus, bright and start before it blends to a mix of grasses such as deschampsia that move in the wind interspersed with the magical soft mauve spires of veronicastrum. You can actually walk through this garden and through the plants and the meditative effect is quite palpable but do take time to really appreciate the clever use of plants.