Of course, if you come across a problem in the garden you can just Google for an answer. But, if you want the silver service and a reliable source of information, why not try one of the many gardening apps that are available? Here, I've picked out my favourite five.
GardenTags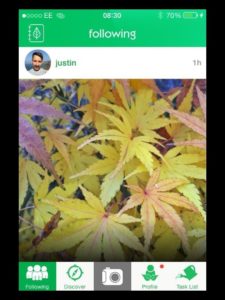 A brand new app has launched in the last few months called GardenTags, and it has been specifically designed for gardening users (iPhone only at this stage). This social media platform is similar to the ever-popular Instagram and it allows you to upload photos of individual plants and add them to the inbuilt encyclopaedia, meaning you only need to enter the plant name once, and in time there'll be a library of thousands of plant photos from users stretching around the globe.
You can also add photos of your garden for others to enjoy, and can browse other gardens for inspiration. Similarly to many other social media apps, you can then like, comment and share the photos you see in your own timeline. Look out for the special themed days too, where you're encouraged to upload vases of flowers or only flowers that are blue in colour. The makers of this app are aiming high and are adding different functionality all the time, so why not join the revolution now.
PlantSnapp
Referred to as a 'garden expert in your pocket', the PlantSnapp app (iPhone only) relies on a network of experts from across the UK and gives home gardeners the opportunity of round-the-clock gardening advice from those in the know.
Have you ever been on a holiday and wondered what that plant is in by the pool, and wondered if you can grow it in your own garden? Now, you can find out what that plant is almost instantly. You can upload a photo of a plant for identification and you'll receive an answer within 24 hours, and where possible, a link of somewhere to buy it. Then – the masterstroke of this app – pest and disease identification. So, if you've been baffled by holes in your leaves, or maybe some unsightly marks on your flowers, again, the panel of experts can offer you support, either putting your mind at rest or offering solutions to the problem.
The first three identifications are FREE, and then you have the option to buy premium membership, which is £4.49 per month, thereafter. The premium fee also covers extended expert chat, curated care advice for your garden and regional notifications. A recent merger with Garden Compass means that advice is now available worldwide too.
Already much acclaimed in the industry, PlantSnapp won the New Media award at the 2014 Garden Media Guild awards and has even been featured in Wired magazine.
BBC Gardeners' World magazine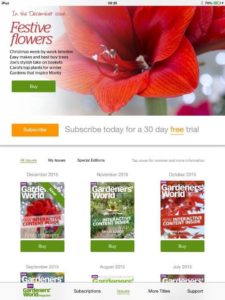 If you haven't downloaded a magazine for your tablet yet, then I really urge that you do. Seeing your favourite publication on a screen changes the whole experience. The photos of the BBC Gardeners' World magazine are known for being beautiful, but they are taken to another level on the app. The crystal clear photos are just mouth-watering and the magazine has interactive elements too.
Helping you get the best from a garden, whatever size, Gardeners' World magazine has always excelled in it's advice, and features contributions from Monty Don, Carol Klein, Joe Swift and more. Gardeners' World magazine is also spot on with it's step-by-step projects too. Plus, given the mobile nature of a tablet, you can take it outdoors and have it by your side as you work on your chosen project.
You have the choice to subscribe at a cost of £28.49 per year or purchase single issues at £2.49 each. Of course, the digital edition makes it much easier for overseas readers to enjoy the magazine, and the organisers do offer sale pricing on back issues every now and then too.
RHS Grow Your Own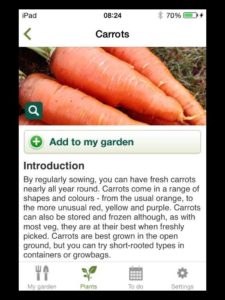 Geared towards growing your own fruit and vegetables, the RHS Grow Your Own app (iPhone only) is for beginners and anyone interested in the 'grow your own' movement.  The basic application is free of charge, covering 39 popular vegetables. Spending a further £1.99 buys you a bundle with a whole lot load more veg, including a few more unusual crops. Links are also included so you can buy seed and plants from reputable sellers, and you can also buy the right equipment needed to grow them.
Sowing, growing and harvesting is all covered, and the app helps you choose the right crop for you, based on your space and expertise. The calendar function is superb too, and tells you what to do and when, so no more missed sowings. The calendar is also cleverly location-aware and gives possible frost warnings and drought alerts for your own garden. There is where technology and gardening really do make the perfect partnership.
More on the RHS Grow Your Own app
Amateur Gardening magazine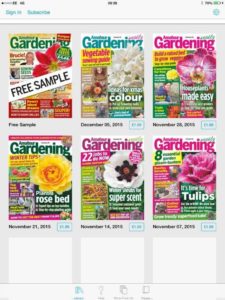 We've shown you the monthly magazine, BBC Gardeners' World, but did you know there's an app for weekly favourite, Amateur Gardening too? Again, everything you're used to in the magazine is now in glorious technicolour.
Packed with hints and tips and what to do now articles, Amateur Gardening magazine also mixes this well with the latest news from the gardening world, thanks to its gossip style pages. It isn't quite Heat magazine, but it does feature most of the who's who from the gardening world. Tap into their years of experience in order to develop your own gardening skills.
So, there's a taster on what you can do in the fascinating world of gardening apps. Be sure to visit the app store regularly though; new arrivals, and updates and improvements to existing ones, are appearing all the time.