West Dean
Chichester, West Sussex, PO18 0RX
From its collection of 13 working Victorian glasshouses to the 300ft Edwardian pergola and the most remarkable, restored walled kitchen garden, West Dean gardens are breathtaking.
Recently retired, Jim Buckland and Sarah Wain have managed this extraordinary 19 acres. The former home of surrealist patron Edward James has undergone a six-year restoration programme and earned the gardens the 2014 Sussex Heritage Trust Award.
The impressive grounds incorporate a sunken garden, arboretum, ponds, tranquil parkland walks and an enormous collection of fruit with 100 varieties of apple and 45 pears.
West Dean inspires visitors throughout the year. Marvel at the 500,000 spring bulbs, azaleas and rhododendrons, wildflowers, fruit and vegetables, dazzling dahlias and a collection of Tulip and Horse Chestnut trees.
Get the book: Just published by White Lion Publishing, At West Dean: The Creation of an Exemplary Garden by Jim Buckland and Sarah Wain is the perfect precursor to a visit and an insight into this remarkable garden.
Charleston
Firle, Lewes, East Sussex, BN8 6LL
Former home to Bloomsbury set Vanessa Bell and Duncan Grant the gardens at Charleston were transformed from practical World War One self-sufficiency to whimsical artist's cottage garden with a splash of Mediterranean.
Charleston is steeped in literary and artistic history. These modest sized gardens exude beauty and charm. Scattered with sculptures round every corner, urns, a Piazza and tiled pond.
A romantic pond allows time for quiet reflection and an opportunity to stumble across Clive Bell's striking sculpture 'Levitating Lady.'
The walled garden holds a kaleidoscope of floral colour, abundant with foxgloves, delphiniums, roses, gladioli and dahlia alongside a well-stocked kitchen garden all nurtured by Head Gardener Fiona Dennis.
Enjoy tea and scones in the enclosed folly garden.
Great Dixter
Northiam, Rye, East Sussex, TN31 6PH
Home to the late Christopher Lloyd, Great Dixter captivates visitors with its trailblazing planting ideas spearheaded by Head Gardener Fergus Garrett.
Famed for its ever evolving mixed borders, visitors can expect every visit to be different. There is an exquisite juxtaposition of colourful perennials, shrubs, annuals, biennials and topiary woven together to form a breathtaking palette of plants.
Springtime brings carpets of naturalized crocus, fritillary and daffodils in the meadow and orchard. Terracotta and glazed pots of every size grace the grounds, brimming with hyacinths, tulips, narcissus and muscari.
A sunken garden and pond, Gunnera filled moat, topiary lawn and various garden rooms from exotic, prairie to vegetable create a diverse garden adventure.
Stock up on plants and seeds at their nursery. Plant Fairs and gardening courses run throughout the year.
Driftwood
4 Marine Drive, Seaford, BN25 2RS
Geoff Stonebanks has been wowing visitors for years with his extraordinary award winning coastal garden showcasing around 1600 plants. At Driftwood very inch of space has been carefully utilised.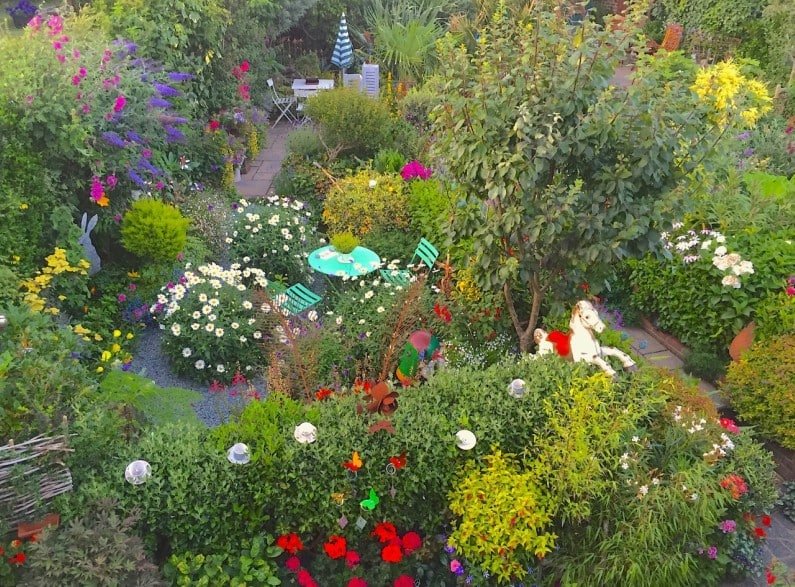 The lawn-less front garden has sea views dressed with shingle, groynes, lobster pots and a vintage dinghy. Grasses and shrubs soften the stone garden and the sound of running water from a raised deck offers a tranquil seating area.
The back garden amalgamates cottage garden perennials with small shrubs, fruit trees, alpines and ferns; original artwork interlaced throughout. Five gravel beds host coastal plants and topiary can found at the small studio courtyard. The garden is a triumph of creativity and provides much inspiration for small spaces.
Open again 1 June 2019 for the National Garden Scheme. To date £114,000 has been raised for various charities on 140 public open days hosting 20,000 visitors – that is a lot of tea and cake!
Pashley Manor Gardens
Ticehurst, Near Wadhurst, East Sussex, TN5 7HE
Pashley Manor Gardens boast 11 acres of exceptional gardens from rose beds to herbaceous borders, kitchen garden to wisteria-clad manor house, fountains and ponds to a walled garden swimming pool.
There are special events throughout the year, starting off with spring bulbs; snowdrops and bluebells, leading into the famed tulip festival showcasing over 40,000 tulips of 112 varieties from late April to early May. Sculptures, roses and the kitchen garden also theme festival weeks.
September brings tremendous excitement to Pashley Manor Garden's in the form of their 11-day dahlia festival, a flower fanatics dream.