There's a lot more to making your garden planting and design successful. Geoff Stonebanks offers his hard-earned advice.
Award winning gardens, like Driftwood-by-sea in Seaford, are much more than the sum of their parts. It's fine art melding all the components, plants and hard landscaping, design and layout, into something extraordinary. Here's Geoff Stonebanks' thoughts on texture.
"I've recently discovered that the word texture comes from the Latin texere meaning to weave. In my garden I've always thought that everything has been woven together into a tapestry of colour. I hasten to add it was never a plan I set out to achieve, it just happened overtime! The word "texture" usually applies to the surface characteristics of a given plant/object but it can also be used to describe the overall impression or feel of a plant grouping, area or even an entire landscape. In the case of my garden, Driftwood, it certainly errs on the latter definition, a plot woven together by plants, sculpture and a wealth of personal and marine memorabilia.
So, for me, it goes without saying that texture is the glue to the different parts of my garden relating to one another and thus creating a harmonious, unified and interesting whole. Well, I would say that wouldn't I? However, anyone who has visited Driftwood, would, I am sure, fully concur with that description.
Garden accolades
My web site records comments from visitors over the years and these jumped out in recognition of texture in the wider context. "Completely fabulous display of colour and texture!" "Veronika Van Eijk in 2015. "Wonderful patchwork of plants, objects, design etc all well thought out and beautifully juxtaposed." Dorry & Alan in 2012. "Lovely, liked the different levels, textures and planting. Well done!" Margaret Page in 2010. Sarah & Martin wrote after visiting in 2018, "Inspirational! Fantastic creations of colour and texture. Thank you" and in 2019, Sarah Pajwani said "No photos can capture the feeling of being surrounded by so many different, beautiful, loved plants – and the hugely hospitable atmosphere you have created."
Nautical textures
If you take my beach garden at the front of the house, it starts to come alive in March. The space is interwoven with marine objects (lobster pots, groynes, buoys) set against the pea shingle. Over time the wallflowers have self-seeded and spring up between the objects, making it all look as though it has been there for many years.
In one of the pots is one of my all-time favourite grasses, so tactile and begging to be stroked, Stipa tenuissima, or pony-tail grass.
The use of texture, in hindsight, helps create the play of light across the plantings and ultimately accentuates the different textures at different times of the day and most certainly in different weather conditions. Located where we are, facing the sea on the south coast, breezes affect plant movement and care has had to be taken to bear this in mind when creating the garden, in order to take advantage of it. Plants like Verbena bonariensis were planted and have now self-seeded amongst the gravel and sway beautifully when the winds blow across the garden. Alongside can be seen the dominant acanthus flower stems rising up and able to sway with even the strongest winds too.
Experiment with texture
Understanding these few basics will enable any gardener to successfully employ texture in their environment. I certainly developed my skills and interest from a totally blank canvas, both in terms of knowledge and landscape when we arrived here in 2004. One way of experimenting is to visit a local garden centre and place pots of differently textured plants next to each other on a trolley. This is an easy first step in experimenting with different plant combinations. A sure way to give any new plants installed is to ensure feeding with Richard Jackson's Flower Power too. It makes the weaving of plants so much quicker and effective.
Creating garden texture
To get the right effect I find that there are several various elements that need to be considered.
When choosing plants to create your garden tapestry you need to think of their structure. Are they tightly branched, bunched together or maybe billowy and graceful?
If wind has an impact on your plot then movement will be important! Will the look change in a breeze or wind, or does it remain rigid and firm?
Next, the shape of the plant. Instant contrast can be achieved by combining plants with dramatically different leaf shapes, even if they are similar shades of green.
The height at maturity is important to know too. As a novice back in 2007, when I began work on the garden, I had no knowledge of what would work well. I needed height so opted then for rusty metal arches, which I knew the wind would not destroy. Look at what has grown up around them now (see main image). Another is to use sculpture for height and focal point, like the wooden piece, fish or metal heron.
Is the prospective plant evergreen or deciduous? The former provide a stable texture, whereas the latter provide seasonal variations. 
I suppose though, to most people, the surface texture is the main factor. Is it fuzzy, smooth, hard, bumpy, rubbery, waxy, hairy or heavily veined?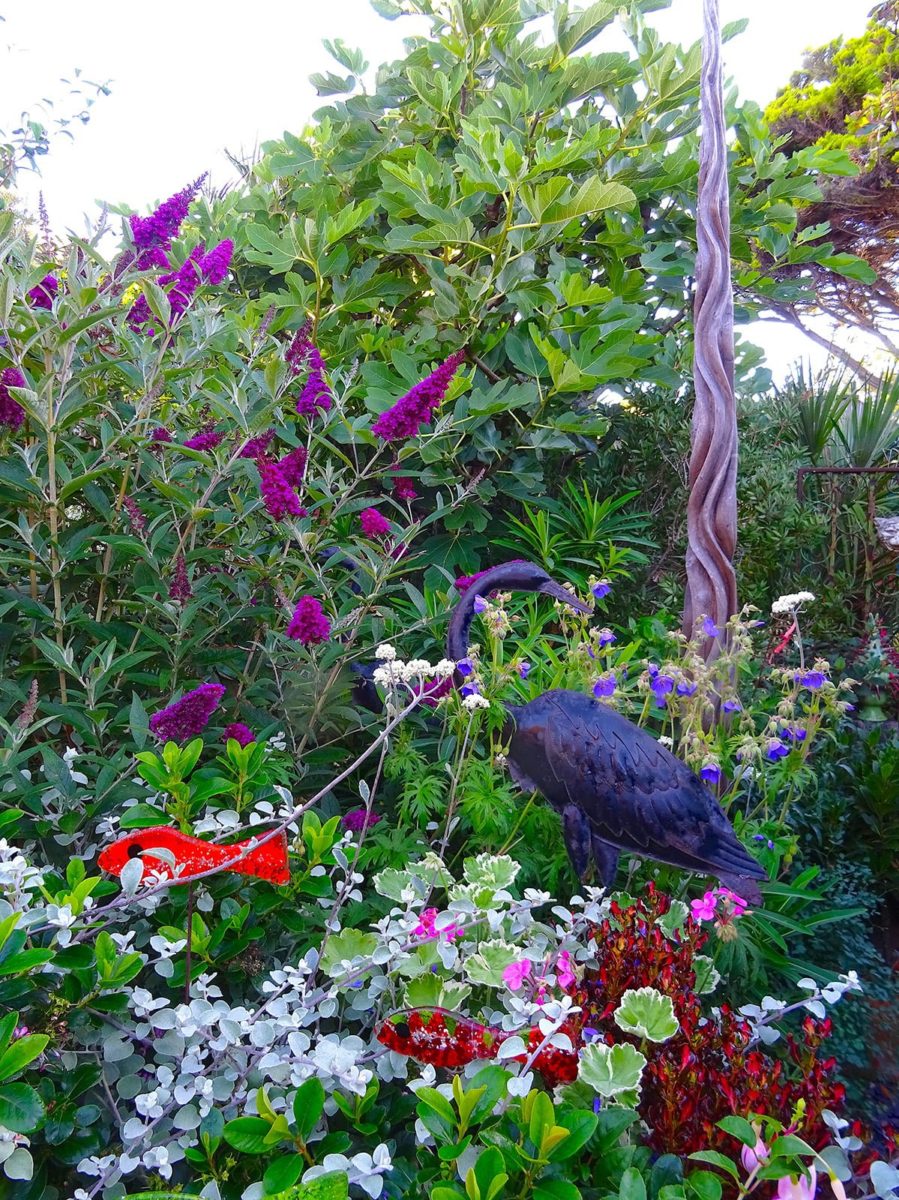 Plant textures
Don't overlook the tactile qualities of the plant. A great example is the pony-tail grass I mentioned earlier.
Peeling bark is another element that adds interest and creates beautiful patterns in a variety of lighting situations. A wonderful plant I use for texture and to fill gaps and create that look of everything having been woven together, is Agave americana. All mine are kept in containers and protected, dry, under cover through the winter. Come late March or early April they are reinstated to the beach garden, simply dropped in to fill gaps, knitting together the surrounding plants and completing the tapestry.
My advice, just experiment with your own ideas and you'll be amazed at the results!