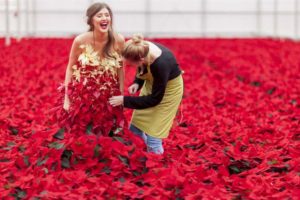 Fashioning the dramatic gown from over 300 freshly cut stems of red, variegated and cream poinsettia and styling it amongst sea of poinsettia plants, Okishima & Simmonds have re-imagined the Christmas classic.
"We love to create unique designs that merge the floral world with the fashion world and International Poinsettia Day has given us an exciting opportunity to do that," says Jessica Simmonds of Okishima & Simmonds, who were commissioned on the project by Stars for Europe, the EU-wide poinsettia campaign. "We wanted the dress to flow so that it looked as though it was growing out of the poinsettia beds beneath, so used the traditional red poinsettia for the skirt and showcased other colours through the bodice."
Poinsettias are as much a Christmas classic as the Christmas tree itself, and are known as 'Christmas Stars' in much of the world. In 2014, over eight million poinsettia plants were sold in the UK in just two months, an increase of 15% on the previous year, making the poinsettia the best-selling houseplant after the year-round orchid.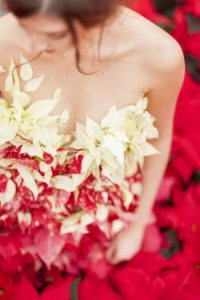 International Poinsettia Day is celebrated on 12 December and marks the death of Joel Robert Poinsett, the US diplomat and botanist, who introduced the poinsettia to the United States from Mexico in 1828.
As well as festive houseplants in shade of red, pink, apricot and white, poinsettia make excellent cut flowers and last up to two weeks in water. The trick is to snip the stem and immediately dip it into hot water at 60˚C for 20 seconds then into cold water for 10 seconds before arranging in a vase.