Even though strawberries are available in the supermarket all year round these days and not quite the seasonal treat they once were, there is still nothing to replace the excitement of watching home grown strawberries ripen. The taste of a perfectly ripe strawberry straight from the plant is just divine.
They are a great fruit for kids to grow, easy to look after the small plants produce shining, sweet fruits with very little effort. You need a number of plants however to ensure a good few bowls of juicy strawberries. But even a handful of fruit each time is enough to transform a salad, liven up breakfast or create a delicious garnish for yoghurts and puddings.
This high-rise stack of colourful plastic buckets allows eight plants to grow happily in one pot space and the ripening strawberries cascade down the tower, clear of the soil and slugs that might try to chomp chunks out of your strawberries before you do. Garden centres offer a range of small strawberry plants, look out for those described as perpetual croppers or ever bearers, like 'Aromel' AGM or 'Flamenco', they will give several flushes of fruit into the autumn. Or choose a combination of early and late fruiting varieties to make sure the tower is teeming with tasty strawberries all summer.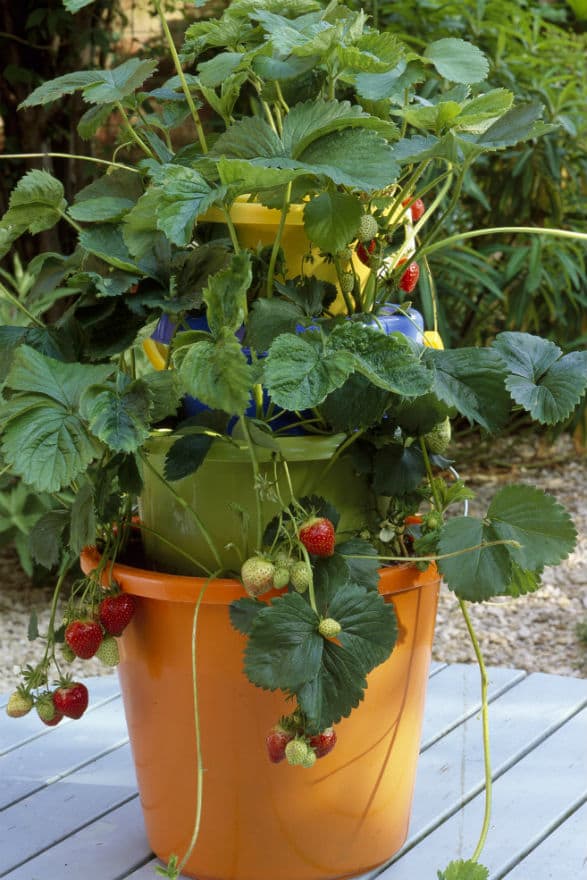 For your strawberry tower you will need:
4 plastic buckets graduated in size
Crocks or stones for drainage
8 strawberry plants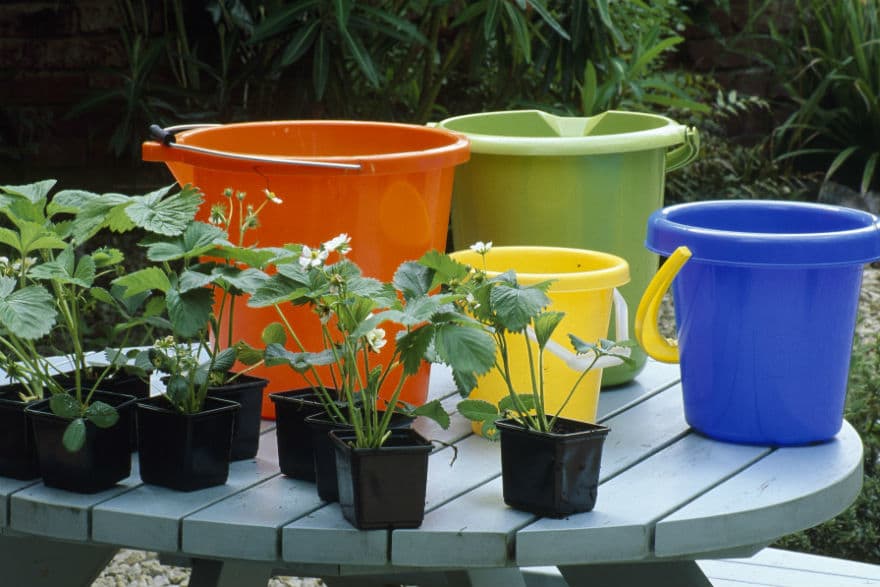 How to make the Tower of Strawberries:
Drill three or four drainage holes in the base of each bucket and cover the base of each bucket with a few crocks.
Half fill each bucket with compost, firming it gently and levelling the top. Then stack the buckets up from largest to smallest on the top.
Now pack compost around the buckets, firming the soil as you go. Fill each level of the tower to within a 5cm of its rim.
Plant the strawberry plants on each level, three on the first, two on the next two and one in the top, so that the level of the compost is the same as that of the soil they were grown in.
Water the tower well and top up the compost if needed. Position the tower in a sunny position out of the wind, keep the compost damp but not too wet and to ensure a really good crop of delicious, nutritious berries. You can feed your plants with a high potash plant food once every week or two until the strawberries start to ripen.