How much gardening TV do we need? That's the constant theme of discussion amongst amateurs and keen gardeners alike. BBC Gardeners' World may not be to everyone's taste, and indeed the less green-fingered may find it daunting. However, that's where YouTube comes in, giving you access to a whole range of gardening TV; at any time of day, any time of year. The internet has changed the way we watch TV.
YouTube for 'how to' videos
We all learn in very different ways. For example, I often feel flummoxed when looking at diagrams in books, I need to actually SEE how something should be done, before I tackle it myself. The 'how to' element of YouTube really helps with this. And, of course, you can pause and rewind the film as many times as to want, and have it by your side on a tablet or iPad while you actually do the job. When it comes to pruning tricky shrubs, that's a godsend.
You can also visit a whole range of gardens, worldwide, from your armchair. You can cut down on travel costs, visit the gardens through different seasons, get ideas and get inspired.
YouTube channels
YouTube profiles tend to be referred to as 'channels', much like the TV. The profile will feature videos, where you can view the same author's videos in order of upload, then playlists, where you can view videos by category, and channels, where you can see who they subscribe to.
You can subscribe to the channel yourself, so you can make sure you'll be e-mailed each time a new video is uploaded. This is a great way to keep up to date with new releases. When you watch the video, you can also click like and add comments, perhaps even interacting with others who've been watching that same video.
5 recommended YouTube channels
I've chosen 5 channels for you to explore, but remember YouTube is HUGE and this is merely the tip of the iceberg. So, go exploring for yourself.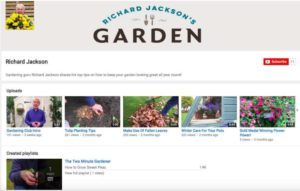 A new project for Richard, as part of his gardening destination website, but it's already very popular thanks to his straightforward delivery, which gives all the information you need, but in a clear, concise manner. It's on this channel that the results from his plant food and garden products really come to life, as you get to see customer gardens and hear what they've got to say about the products. There are quick tip videos for short, snappy advice as well as useful container planting tips and a 'how-to' on planting tulip bulbs!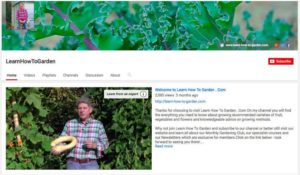 This channel is by Mark Abbott-Compton and is practical, with tutorials on common gardening tasks, as well as some unusual gardening tips, such as how to harvest seaweed. You can tour his very own allotment too, and see his travels to flower shows, where he sometimes interviews the nurserymen, so get ready to experience some real 'behind the scenes' gossip.
This channel is refreshingly different. Even though it's a US channel, the hints and tips can still be used in the UK. Patti Moreno's delivery is likeable, and she presents a whole range of quirky gardening advice; from how to make your own mint mojitos, to how to set up a wormery. I quite like the fact she weaves cookery and kitchen tips into the mix though, all too often we grow the latest new vegetable but have no idea how to cook it.
This channel does what it says on the tin. There are loads of great demonstrations for growing your own vegetables, in any area of the garden, or even in containers. Perhaps it will inspire you to try a crop you've never tackled before.
When it comes to mail order plants, it can be hard to appreciate the full beauty, scale and effect the plants can give you in your garden. This is where YouTube can really come into it's own, as you'll be able to watch those plants LIVE, and to see them from every angle on the Thompson & Morgan channel. You can see the plants used in bedding, pots, and listen to a description of them, given by their regular presenters.