One of the things I love most is meeting fellow gardeners and chatting to them about plants and gardens, our successes as well as the occasional disasters!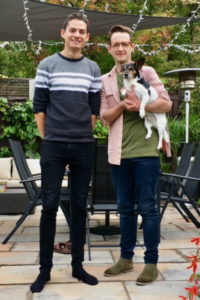 Last week, I was delighted to meet the winners of our QVC Gardener of the Year competition. Their garden was even better than I expected (from the photos they'd sent in), it was absolutely stunning. It's a great story too. Over the past five years, Alex Redfern and Joe Shannon have completely transformed the front and back garden of their house in Catford, South London. It's been a huge task, which, impressively, they've done all by themselves. The front garden alone was covered in crazy paving and they used a Kango, removed it together with the poor soil and replaced it with seven tonnes of topsoil. Cleverly, they also created a meandering wooden path to the front door, explaining that a straight path to the front door would mean that you miss half the plants.
I visited them in late September, a time of year when many gardens are looking tired, but their front garden wasn't. It was a riot of colour and I especially loved the generous plantings of cosmos, marigolds and dahlias. As I was admiring it, a few passing neighbours stopped by and told us how much they loved the garden too!
Secret Garden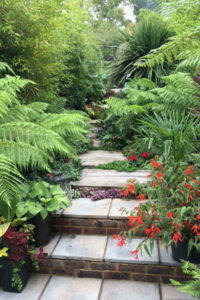 Alex and Joe's back garden couldn't be more different. They also created this from scratch but decided on a completely different theme. They had grown tree ferns before, and decided to use these as a key planting, as well as bamboos and palms, to create a tropical garden. The back garden is relatively narrow, but long, and very cleverly, they've used wide steps (again using wooden sleepers), strategically placed pots of colourful plants (Begonia 'Firecracker') and plant covered fences to make it appear much wider. They'd also divided it into different sections so, as you walk towards the back, you discover different vistas and different areas.
Their patio, at the far end, in the sunniest spot of the garden has a double purpose. In the summer, it's for eating and entertaining, but in the early spring, the furniture is shifted to one side and they put up a couple of poly-tunnels which they use to grow over 3000 plants from seed or plugs. It's far more than they need for themselves, so they generously give around 2000 of these to friends, neighbours and the gardening club at a local school.
Prize winners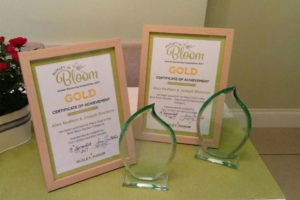 The night before we arrived, Alex and Joe had won 1st place in the Best back garden as well as 1st place for best Front garden- Seasonal in the Ruxley in bloom competition which has entries from most of Central and South East London, as well as part of Kent. And this is the first year that they've used Flower Power! They hadn't mentioned this in their application to QVC so it was a complete surprise (and delight) when I found out.
Their front garden takes a lot of maintenance but Joe, in particular, enjoys tending it and finds it especially therapeutic (even the dead-heading, and there's lots of that needed when you grow cosmos!). Their back garden is much easier to look after, it's where they relax and Alex told me 'When the sun is out, it's just like being in the tropics'. They'd recently bought their wood fired hot tub and given half a chance our crew would have jumped in it after they'd finished filming.
Alex and Joe's two gardens, the front 'Cottage style' and the back 'Tropical style', were an absolute joy to visit. To their great credit, they are youngest gardeners ever to win our QVC Gardener of the year competition. Anyone, at any age would have been proud to have created such superb gardens.