Geoff Stonebanks shares his love of agaves, a spectacular group of plants that add drama and structure to his garden.
Driftwood by sea is situated near the south coast with an exposed front garden. About eight years ago I created a beach garden at the front of the house, with a wide selection of coastal plants that would work well in the very exposed environment. At the same time, I started to get very interested in agaves, after someone locally gave me two variegated plants Americana that she could no longer accommodate.
Fast forward to 2020 and I've got in the region of 40 containers, large and small with probably twelve different varieties of agaves.
Exotic and tropical
Agaves truly create an exotic and tropical feel to the beach garden. The trick I use, is that they are all in containers, some in smaller terracotta pots and a few very large specimens in plastic ones as they are just too difficult to move otherwise.
I'd highly recommend them to any gardener who has the right location as they are so easy to look after and are very dramatic to look at.
I have planted the beach garden with gaps in the established planting, so that I can drop containers into the spaces each April and by the time we open the garden in June, it all flows seamlessly and many visitors are fooled into thinking the agaves are actually planted in the ground.
Probably the most commonly found of these which also have common names of century plant and American aloe are the two pictured in my garden. On the left Americana and on the right Americana "Variegata". Both, in theory, love a sheltered site but seem to thrive in my exposed beach garden, albeit sunk in behind other planting.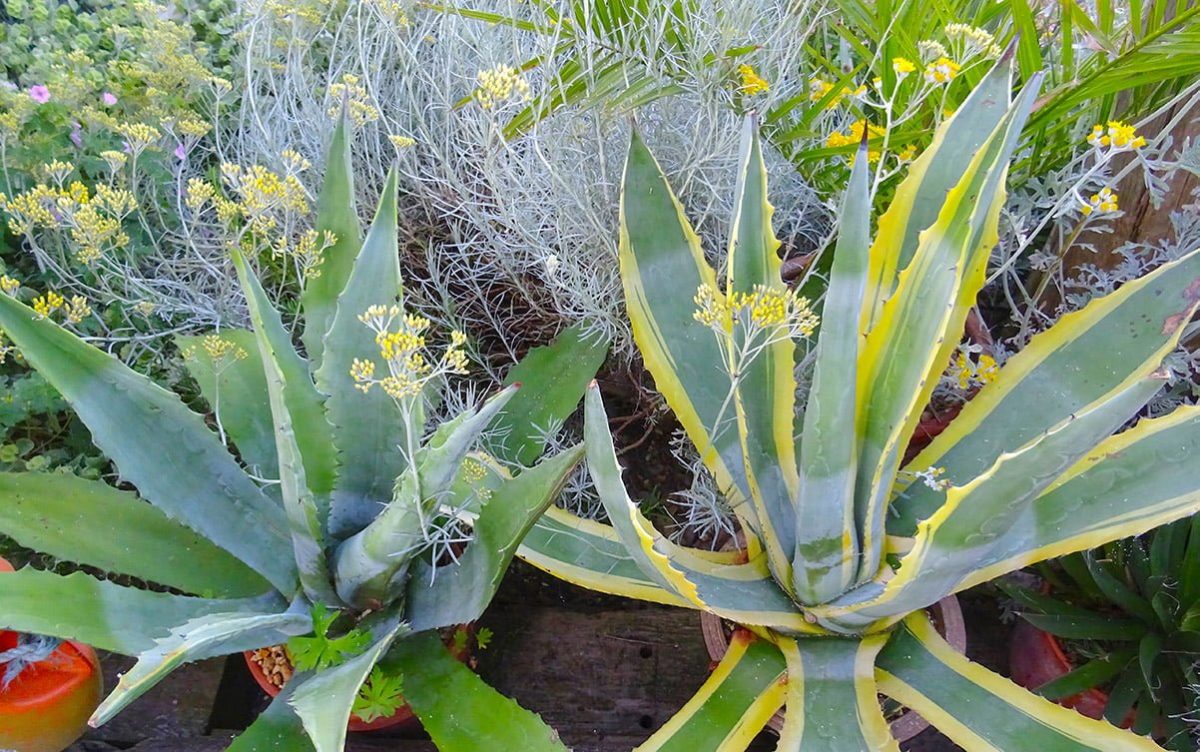 Favourite agaves
One of my favourites is Agave mitis var. mitis which is native to the humid high-latitude cloud forests in the mountains around Mexico. It is a medium-sized agave with wide pale-green foliage and only small teeth along the leaf-margins. This absence of significant marginal teeth adds to its fleshy attractiveness giving it a lusher appearance than is typical in most agaves and its terminal spine is also relatively soft. It can take some frost and – with good drainage – is hardy down to at least -5C and probably more. Protection with a rain-shelter and fleece is a wise precaution in most parts of the UK although in warmer winters and in favourable locations it may not always be necessary.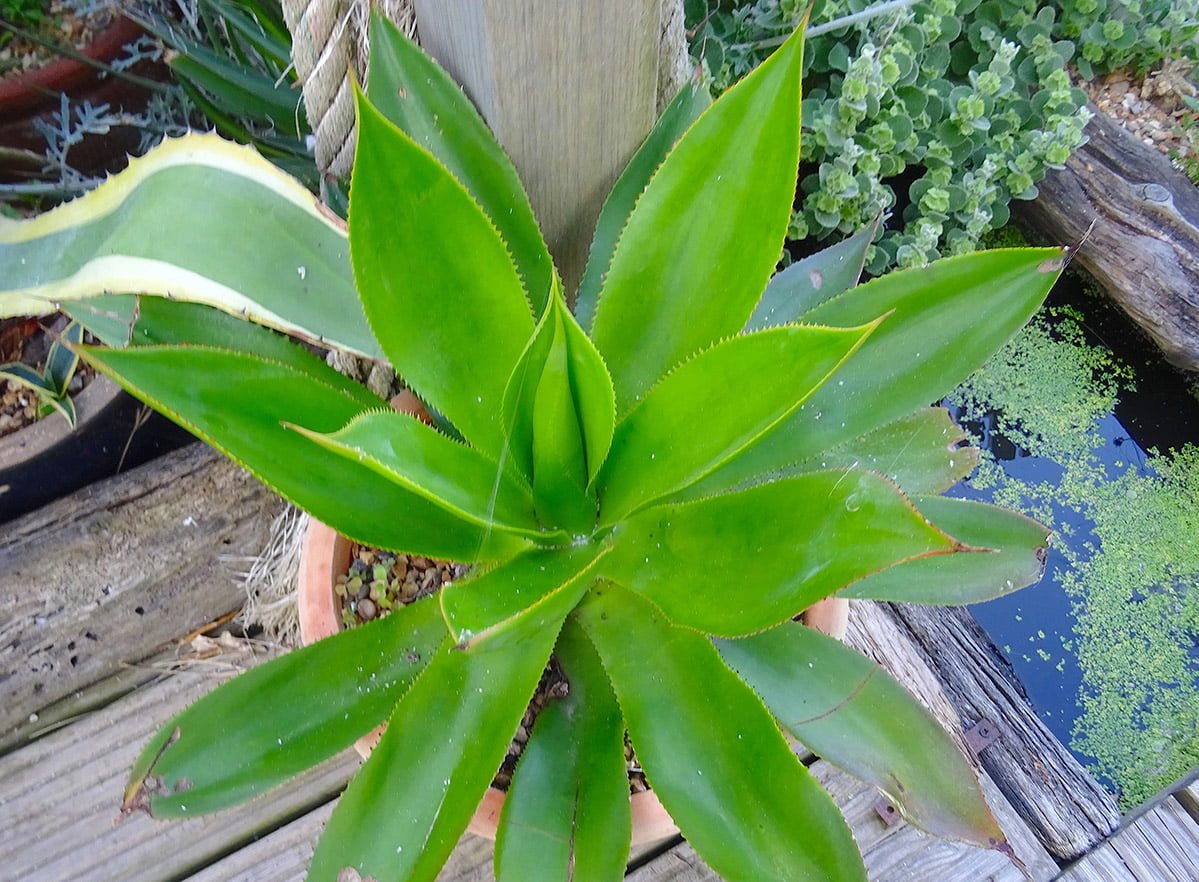 Another favourite is the Agave ovatifolia 'Whale's Tongue. It is a stunning agave with striking silver/blue coloured leaves with beautiful pronounced patterns on their upper surface. I've found it easy to grow and very cold hardy down to -15/-16 degrees, supposedly taking cold and damp winters if drainage is excellent.
They are characterized by large basal rosettes of up to 2m across of thick, fleshy leaves typically having spiny margins and a sharp terminal point, the leaf ends are every sharp so it is better to plant them away from paths, especially if you open your garden or have children. This variety makes a wonderful architectural centre piece.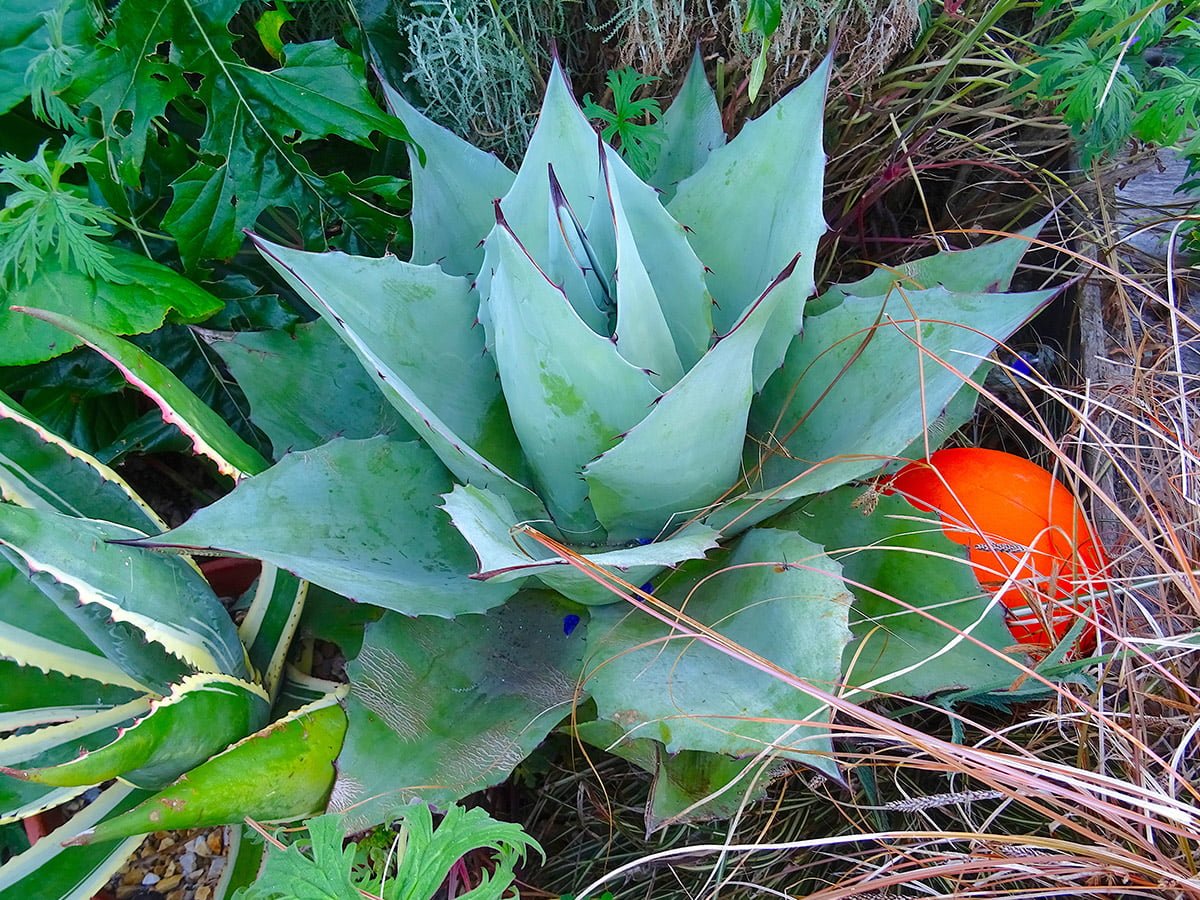 For my birthday, earlier in the year, my mother bought me five new ones. Pic caption – Top left, Agave victoriae-reginae, top right and bottom left, Agave parryi var truncata and top centre and bottom right, Agave americana "Mediopicta Alba". They have done quite well and look very healthy at the end of their first year in the garden.
Another favourite is Agave parviflora, which has grown well here and one plant has now generated about ten new ones for me, with me gaining five new ones from just one plant in the last few weeks. The main thing to be careful of here is that the leaf ends are extremely sharp. They look stunning planted in among other foliage plants.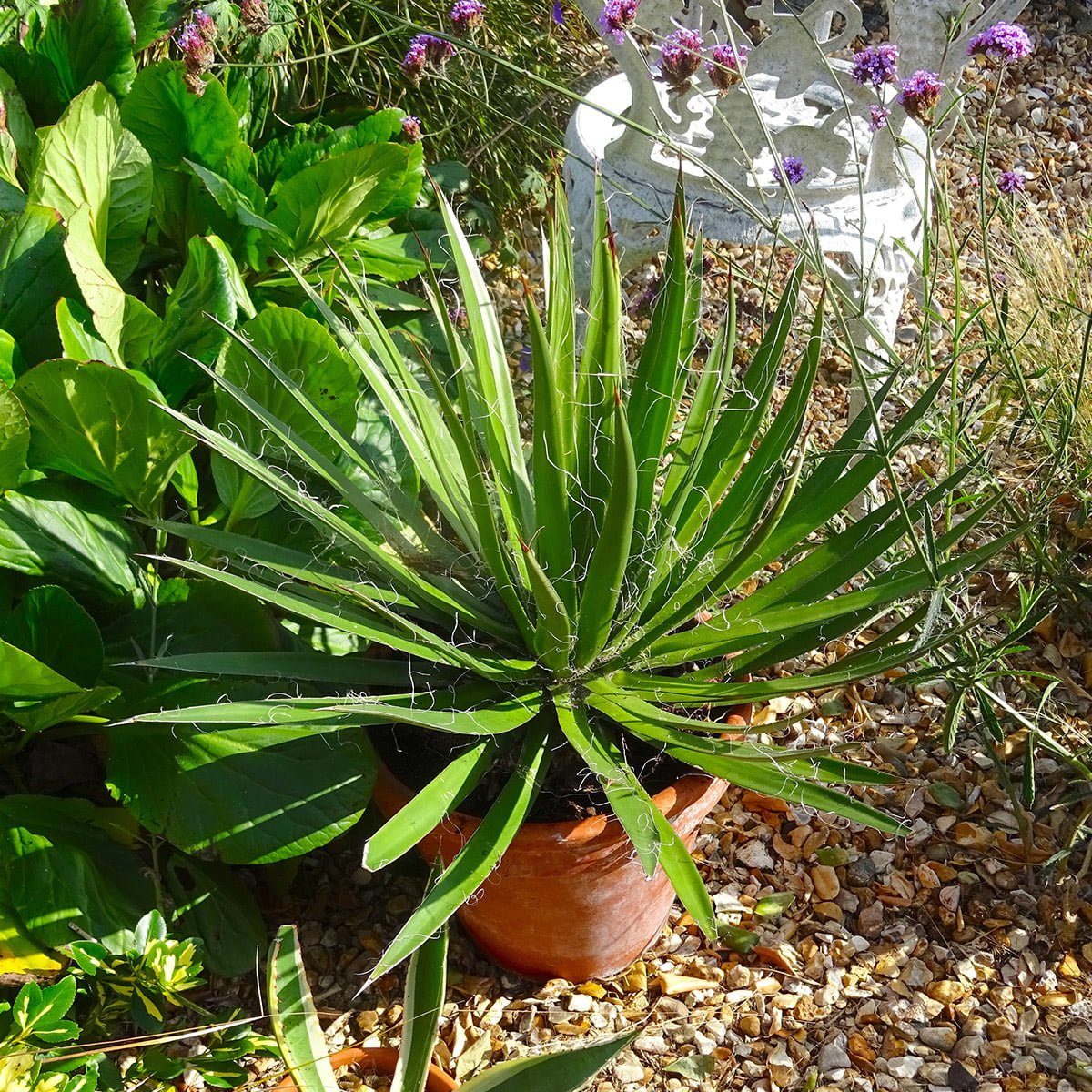 Cold care
Agaves are tender and generally like a cool or frost-free glasshouse for winter. Except in frost-free inner-city areas or coastal extremities where frost is rare. They can be safely grown outdoors once the risk of frost is over. 
Agaves will withstand the cold to a certain extent but they are not too keen on getting wet, as the crowns sometimes rot and will not survive being frozen. So, after losing a few plants early on, I decided to store them all under cover to keep them dry through the winter months, the smaller ones in this polytunnel and the larger ones in an alley at the side of the house with a perspex roof. And then I bring them out in all their glory in the spring.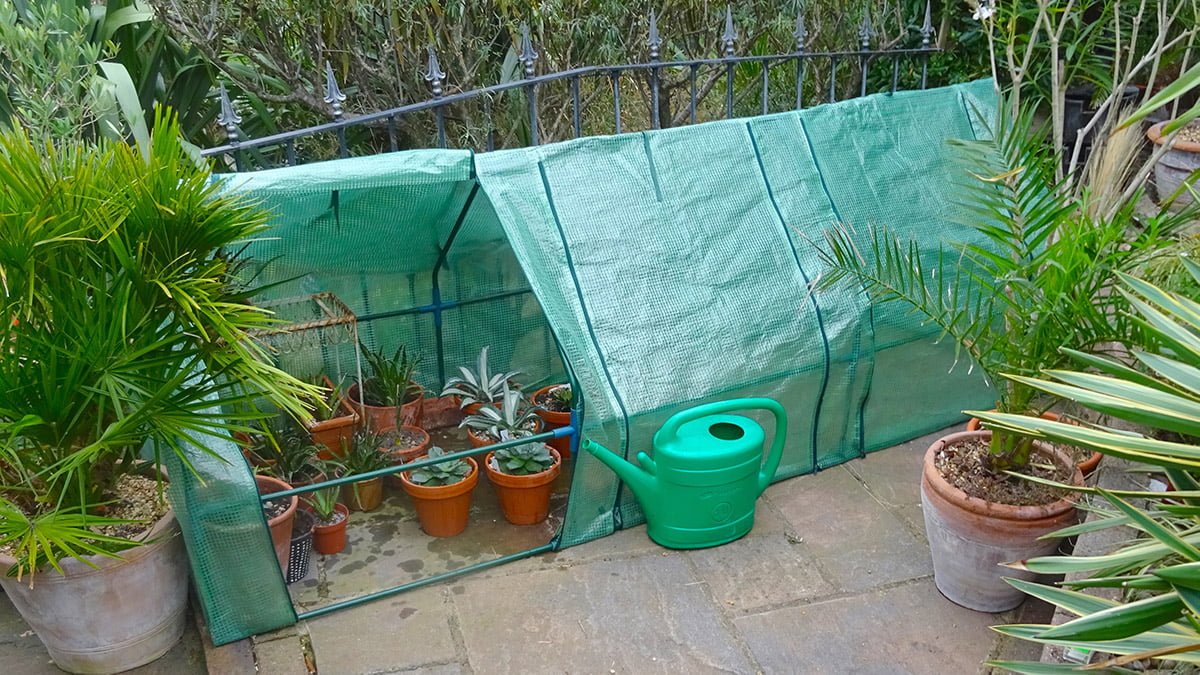 Plants for free
Agaves are propagated by taking babies growing at the side in spring or autumn. I've just managed to create nearly forty new plants from removing and planting the offsets from a number of mine. Some of these I plant into new pots for the garden and others are shared with gardeners, often via my plant sales table.