MAKES ABOUT 1.2KG
Ingredients
• 2kg pumpkin/squash, deseeded and cut into large pieces
• 200g onions, finely diced
• 1 tbsp olive oil
• 1 red chilli, cored, deseeded and finely chopped
• 200g raisins
• 400g light muscovado sugar
• 500ml cider vinegar
• ½ tsp black pepper
Method
Preheat the oven to 180C/350F/gas mark 4.
Put the pumpkin pieces on a baking tray and cover with foil. Roast for around 30 minutes, until the flesh just yields to the point of a table knife – if for any longer, the pieces will disintegrate too much in the final cooking. Remove from the oven and leave to cool.
Put the onions and oil into a large pan over a low heat and fry them very gently while you prepare the other ingredients.
Chop 1kg of the roasted pumpkin flesh into cubes of 1cm or smaller. Add these and the remainin ingredients to the onions in the pan and mix together thoroughly.
Simmer gently over a medium–low heat for around 2 hours, or until the contents of the pan can be parted on the base and there is no free liquid.
Pot into warm, sterilized jars and store for 2 weeks before using.
Store in a cool, dry place
Keeps for a year or more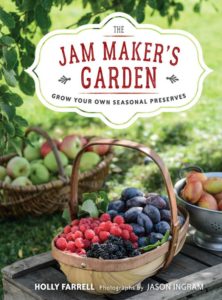 Recipe extracted from The Jam Maker's Garden by Holly Farrell and photography by Jason Ingram, published by Frances Lincoln, an imprint of The Quarto Group