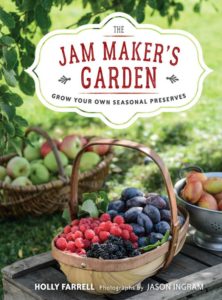 The delicate flavour of pears is intensified in this gorgeous caramel sauce, which is based loosely on a traditional Belgian preserve. Use it instead of maple or golden syrup, particularly for drizzling over pancakes. Pear caramel loses its flavour if kept in the refrigerator, and does not last long once open, so make lots of small jars or bottles rather than one big one.
Makes – 700–800ML
Ingredients
1kg pears, peeled, cored and roughly sliced
450g apples (dessert or cooking), peeled, cored and roughly sliced
200g light muscovado sugar
100g dark muscovado sugar
Method
Place the apples and pears, including their peel and cores, into a large pan and add just a splash of water, enough to lift the fruit off the base and stop it sticking.
Simmer very gently over a low heat for an hour or until the fruit is very soft and disintegrating.
Mash the fruit gently, then put it into a jelly bag placed in a clean pan.
Squeeze the jelly bag gently to extract a smooth liquid without allowing too much pulp into the pan, but there is no need to worry about the juice being clear. There should be 700–800ml pints of liquid. Discard the contents of the jelly bag.
Add the sugar to the liquid and set the pan over a low heat. Bring to a slow simmer, stirring to dissolve the sugar, then continue to simmer for 30 minutes until thickened and syrupy. (It will thicken further as it cools.)
Pour into warm, sterilized bottles, and seal.
Store in a cool, dry, dark place; give the jar a good shake before using each time
Keeps for six months; once opened, 2–4 weeks
Recipe extracted from The Jam Maker's Garden by Holly Farrell and photography by Jason Ingram, published by Frances Lincoln, an imprint of The Quarto Group.