Savoury cheesecakes are a great alternative to quiches and tarts; and as this recipe uses oatcakes for the base it is wheat-free too.
Serves 
4–6 as a light lunch with salad
 or 8–10 as a starter
You will need
1 × spring-form, round cake tin, 23cm/9in diameter, greased and base-lined
Base tier:
200g/7 oz oatcakes
100g/3 1⁄2 oz unsalted butter
Parmesan crisps:
20g/3⁄4 oz Parmesan cheese, finely grated
Pea purée:
100g/ 3 1⁄2 oz butter
2 garlic cloves, crushed
300g/10 oz peas
Filling:
360g/12oz cream cheese
120ml/4fl oz double cream
4 eggs
1 lemon, zest
salt and pepper, to taste
100g/3 1⁄2 oz peas
Decoration:
handful of pea shoots edible flowers (for example, pea flowers, violas)
Method
For the base tier, put the oatcakes in a food bag and bash with a rolling pin until they are reduced to crumbs. Melt the butter, then combine with the crumbs in a bowl, mixing 
so they are all coated. Press into the base of the tin in an even tier (a potato masher is the best tool here). Chill in the refrigerator for at least half an hour.
For the Parmesan crisps, preheat the oven to 180°C/350°F/ gas mark 4. Put 10 large pinches of grated cheese on to a baking sheet, leaving space for them to spread. Place the baking sheet in the oven and, watching all the time, leave the cheese to melt into flat, slightly browned crisps. Remove from the oven and cool the crisps on the baking sheet.
For the pea purée, melt the butter in a frying pan. Add the garlic to the butter as it melts, but do not let the garlic brown. Pour over the peas and blend to a rough purée.
For the filling, whisk the cream cheese, double cream, eggs and lemon zest together in a large bowl. Add the pea purée, season with salt and pepper and whisk again until everything is incorporated. Stir in the whole peas. Pour the filling over the base tier and bake for 35–40 minutes until the cheesecake does not wobble when the tin is shaken, and the top is lightly browned.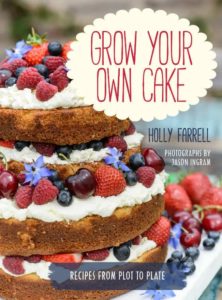 To serve
Turn the cheesecake out on to a serving plate, scatter over the pea shoots and flowers. Nestle the Parmesan crisps among them. Serve warm, with a crispy and peppery side salad.
Recipe and images from Grow Your Own Cake: Recipes From Plot to Plate by Holly Farrell, photographs by Jason Ingram. Published by Frances Lincoln (£16.99).